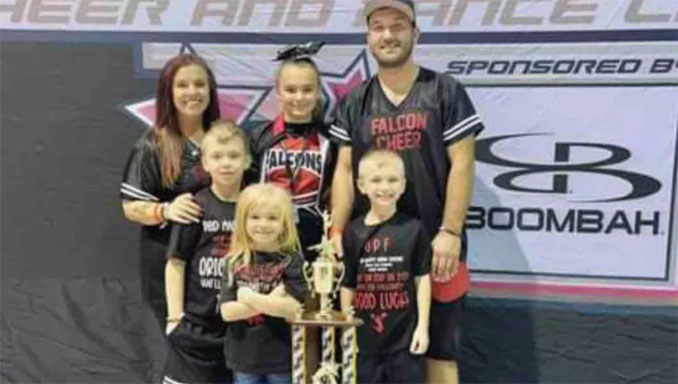 The City of Rolling Meadows and the Rolling Meadows Police Department announced Monday afternoon a fundraiser "RMPD Hope Fund" for the I-90 crash victims that were injured or killed on Sunday, July 31st, 2022, at approximately 2:11 a.m.
Killed were Lauren Dobosz, age 31, and her children Emma, Lucas, Nicholas and Ella … and friend Kat, who was traveling with the family.
Six Rolling Meadows residents lost their lives in a motor vehicle crash on I-90 in southwest McHenry County. The victims include a 31-year-old mother and her four children – a 13-year-old girl, a 7-year-old boy, a 6-year-old boy and a 5-year-old girl along with a friend of the family, a 13-year-old girl.
The father of the four children is currently fighting for his life and is in critical condition. To help offset costs related to this tragic accident, the City of Rolling Meadows Hope Fund is officially accepting donations on behalf of these local families.
As of August 1st, 2022 and until further notice, all funds donated through the RMPD Hope Fund will be given directly to the Rolling Meadows families of the I-90 crash victims.
On behalf of the City of Rolling Meadows, our thoughts and deepest condolences are with the families of the victims of this tragedy.

— City of Rolling Meadows
Friends of Lauren Dobosz involved with the Oriole Park Falcons, where Lauren Dobosz was a cheer coach and a football mom have also established a gofundme fundraiser "Dobosz Family Funeral Expenses"
"It is with heavy heart that we announce the passing of our beloved cheer coach Lauren Dobosz, along side her beautiful kids Emma, Lucas, Nicholas and Ella and gracious friend Kat. They have been involved in a tragic car accident and will be missed dearly by the Falcon Family and dear friends. Lauren always made a great impression on everyone she met, she was full of life, laughter, and always a good time. We're going to miss you Lauren and your spunky, sweet, sassy kids and every so loved friend. We shall shine bright this year. Will miss you!

Any donation small or big is appreciated beyond words."

With love,
The Oriole Park Falcons
RELATED NEWS …
CARDINAL NEWS | Identities of 3 Adults Released After Fatal Crash on I-90 in McHenry County — Acura Driver Was Wrong-Way Driver