Russia Ukraine invasion Day 5 February 28, 2022
HEADLINES …
Note: Reports are not verified; check Google search results as part of your own verification. Headlines in italics added after CARDINAL article's publish date/time.
*****************
Russian military uses Grad multiple rocket launchers to fire on civilians and a fire station in Kharkiv
Video shows burnt human rib cage in burnt out car, severed lower leg and foot of civilian on sidewalk after shelling in Kharkiv
Firefight: Street Fight Between Ukrainian Forces and Russian SOF in Kharkiv
Video on YouTube shows how to deploy Molotov cocktails, use stop strips to flatten tires
Check source for in-depth Ukraine coverage:
News from UKRAYINSKA PRAVDA
Three 5-story buildings hit with Russian missile strike near Kyiv
Russian invaders blow up power substations in Kharkiv
Russian air strikes on Brovary, Ukraine
Maxar Technologies satellites detect 17 to 40 mile column of military equipment moving south toward Kyiv
Ukraine People's Deputy Dmytro Lubinets: genocide has been committed in the town of Volnovakha
Vladimir Putin puts Russia's nuclear deterrent forces on alert Sunday, February 27, 2022
Russian saboteurs neutralized near St. Michael's Golden-Domed Monastery, the cathedral of the Orthodox Church of Ukraine (OCU)
Some mayors have been accused of high treason under Criminal Code of Ukraine for negotiating power to Russian invaders
Brewery converts from beer production to Molotov cocktail production
Russian troops destroy world's largest aircraft AN-225 Dream cargo transport jet at Gostomel Airport
Ukrainians warned to protect social media accounts
Germany boosts defense spending over 2% of GDP after the Russian invasion
Putin isn't operating with a full deck, Former Ambassador William Taylor
Wagner group, 400-member private militia run by Yevgeny Prigozhin from Africa, assigned to assassinate President Volodymry Zelensky and 23 other Ukrainian authorities
Belarus troops may be assigned to invade Ukraine
Ukrainians removing road signs to confuse Russian soldiers
Negotiations in Belarus yield nothing significant
THE RIGHT-CLICK
For HEADLINE Google Search lookups:
[Apple iPhone: Press and hold to select text]
[Mac/Windows: Triple click to select text]
ⓘ How Lookup/Search Google works ⓘ
HEADLINES …
Note: Reports are not verified; check Google search results as part of your own verification. Headlines in italics added after CARDINAL article's publish date/time.
*****************
Shell and BP pulling out of energy investments in Russia
UPS, FedEx suspend shipments to Russia and Ukraine
Czech, Polish, Swedish teams boycott World Cup playoff
Dow falls 179 points
US freezes Bank of Russia assets owned by Americans
Bank of Russia resumes purchase of gold $1900 +
Russian airline Aeroflot violates Canadian airspace
Google Maps live traffic layer temporarily disabled by Google
[MORE NEWS BELOW] | ⓘ LOOKUPS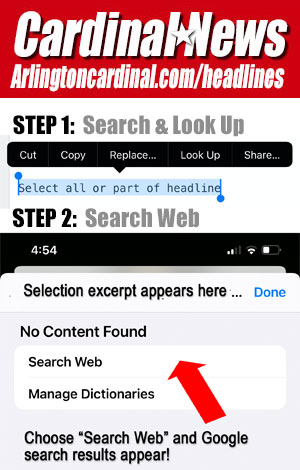 MORE NEWS …
Petrol prices in the United Kingdom hits all-time high
U.S. President Joe Biden announces that the U.S. will send delegation to Taiwan to reaffirm commitment
DIY NEWS REVIEW
🗞 📺
PEOPLE
Law & Order actor Ned Eisnberg dead at age 65 after battle with cancer
The Killers won't perform in Moscow, Russia
COVID-19
How many people died from COVID-19 in the World?
How many people died from COVID-19 in the United States?
NEWS WATCH
HEALTH ALERTS!
Arlingtoncardinal.com/health
(includes Food Safety Alerts)
HOT TOPICS!
Rising violent crime rate by country
Rising violent crime rate by state
Supply chain crisis
Inflation news
Southern Border crisis
Vaccine mandate
Mandatory Masks
Biden poll numbers
Disintegration of Society news
MORE HEADLINES …
HEADLINES List (reverse chronological order)
Arlingtoncardinal.com/360MediaX
Arlingtoncardinal.com/SmartNews
YOUTUBE NEWS CHANNELS