For HEADLINE Google Search lookups:
[Apple iPhone: Press and hold to select text]
[Mac/Windows: Triple click to select text]
ⓘ How Lookup/Search Google works ⓘ

Note: Reports are not verified; check Google search results as part of your own verification. Headlines in italics added after CARDINAL article's publish date/time.
*****************
Vaccinated NFL player Dakota Dozier, Offensive Linebacker for the Minnesota Vikings hospitalized due to COVID-19
Illinois, Minnesota and Vermont reporting 50% more cases on average November 2021
Whistleblower, trained clinical auditor Brook Jackson claims Pfizer falsified data unblinded patients, employed inadequately trained vaccinators, and was slow to follow up on adverse events reported in Pfizer's pivotal phase III trial
Ventavia Research Group fired Brook Jackson same day she emailed concerns to the FDA
Nurse says high number of patients don't believe COVID-19 facts, blame hospital
[MORE NEWS BELOW] | ⓘ LOOKUPS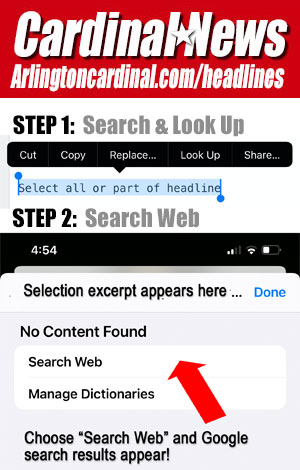 Kyle Rittenhouse testifies in his own defense in Kenosha County Court
Judge Bruce E. Schroeder in Rittenhouse case admonishes prosecutor Thomas Binger over disregard of Constitution right to silence after arrest
Migrants trapped on the border between Poland and Belarus repelled by 15,000 Polish soldiers in harsh conditions
Thai court rules protesters sought to topple monarchy as kingdom defends royal insults law
Journalist Danny Fenster faces possible 7 to 20 years in prison for attempting to bring hatred, contempt or disaffection toward the government and military, or life for contact with designated terrorist groups by Myanmar
Journalist Danny Fenster denied bail, detained in Insein Prison in Yangon, Myanmar since May 24, 2021
51-month sentence for 'QAnon Shaman'?
Former mixed martial artist and gym owner Scott Fairlamb — shown punching a police officer on video during the US Capitol riot January 6, 2021 — sentenced 41 months
Milwaukee High School of the Arts students walk out of class Tuesday out of fear of safety after police called to school 20 times in past two months
Pew Research Center | Beyond Red vs. Blue: The Political Typology
Pew Research Center segments US into nine political tribes: Faith and Flag Conservatives, Committed Conservatives, Populist Right, Ambivalent Right, Progressive Left, Establishment Liberals, Democratic Mainstays, Outsider Left
Asian honeybees (Apis cerana) make high-pitched noise when under attack by giant murder hornets (Vespa soror)
Giant hornet (Vespa soror) attacks trigger frenetic antipredator signaling in honeybee (Apis cerana) colonies in The Royal Society Article
Henry County Police Officer Paramhans Desai and Jackson County Deputy Lena Marshall died within hours of each other in separate domestic calls in their communities
High Ridge Fire Protection District used a drone equipped with a thermal imaging camera to locate a 70-year-old man who'd gone missing in Byrnes Mill
Amtrak train headed to Chicago collides with Amazon delivery truck Wednesday afternoon in Ixonia, Wisconsin — no injuries
Thirteen people escape house explosion and fire in Millstadht in St. Clair County, Illinois
3 hurt in 4-vehicle crash that involved a tanker truck hitting a convenience store in Corova, South Carolina
Amazon-backed electric vehicle start-up Rivian valued at $86 billion after market debut
Opendoor thrives in home-flipping market Zillow just exited as earnings beat estimates
Disney says growth is slowing for streaming services
AMC Entertainment CEO Adam Aron sells $25 million in shares Tuesday
Stocks drop Wednesday as news of inflation surges
Facebook parent Meta will remove the ability to target ads based on sensitive categories to avoid discrimination in housing, employment and credit ads
AR pioneer Louis Rosenberg warns metaverse could make reality disappear in op-ed in Big Think
Consumer prices surges to 30-year high
Food banks in California struggle to feed hungry
Alameda County Community Food Bank in Oakland spending extra $60,000 a month on food
Treasury Secretary Janet Yellen says inflation persist beyond next year
American Olympic weightlifter and football Chicago Bears strength and conditioning coach Clyde Emrich dies at age 90
Young and the Restless star Jerry Douglas dies at age 88
Designer Tom Ford blames social media for inhibiting design and making style and beauty increasingly cartoonish
COVID-19
How many people died from COVID-19 in the World?
How many people died from COVID-19 in the United States?
NEWS WATCH
HEALTH ALERTS!
Arlingtoncardinal.com/health
Food Safety Alerts
HOT TOPICS!
Supply chain crisis
Inflation news
Southern Border crisis
Vaccine mandate
Mandatory Masks
Biden poll numbers
Disintegration of Society news
MORE HEADLINES …
HEADLINES List (reverse chronological order)
Arlingtoncardinal.com/360MediaX