Judge Hidalgo Calling for Independent Investigation into AstroWorld Festival Incident, Made No Mention of Possible Terror Injections
Video at the scene of the AstroWorld tragedy Friday night, November 5, 2021 showed CPR being administered to multiple people before there were any signs of a crowd surge at the event after dark. Video captured in the crowd showed CPR administered while people at the event were enjoying music while they were unaware of what was unfolding. However, Harris County Judge Lina Hidalgo Saturday afternoon was still informing the public that the incident was related to a crowd surge and called for an independent investigation. In a presser she also referred to a previous incident in 2019 at AstroWorld involving crowd surge and a breaching of barricades. On Saturday afternoon she made no mention of a possible aggravated battery involving a harmful substance that caused people to lose consciousness and suffer cardiac arrest.
TMZ: Travis Scott's first night of his Astroworld concert in Houston turned into a horrific tragedy Friday night … leaving 8 people dead and more than 300 injured, and there were signs of trouble even before the concert began. YouTube Tips ⓘ
Harris County Judge Lina Hidalgo emphasized emotions of the tragedy instead of providing any of the straightforward details of the incident.
Judge Hidalgo said what she "knows so far" is that LIVE NATION and AstroWorld put together a plan and were working together with Houston area authorities and said perhaps the plans were inadequate or perhaps the incident was something else entirely.
In a separate part of the presser, Houston Police Chief Troy Finner said a security guard working at the AstroWorld event was reaching over to restrain a citizen when he felt a prick in his neck by an unknown assailant. The security guard then lost unconscious. Chief Finner said the security guard was revived by use of NARCAN (naloxone), and that when he was examined by medical staff, the personnel noticed a mark on his neck consistent with a mark that someone was trying to inject.
Eight people are dead and several more injured after a crowd suddenly rushed towards the stage at the AstroWorld music festival in Houston, Texas, on Friday night. Authorities are investigating the cause of the deadly incident. Lilia Luciano/CBS News. YouTube Tips ⓘ
NARCAN (naloxone) is an emergency drug, known as an opioid antagonist, carried by paramedics to block the effects of opioids, which include fentanyl and heroin.
Another one of the victims was identified as a ninth-grade student from Memorial High School. Some ages of victims are reported in the teens.
The police chief said that there was a narrative reported at the scene that someone was going around injecting people with drugs.
VICTIM STATISTICS

One deceased victim age 14
One deceased victim age 16
Two deceased victims age 21
Two deceased victims age 23
One deceased victim age 27
One deceased victim unknown age

25 transported to a hospital
4 of 25 discharged from hospital
13 still hospitalized Saturday 3:25pm CT
5 victims under age 18
None missing
A statement from Houston Mayor Sylvester Turner also made no mention of a possible aggravated battery involving the injection of a harmful substance.
Mayor Sylvester Turner's Statement …
"What happened at Astroworld Festival was a tragedy. An estimated 50,000 people attended the event Friday night, expecting to enjoy a music concert with friends and return home safely. I extend my condolences to the families of the eight people who died and the approximately 17 people who were injured at the event. Many of them suffered cardiac arrest.
"Immediately following the tragedy, the city began to assist with resources and necessary support. A reunification center is setup at 8686 Kirby Dr. for families to reconnect with loved ones who attend the event. Families searching for loved ones may also call 3-1-1.
"This was a major event that happened in the city and on Harris County property. Today, law enforcement will speak with concert promoters and witnesses and review videos available from the event and inside the festival venue.
"I have called for a detailed briefing from all stakeholders, including Live Nation, Harris County, NRG Park, Police, Fire, Office of Emergency Management, and other agencies, explaining how the event got out of control leading to the deaths and injuries of several attendees."
Harris County Judge Lina Hidalgo Says She's Calling For An Independent Investigation Into The Astroworld Festival Crowd Surge Incident That Left Eight Dead. YouTube Tips ⓘ
STAMPEDE INTO VENUE, TOO
The Astroworld Festival has been canceled for Saturday after eight people died and several people were hospitalized during the first night (KHOU-11/CBS News affiliate). YouTube Tips ⓘ
Harris County Judge Lina Hidalgo, police and fire officials in Houston, Texas were present as Fire Chief Samuel Peña said that at least eight people were killed and scores of others were injured in a crowd surge at the Astroworld Festival at NRG Stadium in Houston, Texas. The causes of the deaths were not initially indicated.
The eight confirmed fatalities occurred Friday night while over 300 individuals were injured among about 50,000 in attendance.
A compression of the crowd toward the front of the stage occurred about 9:00 p.m. to 9:15 p.m. Friday while rapper Travis Scott was performing, Houston Fire Chief Samuel Peña told reporters at a news conference.
"The crowd began to compress towards the front of the stage, and that caused some panic, and it started causing some injuries. People began to fall out, become unconscious, and it created additional panic."

— Houston Fire Chief Samuel Peña
A mass casualty incident was activated about 9:30 p.m. and initial statistics indicated 17 patients were transported to "the hospital." Twelve patients were transported by Houston Fire Department ambulances, and five were transported by Harris County Emergency Services. Eleven people that were transported were in cardiac arrest, according to Fire Chief Samuel Peña. During the question and answer period, Chief Fire Chief Samuel Peña provided an update that 23 people were transported.
VIDEO SHOWS STAMPEDE INTO VENUE DURING DAYLIGHT
The concert located at NRG Park in Houston was called off shortly after several people began suffering injuries. However, social media video showed people running and falling into the entrances earlier in the day, too. Video and images from ABC13 Houston showed a crowd stampede to get into the venue during daylight. Security guards were intensely shoving people that were running past entrance gates, apparently to impede the stampede. Next sheriff's deputies arrived on horseback to attempt to control the crowd. ABC 13 Houston reporter Mycah Hatfield reported that hundreds of people destroyed the VIP security entrance, bypassed the checkpoint, and were trampled while entering the venue.
As we were arriving to the Astroworld Festival at NRG Park right at 2:00, a stampede burst through the gates. Hundreds of people destroyed the VIP security entrance, bypassing the checkpoint. People were trampled. Some were detained.

(Excuse any language you may hear) pic.twitter.com/d0m2rjqAAk

— Mycah Hatfield (@MycahABC13) November 5, 2021
How did it happen? We're working to find answers after 8 people were killed at Astroworld. A special edition of Eyewitness News starts at 5 a.m.https://t.co/39ePyOwBMN pic.twitter.com/cCGbDKsght

— ABC13 Houston (@abc13houston) November 6, 2021
Astroworld canceled after eight people were killed and hundreds more treated for injuries Friday night https://t.co/plpLeHPc6P

— ABC13 Houston (@abc13houston) November 6, 2021
Attendees waiting to get into the event overtook security and jumped over barricades and each other as the crowd pushed its way into the music festival. https://t.co/pdFPl1z6n0

— ABC13 Houston (@abc13houston) November 6, 2021
ASTROWORLD FESTIVAL: The gates don't open until 1 p.m. to get into @trvisXX @astroworldfest, and he won't take the stage for hours, but that hasn't stopped this massive crowd from lining up early to get their merchandise. https://t.co/mwVrOdwTjl pic.twitter.com/ERSUpz8jPg

— ABC13 Houston (@abc13houston) November 5, 2021
Many people were also treated at the scene at NRG Park, where a field hospital was set up. Over 300 patients were treated at the field hospital that was set up. Fifty-five Houston fire units responded in addition to the staffing that the event promoters had established at the venue. There was a medical component to the onsite staff with transport units. Among the 300+ that were treated at the field hospital, injuries were described as "bumps and bruises." Prior to the mass casualty incident, there were six routine transports during the day.
Houston Police Chief Troy Finner said Live Nation is allowing the police to review video at the scene. Finner admonished people not to speculate regarding the cause of the tragedy, then mentioned there was a rumor that people were injecting drugs. Live Nation Entertainment, Inc. is an American global entertainment company that was founded in 2010 following the merger of Live Nation and Ticketmaster. Live Nation promotes, operates, and manages ticket sales for live entertainment,
There were 367 police officer assigned to the venue, and 241 security officers were also assigned to the venue.
A unification center was established at the Wyndham Houston Hotel, 8686 Kirby Drive.
The AstroWorld festival was launched in 2018, the same year that Travis Scott released his studio album of the same name. Other rappers have also appeared in the festive style concerts.
The 2020 festival was cancelled due to the ongoing COVID-19 pandemic.
Kylie Jenner appeared in the music video for "Stop Trying to Be God", from the Astroworld album. Travis Scott has been dating Kylie Jenner since in April 2017, and on February 1, 2018, Jenner gave birth to their daughter, Stormi Webster. In September 2021 they announced a second child.
Activities scheduled for the rest of the weekend at AstroWorld were canceled.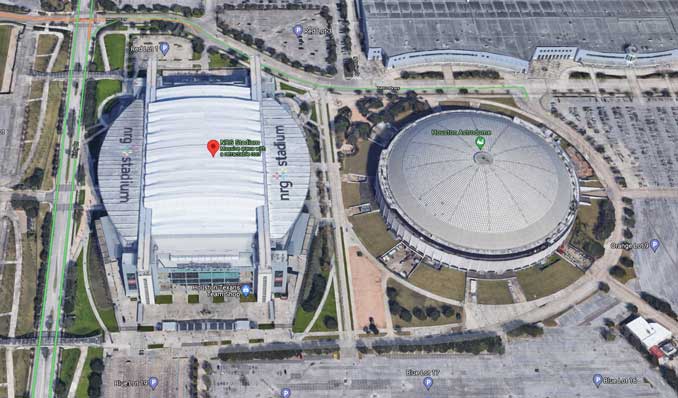 THANKS FOR READING CARDINAL NEWS …


^^ MOBILE? USE VOICE MIC ^^
facebook …
Please 'LIKE' the 'Arlington Cardinal Page. See all of The Cardinal Facebook fan pages at Arlingtoncardinal.com/about/facebook …

Help fund The Cardinal

Arlingtoncardinal.com/sponsor
THANKS FOR READING CARDINAL NEWS
Eight people died during Travis Scott's Astroworld music festival in Houston on Friday night. Houston Mayor Sylvester Turner, County Judge Lina Hidalgo and chief of police Troy Finner on Saturday afternoon give an update on the incident. YouTube Tips ⓘ