Newly-released body camera video from Utah police shows their encounter with Gabby Petito – a woman who has since gone missing – and her boyfriend, Brian Laundrie, which lasted for over an hour and resulted in the two being separated after a physical encounter occurred between the couple earlier in the day. YouTube Tips ⓘ
A missing person investigation for Gabby Petito, who was on a cross country trip in a van with her fiancé, Brian Laundrie, is underway after a traffic stop related to a domestic disturbance occurred on August 12, 2021 at an entrance to Arches National Park near Moab, Utah, and after Gabby was last seen on an Apple FaceTime call on August 24, 2021. Brian Laundrie returned from the trip to his parents' home in North Port, Florida on September 1, 2021 without Gabby Petito. The couple's trip from North Port, Florida toward the northwest United States began on July 2, 2021.
800-FBI-TIPS

Call with sightings or info.
Although no connection has been established or publicly acknowledged by law enforcement, the bodies of two women — a newlywed couple — were found at a campsite in the La Sal Mountains, which is a popular tourist destination outside Arches National Park on August 18, 2021. Both women — Crystal Turner, age 38, and Kylen Schulte, age 24 — had suffered multiple gunshot wounds and were last seen on Friday, August 13, 2021. Information from a Grand County Sheriff's warrant and Schulte's father revealed that Schulte told her friends that "if something happened to them, that they were murdered." Schulte's father also learned that a "creeper dude" had recently caused them to move their camp.
The couple left Woody's Tavern just before 9:00 p.m. according a post by the owner on the official Facebook page for Woody's Tavern. Their bodies were found five days later, undressed from the waist down.
Traffic Stop Details
Missing New York woman Gabrielle "Gabby" Petito, age 22, and her boyfriend, Brian Laundrie, were pulled over about 5:00 p.m. by a Moab (Utah) police officer was dispatched to investigate a domestic disturbance involving a white van and noticed a white 2012 Ford Transit van that was being driven erratically. A body cam video of the traffic stop on a Route 128 turnoff entrance/exit to Arches National Park north of Moab captured over an hour of conversation between police officers and Gabby Petito and Brian Laundrie, and resulted in the two being separated overnight. A mild physical encounter occurred between the couple earlier in the day, according to information gathered from both people.
Police arranged for fiancé Brian Laundrie to spend a night in a hotel in order to separate the two for a safe period of time. Gabbie stayed in the van at an unknown location on the night of August 12, 2021.
Laundrie had stated that the two of them began arguing in town. Both admitted emotional tension had been building between the two due to traveling together for an extended period during the drive from Florida. There was an increase of arguments. The couple explained separately that they were documenting their cross-country journey on Petito's YouTube channel 'Nomadic Statik', and on each of their Instagram accounts. Both concurred that Petito had struck Laundrie. Police asked Gabby if she intended to harm Brian when she struck him. She replied 'no.' Police procedures required the police officers to separate the two overnight, but police also had a choice whether to charge Gabby Petito with domestic violence and separate them, or just separate them overnight. Since Gabby caused very minor, insignificant injuries, and stated she did not intend to harm Brian the police decided not to charge her with domestic violence. Gabby told a female officer that she did not want to be separated from Brian that night, but their separation was required — no meeting, no texting, no calling. The injuries to Brian included a minor swollen right eye and scratches to his arms and face.
Grand Teton law enforcement rangers are working with the Investigative Services Branch of the NPS, the FBI, Teton County Sherriff's Office, Jackson PD & other law enforcement agencies to investigate the disappearance of Gabby Petito. pic.twitter.com/tYnSu9Ivr8

— Grand Teton National Park (@GrandTetonNPS) September 15, 2021
Little is known about the couple's activities immediately after their temporary separation in Moab, Utah. When the YouTube channel was checked on Thursday, September 16, 2021, only one video was featured publicly on the YouTube channel Nomadic Statik. The video was posted on August 19, 2021. The caption of the video mentions that the couple took a previous cross-country trip in a Nissan Sentra.
Nomadic Statik channel: VAN LIFE | Beginning Our Van Life Journey (Post August 19, 2021) YouTube Tips ⓘ
The latest Instagram post on Gabby Petito's Instagram was on August 25, 2021 with a photo of Gabby holding small pumpkin art piece that appears to be made of yarn with the caption "Happy Halloween".
Brian Laundrie's Instagram includes photos from the trip and a lot of cartoon art and strange dark fantasy artwork with skulls, snakes, devil's pitchforks, devil's tails, a modified dollar bill with a skull superimposed over George Washington with snakes superimposed over the rest of the bill, and a cartoon drawing of a devil smoking. One image appears to allude to a cult shooter video game known as Hotline Miami. A commenter to the image on Laundrie's Instagram says the graphic is from the video game Hotline Miami. Wired Magazine called Hotline Miami the most disgusting video game of all time due to violence. The image shows a character sitting on a Satan-like throne, wearing a wolf-like mask, a blood-stained Letterman's jacket, and blood-stained pants, while holding a large blood-soaked knife.
Investigators say that Gabrielle "Gabby" Petito was last in contact with her family in late August 2021 when the couple was visiting Grand Teton National Park in northwest Wyoming. Petito stayed at a hotel near Salt Lake City International Airport on August 24, 2021, according to hotel staff. Petito's mother; Nichole Schmidt stated that Petito had told her they were traveling from Salt Lake City, Utah to Yellowstone National Park, and that she had last received a FaceTime call from Gabby on August 24, 2021. Petito claimed to be in Grand Teton National Park in northwestern Wyoming. Text messages were continually sent from Petito's phone to her mother until August 30, 2021, although her mother suspected doubt whether the text messages were actually from her daughter. Laundrie returned to Florida with the van, but without Petito, on September 1, 2021. Petito's family reported her missing on September 11, 2021, and the van was impounded for investigation.
Laundrie has not initially cooperated with police and is now considered a person of interest in the case, according to North Port Police Department in Florida. Gabby, originally from New York, spent a year-and-a-half with Brian at his parent's house in North Port before taking a cross-country trip in the van northwest from Florida. He was not initially charged with any crime; the FBI and the Suffolk County Police Department in New York are assisting in the investigation.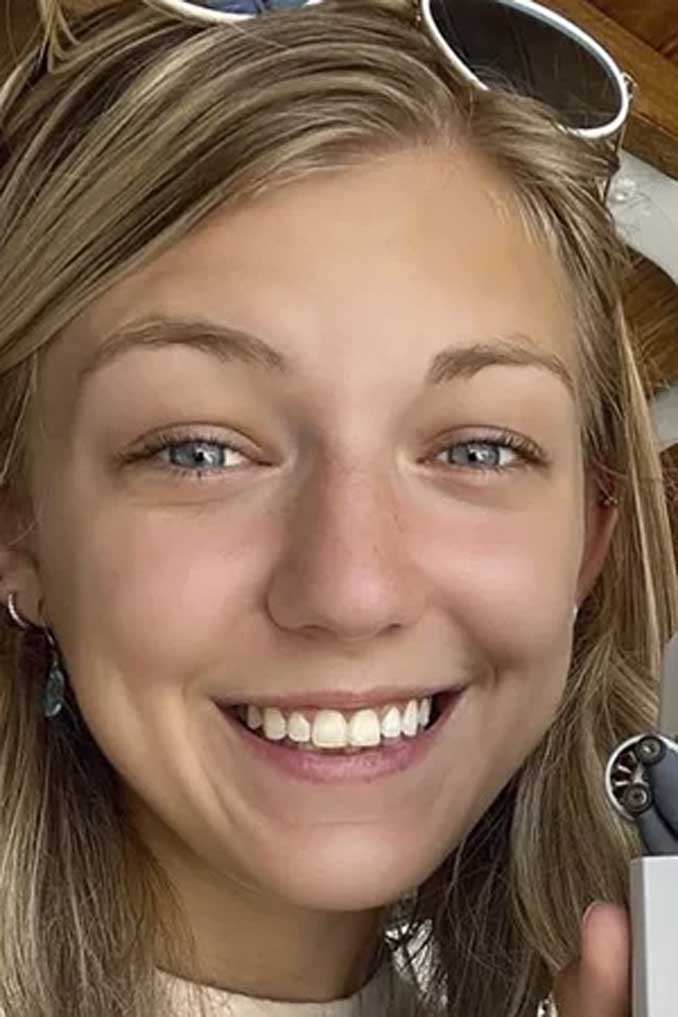 See also …
instagram.com/gabspetito
(apparently Gabrielle "Gabby" Petito's Instagram)
instagram.com/bizarre_design_
(apparently Brian Laundrie's Instagram)
MORE INFO BELOW ADS …


^^ MOBILE? USE VOICE MIC ^^
facebook …
Please 'LIKE' the 'Arlington Cardinal Page. See all of The Cardinal Facebook fan pages at Arlingtoncardinal.com/about/facebook …

Help fund The Cardinal

Arlingtoncardinal.com/sponsor
THANKS FOR READING CARDINAL NEWS
Police in Florida pleaded with people to offer any information that could help find 22-year-old Gabby Petito, who was reported missing on Saturday by her family after her fiancé returned home to Florida alone from a cross-country road trip. Police spoke Thursday at a press conference. YouTube Tips ⓘ
A New York-based attorney read a letter to the parents of Brian Laundrie, accusing them of knowing the location of a missing Gabrielle Petito, and asking them to come forward and say what they know. YouTube Tips ⓘ