Mount Prospect, Illinois police officer Lisa Schaps and Police Chief John Koziol join 'Fox and Friends​,' with Schaps saying she was released from her position as a school resource officer because her comments had become a 'distraction.' YouTube Tips ⓘ
Former Prospect High School Special Resources Police Officer (SRO) Lisa Schaps says that the request for her dismissal occurred because her comments had become a distraction. Schaps said District 214's request for dismissal resulted from comments she made during a speech at a village board meeting, not from her appearance on Fox & Friends.
UPDATE …

Mount Prospect Police Officer Reinstated As Prospect High School Special Resource Police Officer
Schaps said in a Village Board meeting that the Thin Blue Line is meant to honor police officers killed in the line of duty. Opponents of the Thin Blue Line say the the Thin Blue Line marking is divisive, and have previously called for the symbol to be removed from the Mount Prospect Police Department patch. The woke politics have seeped into secondary education as well.
Schaps said that District 214 contacts said she compared being a police officer to being black but she explained that she actually said "please don't judge us like you would judge somebody on the color of their skin or their religion or their sexual preference." Schaps said her statement was really about judgment, but that the school district said her statement was inappropriate.
"… we did recommend the consideration of having a different officer assigned to this school (Prospect High School) in order for our focus to remain on our students. The school does not have the authority to fire or dismiss a School Resource Officer, so any assertion that the school terminated the School Resource Officer is not correct or accurate."

— Dave Beery, Interim Communications Supervisor High School District 214
Mount Prospect John Koziol said he and Schaps were both floored by the results of a meeting with Prospect High School Principal Greg Minter, who said the district had received complaints. Koziol responded to the principal, saying that the high school should refer those complaints to the police department, but Minter said we're past all that and "We want a new SRO, and we want Lisa gone."
"If the wolf ever came to the door at that school, she's the mama bear you wanted there."

— John Koziol, Mount Prospect Police Chief
Koziol said Schaps is a very strong, confident woman — a characteristic beneficial as a police officer. Koziol said the meeting with Greg Minter was devastating and that both Koziol and Schaps were blindsided. Koziol said the request is more than unfortunate. Koziol said he thinks Minter actually believes in what he was doing. He said (it's remarkable) a small group of people has this much power to affect someone's career or livelihood.
The incident coincides with a time period when citizens have begun to confront school boards for "woke" curricula in school districts, as crime surges in major cities have accompanied increases in homicide and shooting statistics, and retirement rates for police are increasing.
Police officers in the northwest suburbs, including Mount Prospect, have received much support from the majority, but it appears that Township High School District 214 has yielded to a small majority.
During the appearance on Fox & Friends, Tuesday, June 22, 2021, Mount Prospect police officer Chris Berg said the Thin Blue Line means integrity, pride, professionalism, but more importantly the Thin Blue Line represents the honor of the police officers that have given their all, and have died in the line of duty for their community.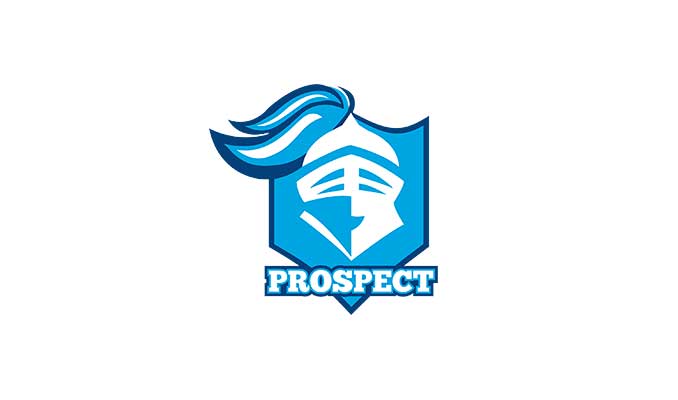 A Never-Ending Black Hole of Anti-Knowledge
Incidentally, any critic can probably find a point of contention with many symbols in history with much clearer and indisputably negative messages compared to the "Thin Blue Line" that has been hijacked by extremists and anti-police factions that want to emphasize the hijacking and manipulation of the symbol. The Knights logo of Prospect High School, which shows the symbol of a Knight's helmet is likely more divisive than the "Thin Blue Line". Helmets of this type used as Prospect High School symbolism were used by Anglo-Saxons that inhabited England in the Early Middle Ages — the late 5th or early 6th century to the 10th century AD, also referred to as the Dark Ages. Knights helmets, also known as the barrel helm, were also used in most European armies between about 1220 to 1350 AD. In a WOKE Surveillance State, The Knights symbolism at Prospect High School could be considered as symbolic of white superiority and violence, which probably has no place in a woke school system (if that's what District 214 intends to be).
Christian scholars and Muslim scholars view the Middle Ages differently, but here is an attempt at the highlights.
Armies of the Crusades (11th-15th centuries CE), involved Christians and Muslims battling for control of territories in the Middle East and Europe. Battles involved over 100,000 men with predominantly white-skinned Christian armies assembled from Europe, and predominantly dark-skinned Muslim armies assembled from western Asia and North Africa.
In the Early Middle Ages in Europe, knighthood was bestowed upon horse-mounted warriors. By the Late Middle Ages, the rank of knighthood became associated with the ideals of chivalry, a code of conduct for the perfect courtly Christian warrior.
Today, descendants of England are considered "White Anglo-Saxon Protestants" (WASPs), which is a term that applies to long-established wealthy families and white superiority in current culture with mostly English ancestors.
Not too many years ago, the Klu Klux Klan hijacked the term knight and deployed the term to describe many of their terrorist anti-black factions (e.g., Knights of the White Camelia, True Knights, Red Knights, Knights of the Ku Klux Klan, and Loyal White Nights.
Even the cloth white hoods of the Klu Klux Klan are symbols hijacking the symbolic metal helmets worn by knights of the middle ages.
If you follow the same "Thin Blue Line cancel culture" logic of hypocrite Prospect Knight Principal Greg Minter and the authorities over at District 214, the Blue Knights of Prospect should not be OK as a symbol in a woke high school system. Note: Cancellation of either symbol is probably not good for society in the long run.
Maybe District 214 and Prospect High School should remember their history lessons before canceling a dedicated police officer by pretending to misunderstand her message. Or maybe this is the plan … maybe District 214 education today is about sterilizing knowledge so that students have no capability for critical thinking, and no tolerance for controversy.
THANKS FOR READING CARDINAL NEWS …


^^ MOBILE? USE VOICE MIC ^^
facebook …
Please 'LIKE' the 'Arlington Cardinal Page. See all of The Cardinal Facebook fan pages at Arlingtoncardinal.com/about/facebook …

Help fund The Cardinal

Arlingtoncardinal.com/sponsor
THANKS FOR READING CARDINAL NEWS