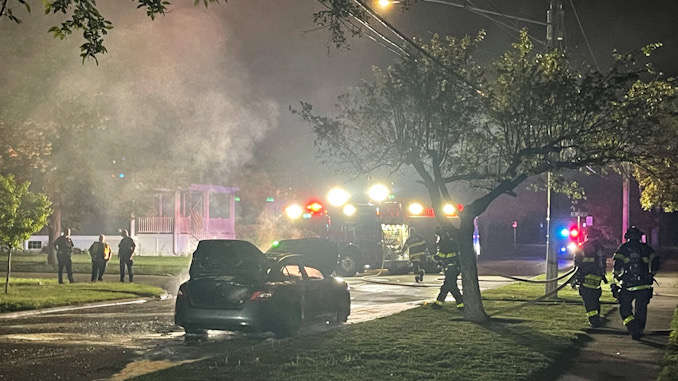 Police, firefighters, and paramedics from Arlington Heights responded about 3:17 a.m. Thursday, May 20, 2021 to a report of a vehicle fire on Belmont Avenue near Wing Street in Arlington Heights.
Police and firefighters arrived to find a well-involved car fire at the northbound curb of Belmont Avenue just south of Wing Street. Firefighters had water on the fire and extinguished with AFFF foam (Aqueous Film-Forming Foams), and extinguished the fire in a short time. AFFF foam coats a fire with film, which smothers the fire and prevents it from reigniting.
The fire scene is located in the street near the Recreation Park playground and tennis courts, so parents with small children, especially, and other pedestrians should take care to avoid stepping on combustion products, incomplete combustion products and remnant AFFF firefighting foam that may be in the street or near the parkway. Both combustion products and AFFF are associated with cancer-causing chemicals and chemicals that can cause other health problems. The concentration of potentially harmful chemicals is on the northbound (east) side of Belmont Avenue just south of Wing Street. Pedestrians should not walk through the foam or combustion products, and if they do walk through debris accidentally, they should not wear their shoes indoors. Children should definitely not play in the foam in the street.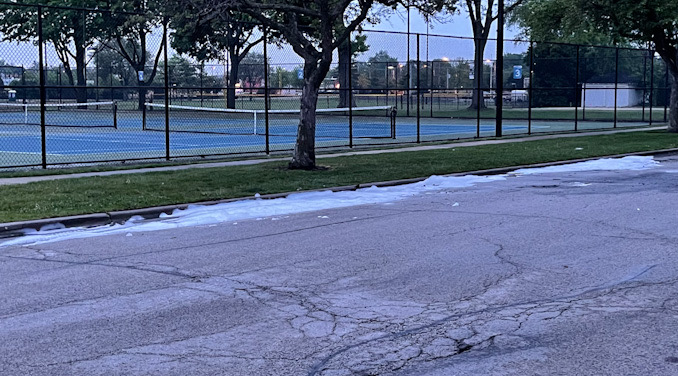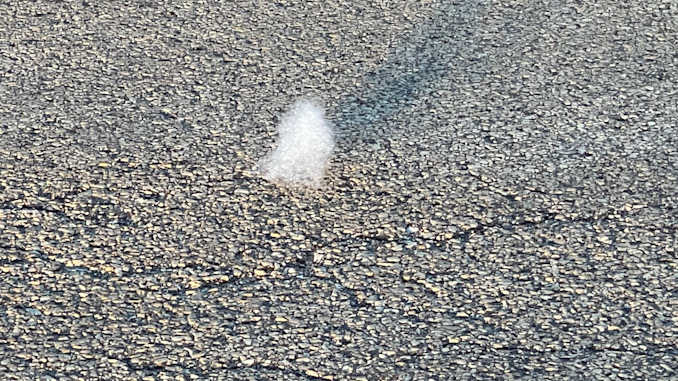 Newer AFFF products with the goal of lowering or eliminating cancer-causing chemicals (PFAS or Per- and Polyfluoroalkyl Substances) are being developed and are likely in use; however, as a general caution worldwide, pedestrians should avoid exposure because older (legacy) products may still be in use, and there may be unknown problems with newer chemicals, so it is best to avoid contact with the foam. According to the Illinois EPA, newer products, referred to as "modern fluorotelomer foams," are available and are not made with PFOS or PFOA precursors, but rather with PFAS analytes that contain fewer carbon atoms. These modern foams can breakdown to PFAS compounds that may be less toxic.
PFAS are mobile in soil and groundwater. These chemicals have been shown to bioaccumulate, or build up, in blood and organs over time, and may pose risks to human health, according to the Illinois EPA.
The two most common and best-studied compounds in the PFAS family are perfluorooctanoic acid (PFOA) and perfluorooctanesulfonic acid (PFOS), according to the Illinois EPA. Although PFOA and PFOS are no longer manufactured in the United States, they have been replaced with other PFAS alternatives such as hexafluoropropylene oxide dimer acid (used in GenX technology) and perfluorobutanesulfonic acid (PFBS). PFOA and PFOS are still used in manufacturing in other countries so consumer goods imported to the United States may contain PFOA or PFOS.
PFAS has been measured in indoor air, outdoor air, dust, food, water, and various consumer products. Occupational exposure to PFAS for some individuals, such as those working in PFAS manufacturing facilities, installing or treating carpets, or firefighters using PFAS containing firefighting foams, may be higher than the general public. Potential routes of PFAS exposure include ingestion, dermal, and inhalation. Current scientific literature indicates that most exposure to the general public is through ingestion of food and water, according to the Illinois EPA.
PFAS exposure is possible from a wide range of chemical contact worldwide. According to the Illinois EPA, PFAS are used in many industrial and consumer processes to make everyday items function as non-stick products, or have water-, oil-, or stain-resistant properties.
Exposure Sources:

Food packaging – fast food containers, lunch meat paper, disposable plates and bowls, and oil-, water- and grease-resistant coatings on food packaging

Commercial household products – non-stick coated cookware (Teflon), cleaning products, waxes, polishes, and adhesives

Clothing and fabric textiles – stain- and water-resistant carpeting and upholstery, water repellant clothing, tents, umbrellas, shoes, and leather goods

Cosmetics and personal care products – shampoos, conditioners, sunscreens, cosmetics, and dental floss

Building and exterior use products – paints and sealants

Industrial use – metal plating and finishing, wire coatings, automotive fluids, and the manufacture of artificial turf

Firefighting foam – aqueous film-forming foam (AFFF)
Listed Health Risks

Increased cholesterol levels

Decreased vaccine response in children

Changes in liver enzymes

Increased risk of high blood pressure or pre-eclampsia in pregnant women

Small decreases in infant birth weights

Increased risk of kidney or testicular cancer

— U.S. Department of Health & Human Services ATSDR (Agency for Toxic Substances and Disease Registry)
An increasing number of firefighters have filed lawsuits connected to health problems and use of AFFF at work.
In Pennsylvania, initially claims for strict products liability are dismissed for bystanders who claim they have been exposed to AFFF.
See also …
Illinois EPA | Per- and Polyfluoroalkyl Substances (PFAS)
Environmental Monitor | Bystanders Beware – No Strict Products Liability Claims for Bystanders in AFFF / PFAS Actions in Pennsylvania
DrugWatch | AFFF Firefighting Foam Lawsuits Filed Over Cancer Risk
Consumer Notice | Aqueous Film Forming Foam (AFFF) Lawsuits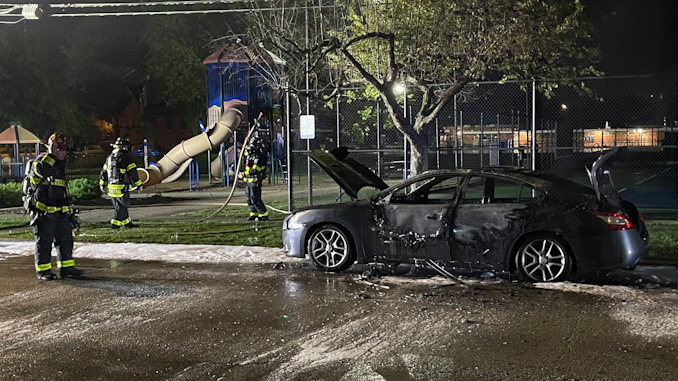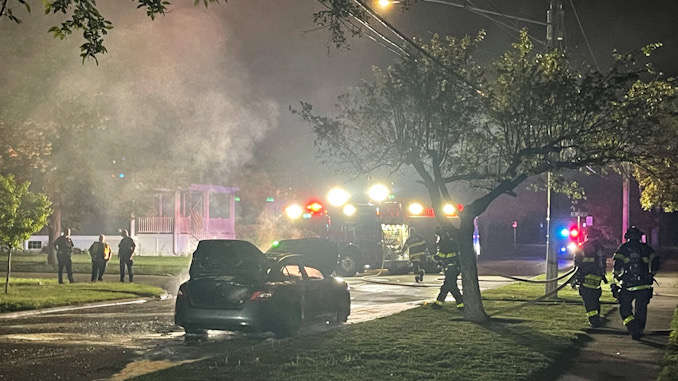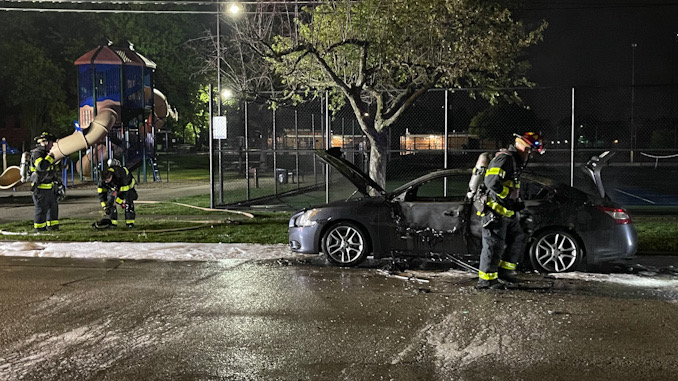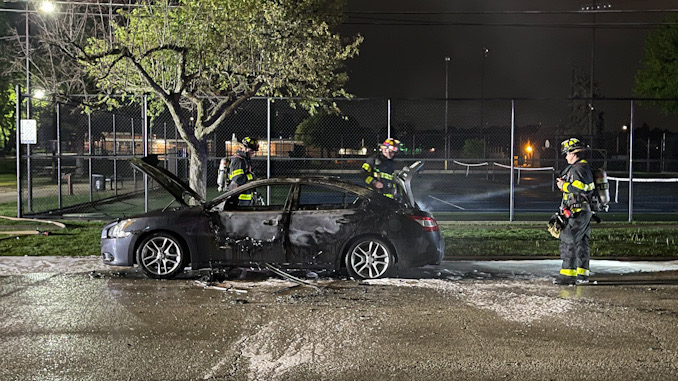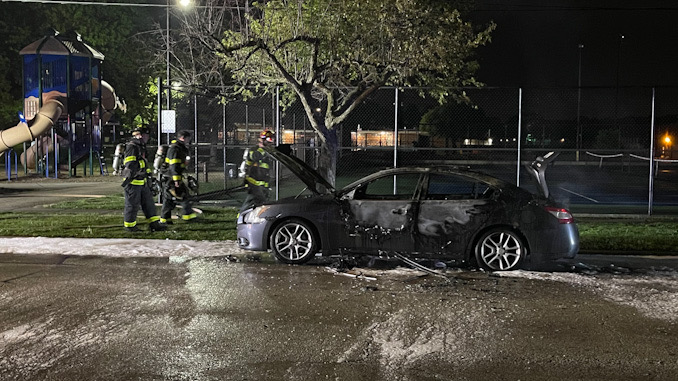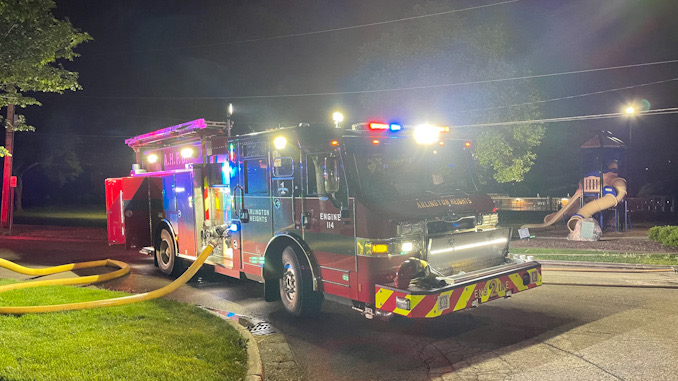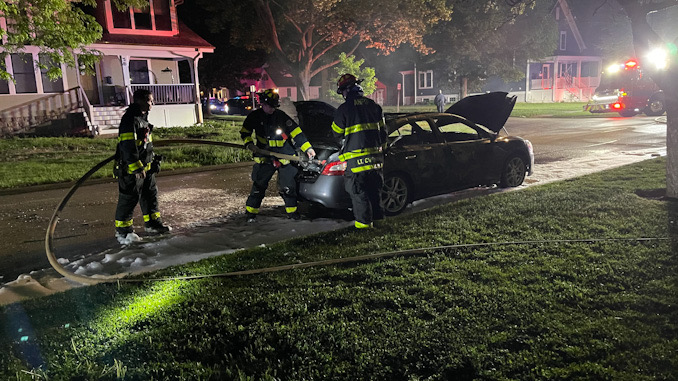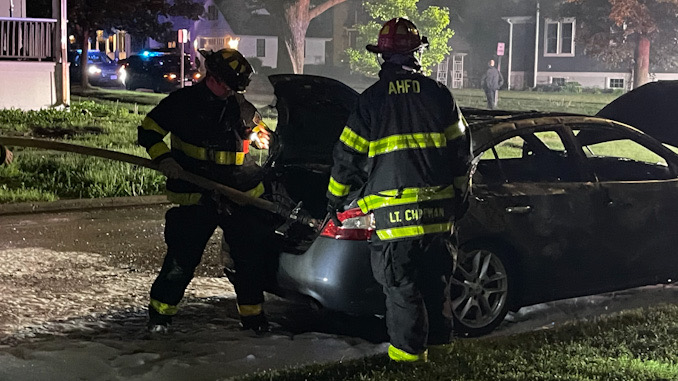 Stay informed with news from The Cardinal's Emergencies Behind the Scenes Facebook page — Facebook.com/CardinalEmergencies. Includes links to favorite public safety and emergency rescuers and product manufacturers and safety companies that have facebook pages. Submit your pictures or just stay up-to-date on with fire, rescue, EMS and police photo galleries. For a list of all of The Cardinal Facebook fan pages, go to Arlingtoncardinal.com/about/facebook …

Help fund The Cardinal

Arlingtoncardinal.com/sponsor
On March 19, 2021 3M released the following statement on PFAS …
3M and DuPont are major known manufacturers of AFFF.
3M Announces Progress on PFAS Initiatives and Actions
ST. PAUL, Minn.–(BUSINESS WIRE)–3M announced its latest actions as part of the company's ongoing efforts to research and share information related to per-and polyfluoroalkyl substances (PFAS). These actions advance the five initiatives and actions 3M announced in September 2019, building on the company's longstanding commitment to environmental stewardship. Most prominently, 3M has launched a research clearinghouse webpage and is releasing previously unavailable PFAS reference standards. These mark an important step in advancing the collective scientific knowledge around PFAS.
The clearinghouse compiles published research 3M has conducted around PFAS testing, measurement and remediation best practices to facilitate access to information for communities and officials around the country. In addition, industry-leading PFAS reference standards will be made available for free to government officials, researchers and academic institutions. There are many different types of PFAS, and many reference standards for these compounds are not commercially available. 3M's samples will make it easier to reliably study and test for PFAS materials—decreasing costs and expediting timelines for researchers.
"I am proud of the work we have done to engage with stakeholders and positively contribute toward the science of PFAS," said Denise Rutherford, senior vice president, 3M Corporate Affairs. "We believe that current and future progress resulting from these actions can help facilitate a more inclusive, science-based discussion around PFAS and the critical role they play in so many modern applications."
3M has also made progress on its other previously announced initiatives, including a commitment to ongoing remediation, coordinating research into PFAS, supporting nationwide science-based regulation, and ensuring appropriate disposal of Aqueous Film Forming Foam (AFFF).
The company is in the process of setting up an AFFF Stewardship pilot program that will support the proper disposal of the company's legacy AFFF product that its customers may still store. 3M also implemented its latest granular activated carbon (GAC) treatment system in Decatur, Alabama. Finally, 3M remains engaged in an effort to identify an established and independent scientific body to review the existing science on PFAS and develop an agenda for further research. While that effort is ongoing, 3M continues to collaborate with leading universities and government agencies like National Fermilab, California Institute of Technology and the University of Minnesota to advance the science of PFAS.
"The progress we've made on fulfilling our commitments is a positive step, and we will continue to identify new ways to share best practices and information about PFAS," said Rutherford.
For more information about 3M's ongoing efforts related to PFAS, visit www.3M.com/PFAS