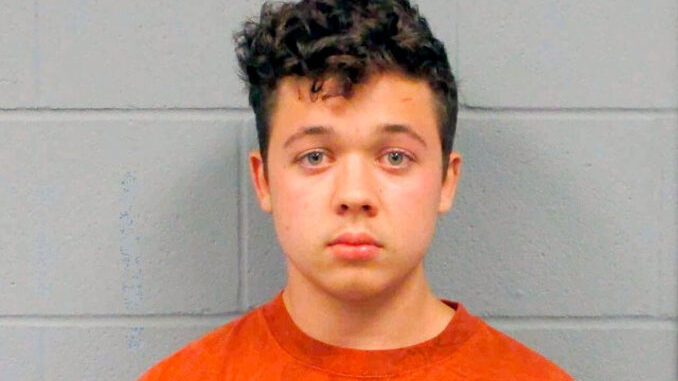 The trial for Kyle Rittenhouse — a male resident from Antioch, Illinois and homicide suspect connected to the shooting deaths of two rioters in Kenosha on August 25, 2020 — will not be in trial for at least 7 months. The trial was originally set for March 29, but is now set to start November 1, 2021. On Wednesday, March 10, 2021, Kenosha County Circuit Judge Bruce Schroeder granted the status hearing and the new trial date.
Multiple videos, either live on social media or published on news media video, showed that Rittenhouse carried a rifle at a violent rioting scene in Kenosha while multiple arson incidents occurred and while a mob was committing criminal damage to property during a protest and riot reacting to the police-involved shooting of Jacob Blake — an armed black male who on August 23, 2020 was resisting police who were on the scene attempting to arrest Blake for a violation of order of protection connected to an alleged sexual assault. Two days later Rittenhouse shot and killed two rioters and seriously injured and maimed a third rioter while he was being chased, and while background gunshots were heard before and during the shots fired by Rittenhouse.
First, Rittenhouse shot and killed Kenosha resident Joseph Rosenbaum, 36, who was chasing him while a mob was in the area, and while gunshots were heard in the background.
Second, Rittenhouse shot and killed Silver Lake resident Anthony Huber, 26, after Huber hit Rittenhouse in the head with the sharp edge of a skateboard while Rittenhouse was down on the street.
Rittenhouse also shot and maimed Gaige Grosskreutz, who was carrying a handgun and approached Rittenhouse while Rittenhouse was on the ground. Grosskreutz stopped in his tracks and put his hands up when Huber was shot. Grosskreutz advanced toward Rittenhouse a second time, and Rittenhouse shot Grosskreutz in the upper arm and elbow, nearly amputating his forearm and hand that was holding the handgun.
Rittenhouse did not shoot any other rioters, but before he shot Huber and Grosskreutz, he shot at a male, known as "Jump Kick Man" who tried to jump and kick Rittenhouse while Rittenhouse was on the ground and surrounded by rioters who were chasing him when he was trying to flee the scene where Rosenbaum had been shot. Rittenhouse attorney Mark Richards argued that Rittenhouse was under threat by several people who pursued him by foot that night, including the three people he shot. They include a person caught on video that Richards called "jump kick man" who he said struck Rittenhouse to the ground. "Jump Kick Man" wearing light-colored pants was never identified in the initial course of the investigation and discovery process.
Public opinion before the trial ranges from recognizing Kyle Rittenhouse as a murderer who killed 2 innocent people while looking for trouble as an underage youth carrying a gun he illegally possessed; to recognizing Rittenhouse as a hero who killed two and seriously injured another in self-defense while helping protect a city that was left unprotected by law enforcement agencies that failed to prevent the destruction of Kenosha businesses and millions of dollars of criminal damage to the City of Kenosha.
Rittenhouse is charged with first-degree intentional homicide and first-degree reckless homicide in the deaths of Joseph Rosenbaum and Anthony Huber. He is also charged with attempted first-degree homicide for shooting and injuring Gaige Grosskreutz.
Rittenhouse is also charged with possession of a dangerous weapon while under the age of 18, and reckless endangerment. Rittenhouse was 17 at the time of the riot shootings. Rittenhouse possessed an AR-15 style gun he purchased earlier in 2020. Numerous media sources have errantly reported that Rittenhouse used a $1200 Coronavirus Stimulus check to purchase the gun, but Rittenhouse most likely did not purchase the gun with funds from a $1,200 Coronavirus stimulus check because he was ineligible as a dependent on his mother's taxes. The money used to purchase the gun was most likely from Coronavirus unemployment compensation he received while on furlough from the YMCA.
Allegedly the money was given to Burlington, Wisconsin resident Dominick Black, age 19, who allegedly purchased the weapon for Rittenhouse at an Ace Hardware store in Ladysmith, Wisconsin, on May 1, 2020. Dominick Black is charged with two felony counts of intentionally giving a dangerous weapon to someone under 18, resulting in death.
Rittenhouse and Black both told police they volunteered to provide security for a used car business known as Car Source. The owner of Car Source told police he never asked Rittenhouse or Black to guard his business.
As an Illinois resident, Rittenhouse was also temporarily in legal trouble because gun possession in Illinois is prohibited for people younger than 21 unless they get written consent from a parent or legal guardian. However in mid-October 2020, Lake County State's Attorney Michael Nerheim's office stated that an investigation conducted by local police regarding the Rittenhouse gun possession "revealed the gun used in the Kenosha shooting was purchased, stored and used in Wisconsin, which is not in violation of Illinois law" and that there was no evidence the gun was ever possessed by Kyle Rittenhouse in Illinois.
Illinois Gov. J.B. Pritzker's signed a warrant calling for Rittenhouse's extradition in late October 2020 and on Friday, October 30, 2020 Illinois, Judge Paul Novak ruled for the extradition. Rittenhouse was transported by the Lake County Sheriff's Office and transferred to the custody of Kenosha County Sheriff's Office deputies at the Illinois-Wisconsin state line at 3:45 p.m. on Friday, October30, 2020.
On March 10, 2021 during a virtual hearing, Kenosha County District Attorney Thomas Binger said his office would not be prepared for trial by March 29, 2021, and Rittenhouse attorney Mark Richards also said he would not be prepared to start the trial on March 29.
Delaying the trial "will put us in a better position to know whether or not we'll be ready … it will also give us time to make sure witnesses will be available and all attorneys will be available," said Thomas Binger, Kenosha County District Attorney. "This case is getting older, but we'll probably get a year from the time you were charged plus … it's the day you were arraigned," he told Rittenhouse, who attended the virtual hearing via Zoom. "Do you have any problem with the extension?"
Rittenhouse replied that he did not have a problem with the extension of the start of trial.
Rittenhouse was released from jail in late November 2020 after posting a $2 million bond, raised primarily by constitutional right advocacy group #FIGHTBACK. Kyle Rittenhouse is currently residing in an undisclosed location with his family.
In mid-January 2021, Kenosha County prosecutors requested a hearing for the modification of Kyle Rittenhouse's bond with additional restrictions after he was identified in Pudgy's Pub in Mount Pleasant in Racine County bar. Rittenhouse, then 18 years-old was captured on the establishment's surveillance video consuming three beers in 90 minutes, which is legal because his mother accompanied him to the bar. The Kenosha County DA's Office presented several surveillance images showing Rittenhouse consuming beer and posing for photos displaying the "OK gesture" (thumb and index finger forming a circle with other fingers extended) which since 2017 has been associated with white supremacy used as a tease to trigger a reaction or as an outright symbol of white power or white supremacy. Rittenhouse was also allegedly serenaded by five males singing the Proud Boys anthem, "Proud of Your Boy" while at the bar.
The "OK gesture" also has multiple meanings internationally, including, "everything is OK" and vulgar displays representing the anus, an insulting gesture similar to the middle finger, an evil eye curse, and is connected to a school prank gesture that was popular in the 1970s when students punched a victim in the arm if they induced their "victim" to look in the circle when the gesture was held below the waist.
Internationally, the gesture also has connections to financial, linguistic, numerical, political, and religious symbolism.
In January 2021, the Kenosha County DA's office asked the court for a hearing to determine that Rittenhouse be banned from making white-power signs — as well as having contact with "any known militia" or "violent white power/white supremacist groups," including the Proud Boys.
The Kenosha County DA' office also wanted the hearing to ask the court to restrict the homicide suspect's legal drinking because alcohol "increases the likelihood of violent criminal acts" and because drinking alcohol in a bar is illegal under 21 in his home state of Illinois.
At a virtual hearing on Wednesday, February 3, 2021, the Kenosha County DA's office, along with the alleged bond modifying-conditions introduced in January, asked a judge for a new arrest warrant for Kyle Rittenhouse because prosecutors didn't know where Rittenhouse is living — a bond violation. Detectives had visited the suspect's last known Antioch, Illinois address on February 2, 2021, and discovered that Rittenhouse had not lived there for months. The Rittenhouse legal team responded, saying he and his family are at a "Safe House" due to threats.
On Thursday, February 11, 2021, Kenosha County Circuit Judge Bruce Schroeder refused the prosecutor's request to issue a new arrest warrant for the alleged residency listing bond violation, and stated the Kenosha County Sheriff's Office can handle any other alleged bail violations.
RELATED NEWS …
CARDINAL NEWS | FIGHT BACK, Kyle Rittenhouse Legal Defense Team, Releases Video of Night 3 of Kenosha Riots When 2 Rioters Were Killed and 1 Was Injured from Gunshots
CARDINAL NEWS | Letter from Law Firm Pierce Bainbridge Representing Kyle Rittenhouse in Defense of First Degree Intentional Homicide Charges and Other Charges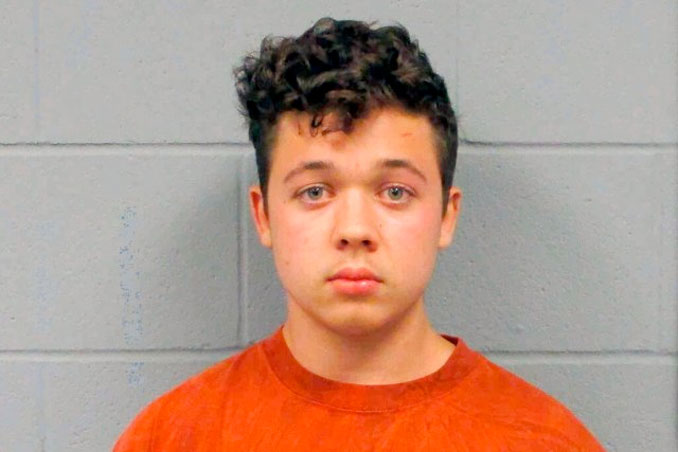 Get updates from The Cardinal ALL NEWS FEEDS on Facebook. Just 'LIKE' the 'Arlington Cardinal Page (become a fan of our page). The updates cover all posts and sub-category posts from The Cardinal — Arlingtoncardinal.com. You can also limit feeds to specific categories. See all of The Cardinal Facebook fan pages at Arlingtoncardinal.com/about/facebook …

Help fund The Cardinal

Arlingtoncardinal.com/sponsor