Shot in Abdomen on South Stony Island Ave
The shooting happened while the officer was driving and stopped in his black Jeep at a traffic light at 89th Street and Stony Island Avenue. CBS 2's Charlie De Mar reports. YouTube Tips ⓘ
Chicago police are seeking help from the public for the identification of two shooters, that shot an off-duty Chicago police officer about 1:00 p.m. Monday, March 15, 2021 in the block of 8900 South Stony Island Avenue near the Family Dollar store in Chicago's Calumet Heights neighborhood.
Police said the officer was stopped at a traffic light when two people came up beside his vehicle and started firing their guns at him, striking him in the "lower torso area." The police officer was transported in a police vehicle to Level 1 Trauma Center University of Chicago Medical Center and treated with emergency surgery. The Chicago police officer, who has been on the force for four years and works in the department's Fourth District, was reported to be in fair condition and "doing well" following the surgery, according to the Chicago Police Department.
"Officer stopped at a traffic light, off duty, in his personal car. Offenders pull up behind him and beside him and just start firing into the car."

— Chicago Police Supt. David Brown
Supt. David Brown said the officer was alert when he was transported to the hospital. Dr. Susan Rowell, a trauma surgeon at Level 1 Trauma Center University of Chicago Medicine, said the officer sustained injuries to the small and large bowel and was "doing as best as can be expected."
Three tactical teams responded to the location from activation of live ShotSpotter alerts. Upon arrival to the area, they found the wounded officer and took him in their squad car to the hospital, according to Supt. David Brown.
He said, "In my opinion, without their intervention, quick thinking to get him transported as quickly as possible… got him into surgery, likely saved his life."
Supt. Brown and Mayor Lori Lightfoot met with the officer's family Monday afternoon. Mayor Lightfoot said"we have to give incredible praise" to the three officers who acted swiftly.
"Unfortunately this event reminds of the dangers our officers face every single day, whether on or off duty, and we just have to say a prayer for this officer and his family."

— Mayor Lori Lightfoot
A Chicago Police Department investigation is underway. Initially the circumstances of the shooting are not confirmed, and police are not sure whether the off-duty police officer was targeted
Police suspect the offender may have used a Mitsubishi Eclipse Cross that was fraudulently rented from Avis.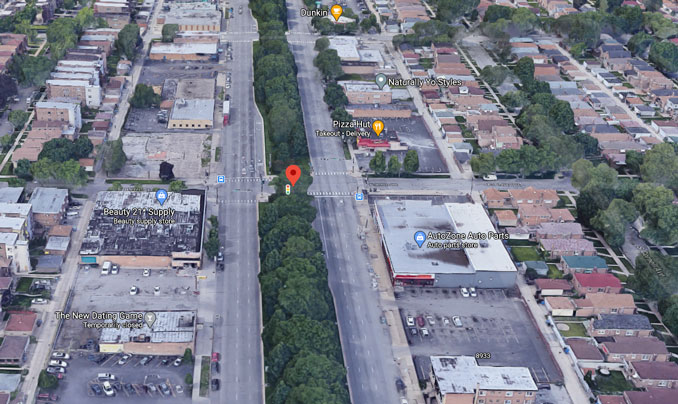 Second Chicago Police Officer Shot in 2 Days
The second shooting of a police officer in two days was at Stony Island Avenue and 89th Street (Mugo Odigwe/CBS Chicago). YouTube Tips ⓘ
A Chicago police officer was shot outside the 6th District Chicago police station on Halsted Street on Sunday. The bullet grazed his face. Police said he was not seriously hurt (FOX 32 Chicago). YouTube Tips ⓘ