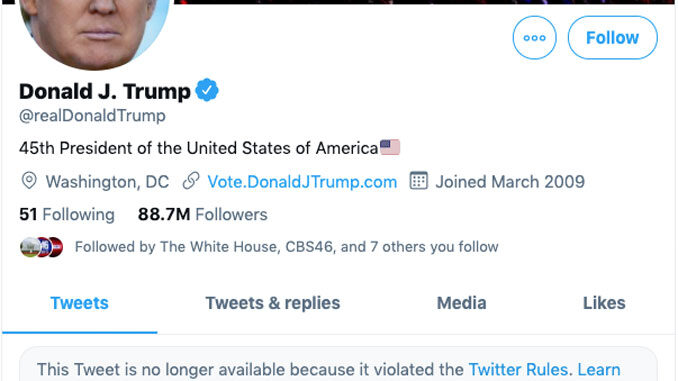 Twitter on Friday, January 8, 2021 announced the permanent suspension of President Trump's account effective immediately, saying, "After close review of recent Tweets from the @realDonaldTrump account and the context around them — specifically how they are being received and interpreted on and off Twitter — we have permanently suspended the account due to the risk of further incitement of violence."
Twitter made the announcement in a blog post, "Permanent suspension of @realDonaldTrump."
According to the blog post, on January 8, 2021, President Donald J. Trump tweeted two messages that on their own did not appear to incite violence.
Twitter quoted the two tweets …
"The 75,000,000 great American Patriots who voted for me, AMERICA FIRST, and MAKE AMERICA GREAT AGAIN, will have a GIANT VOICE long into the future. They will not be disrespected or treated unfairly in any way, shape or form!!!"
Shortly thereafter, the President tweeted:
"To all of those who have asked, I will not be going to the Inauguration on January 20th."
Twitter stated, ❝ Due to the ongoing tensions in the United States, and an uptick in the global conversation in regards to the people who violently stormed the Capitol on January 6, 2021, these two Tweets must be read in the context of broader events in the country and the ways in which the President's statements can be mobilized by different audiences, including to incite violence, as well as in the context of the pattern of behavior from this account in recent weeks. After assessing the language in these Tweets against our Glorification of Violence policy, we have determined that these Tweets are in violation of the Glorification of Violence Policy and the user @realDonaldTrump should be immediately permanently suspended from the service.❞
Twitter then provided an assessment …
❝ We assessed the two Tweets referenced above under our Glorification of Violence policy, which aims to prevent the glorification of violence that could inspire others to replicate violent acts and determined that they were highly likely to encourage and inspire people to replicate the criminal acts that took place at the U.S. Capitol on January 6, 2021.
This determination is based on a number of factors, including:
President Trump's statement that he will not be attending the Inauguration is being received by a number of his supporters as further confirmation that the election was not legitimate and is seen as him disavowing his previous claim made via two Tweets (1, 2) by his Deputy Chief of Staff, Dan Scavino, that there would be an "orderly transition" on January 20th.
The second Tweet may also serve as encouragement to those potentially considering violent acts that the Inauguration would be a "safe" target, as he will not be attending.
The use of the words "American Patriots" to describe some of his supporters is also being interpreted as support for those committing violent acts at the US Capitol.
The mention of his supporters having a "GIANT VOICE long into the future" and that "They will not be disrespected or treated unfairly in any way, shape or form!!!" is being interpreted as further indication that President Trump does not plan to facilitate an "orderly transition" and instead that he plans to continue to support, empower, and shield those who believe he won the election.
Plans for future armed protests have already begun proliferating on and off-Twitter, including a proposed secondary attack on the US Capitol and state capitol buildings on January 17, 2021.
As such, our determination is that the two Tweets above are likely to inspire others to replicate the violent acts that took place on January 6, 2021, and that there are multiple indicators that they are being received and understood as encouragement to do so.❞
Twitter did not mention any assessment regarding the impact their suspension of Trump might have on Trump's supporters' inclination toward violence, or whether the company even considered the reaction their actions may cause.
The day after the U.S. Capitol siege, several pundits quoted Martin Luther King Jr. regarding the cause of the siege on the U.S. Capitol — commenting that a large segment of the population in the United States perceive themselves as unheard by their government representatives and politicians, and suppressed by social media.
"Injustice anywhere is a threat to justice everywhere.

Darkness cannot drive out darkness; only light can do that. Hate cannot drive out hate; only love can do that.

A riot is the language of the unheard."

— Martin Luther King, Jr.
Martin Luther King, Jr. is credited with another inspirational quote on the topic of silence …
"Our lives begin to end the day we become silent about things that matter."

― Martin Luther King Jr.
Looking at the quote from Martin Luther King, Jr. in reverse … People who feel that life as they know it is ending, may feel they have nothing to lose if they are silenced and suppressed. With darkness, you may never know what your opponent is thinking. At least with free speech the thought process of "your enemy" is revealed, and there is some hope of negotiation and reasoning. With darkness in play, violence may come unexpectedly. We may soon find out whether suppression of speech is more dangerous than incitement with speech — the message from supporters of the First Amendment to the United States Constitution and Freedom of Speech and Freedom of Thought. Sara Haines on The View wonders "if the devil you see is better than the devil you don't see."
Others support the argument that you can't falsely shout 'Fire" in crowded theater when there is no fire, in other words supporting suppression of Free Speech is it's dangerous.
MORE: Sen. @ChrisMurphyCT: "Nobody's robbing Josh Hawley of his First Amendment rights. He can go and speak on the Senate floor. He can go speak on a street corner. Nobody's locking him up for saying what he thinks, for leading an insurrection against the federal government." https://t.co/ktET7lfvnp

— The View (@TheView) January 8, 2021
Sen. Chris Murphy (D-Connecticut) had a discussion with Meghan MccCain on The View regarding Sen. Josh Hawley's book being canceled by Simon and Schuster a day after Murphy said Hawley engaged in outrageous behavior, riling up people to march on the United States Capitol. He supports the cancellation, saying Hawley's free speech is not inhibited because he can still speak on a street corner or on the Senate floor.
Sen. Josh Hawley loses book deal after riots | The View.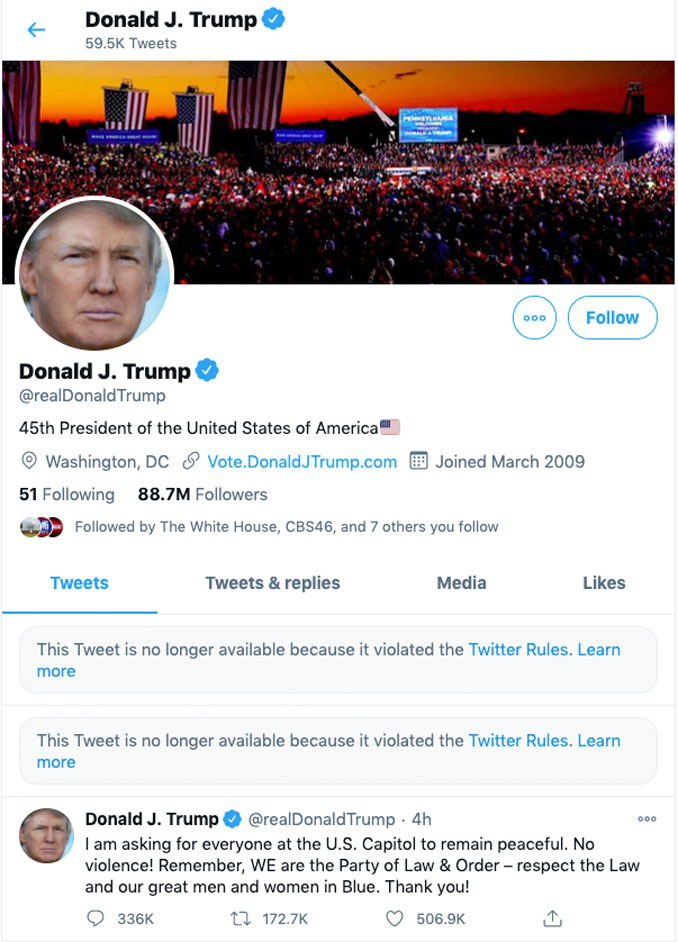 Get updates from The Cardinal ALL NEWS FEEDS on Facebook. Just 'LIKE' the 'Arlington Cardinal Page (become a fan of our page). The updates cover all posts and sub-category posts from The Cardinal — Arlingtoncardinal.com. You can also limit feeds to specific categories. See all of The Cardinal Facebook fan pages at Arlingtoncardinal.com/about/facebook …

Help fund The Cardinal

Arlingtoncardinal.com/sponsor