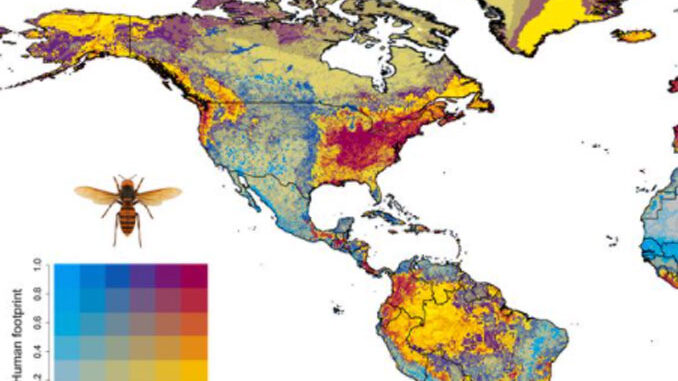 On October 22, 2020, the Washington State Department of Agriculture located the first-ever nest of Asian giant hornets (aka murder hornets) in the United States. The nest was found in a tree cavity near Blaine, WA after entomologists trapped, tagged, and tracked a live Asian giant hornet back to its nest [NO AUDIO].
An Asian Giant Hornet nest — the first ever discovered in the United States was eradicated this weekend, but there is concern whether fertilized queens had already left the nest to overwinter and create new nests next Spring and Summer 2021. There is also concern that the nest in Blaine, Washington is not the only nest in the area.
After weeks of trapping and searching, Washington State Department of Agriculture (WSDA) entomologists have located the Asian giant hornet nest on a property in Blaine – the first ever such nest found in the United States, but not far from the location of the first Asian Hornet (Vespa mandarinia) discovery in North America a little over one year ago.
The WSDA eradicated the nest on Saturday, October 24, 2020. Initial plans to eliminate the nest Friday were delayed due to the inclement weather.
The successful detection of a nest comes after a WSDA trapper collected two live Asian giant hornets on October 21, caught in a new type of trap the agency had placed in the area. Two more hornets, also living, were found in another trap the morning of October 22 when WSDA staff arrived in the area to tag the previously trapped hornets with radio trackers and follow one back to its nest.
The entomologists were able to attach radio trackers to three hornets, the second of which lead them to the discovery of the nest, found about 4:00 p.m. on Thursday, October 22, 2020.
The nest was inside the cavity of a tree located on private property near an area cleared for a residential home. While Asian giant hornets normally nest in the ground, they are occasionally found nesting in dead trees. Dozens of the hornets were seen entering and exiting the tree while the WSDA team was present.
The property owner has already provided permission for WSDA staff to eradicate the nest and remove the tree, if necessary.
WSDA has been actively searching for Asian giant hornet nests since the first such hornets were caught earlier this year. The first confirmed detection of an Asian giant hornet in Washington was made in December 2019 and the first hornet trapped in July of this year. Several more were subsequently caught, all in Whatcom County.
Using a network of traps, some set by WSDA staff and hundreds more placed by citizen scientists and other cooperators throughout the state, the entomologists have been diligently tracking sightings of the Asian giant hornet in an ongoing effort to find nests to eliminate them.
Asian giant hornets, an invasive pest that is not native to the United States, are considered the world's largest hornet and a predator of honey bees and other insects. A small group of Asian giant hornets can kill an entire honey bee hive in a matter of hours.
This summer WSDA had hoped to find and destroy any or all nests (which had not been discovered yet) by mid-September 2020 before the colony in each nest would begin creating new reproducing queens and drones. Until that time, the colony will only contain the queen and worker Asian giant hornets. In Autumn young queens emerge from the nest while the original queen is still alive. When the young queens emerge from the nest, male Asian Giant Hornets mate with the queens. The queens then fly away and find a place to overwinter. There could be hundreds of new queens that have already been fertilized and left the nest in Blaine, Washington during September and early October 2020, but not all queens survive. Destroying the nest before new queens emerge and mate would prevent the spread of this invasive pest, but only if there are no other nests in the region. Nevertheless, without the destruction of the discovered nest before the queens emerge and become fertilized, it is possible that several (even hundreds of) Asian Giant Hornet queens have survived and have prepared to hibernate for the winter. Among those that emerge and are fertilized and successfully find a place to safely rest over the winter, some Asian Giant Hornet queens with sufficient initial energy source will survive by avoiding predators, avoiding freezing temperatures, avoiding disease, and avoiding accidental deaths. Those that survive will emerge from their overwintering shelter and build new nests, which would be created during the Spring and Summer of 2021.
An Asian giant hornet enjoys some strawberry jam after being tagged with a radio transmitter in Whatcom County on October 22, 2020 (Washington State Department of Agriculture).
European Hornets, which are often mistaken for Asian Giant Hornets, were introduced to the United States in the mid-1800s. They are rarely seen in Illinois, and it is even uncommon to see European Hornets in some of the states in the Eastern United States where they are well established, such as upstate New York, Pennsylvania, Virginia and West Virginia. The European Hornets prefer wooded areas and the hollowed out areas of dead trees, but occasionally they nest in void spaces in homes, sheds, attics, patio decks and chimneys. That's when people are very surprised by these extraordinarily large hornets.
Asian Giant Hornets are a little larger than European Hornets, and they are distinguished by their larger bright orange, almost plastic-looking heads. Asian Giant Hornets also have broader, more solid stripes around their bodies. The humming of their larger wings is terrifying. A hornet believed to be an Asian Giant Hornet was sighted in July 2012 on two occasions in Arlington Heights, Illinois a few blocks west of St. Viator High School. However, there were no additional sightings, and no qualified entomologists confirmed the identification or sightings. It is possible that an Asian Giant Hornet could be released from a cargo jet at O'Hare after traveling as a stowaway. The key to introduction of the Asian Giant Hornet to Chicagoland would be the survival of a fertilized queen. It would be less likely that a single fertilized queen would survive overwintering in Chicagoland after flying away from a cargo jet at O'Hare in Autumn. But if a single fertilized queen arrived in Spring as a stowaway on a cargo jet and established a nest in the Des Plaines River area near Rosemont or Des Plaines, for example, the chance of hundreds of fertilized queens finding new homes in the fall would increase the chance that some of the queens would survive overwintering. Then the Illinois Department of Agriculture would be challenged with a similar issue that the Washington State Department of Agriculture faced this Spring, Summer and Fall.
Even with harsh winters or with milder winters as a result of climate change, experts have acknowledged that northern Illinois is ideal territory for the establishment of Asian Giant Hornet colonies.
Asian Giant Hornets are also capable of delivering very painful stings with a high volume of venom. In 2013, Asian Giant Hornets were prevalent in China and killed at least 41 people and injured more than 1,600 people in Shaanxi, China. Death is caused by anaphylactic shock and/or multiple organ failure. The venom can destroy tissue and cause bullet-hole size areas of tissue death. Multiple stings can cause multiple bullet-hole size lesions on victims.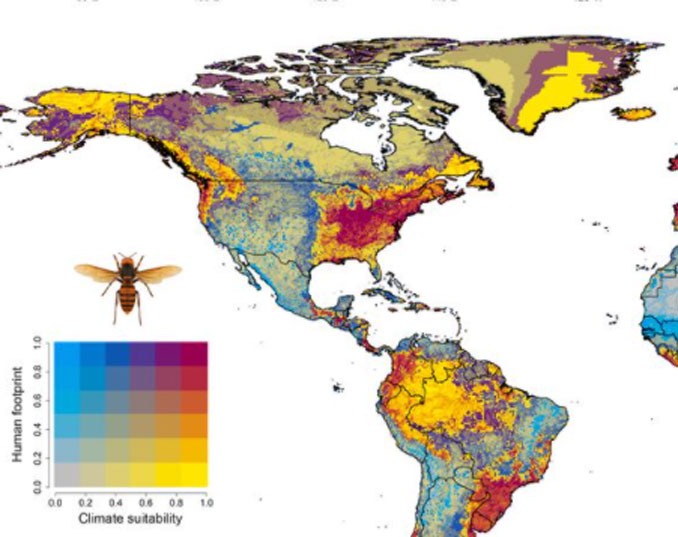 Visit agr.wa.gov/hornets to learn more about Asian giant hornets and the state's trapping and eradication project.
See also …
Proceedings of the National Academy of Sciences of the United States of America | Assessing the ecological niche and invasion potential of the Asian giant hornet
SEARCH Asian Giant Hornet on Cardinal News …
RELATED NEWS …
CARDINAL NEWS | Deadly Asian Giant Hornet Spotted in Arlington Heights, Illinois: Not Cicada Killer Wasp (Not Official)
Get updates from The Cardinal ALL NEWS FEEDS on Facebook. Just 'LIKE' the 'Arlington Cardinal Page (become a fan of our page). The updates cover all posts and sub-category posts from The Cardinal — Arlingtoncardinal.com. You can also limit feeds to specific categories. See all of The Cardinal Facebook fan pages at Arlingtoncardinal.com/about/facebook …

Help fund The Cardinal

Arlingtoncardinal.com/sponsor
WSDA entomologists locate first Asian giant hornet nest in the US – WSDA Virtual Press Conference.