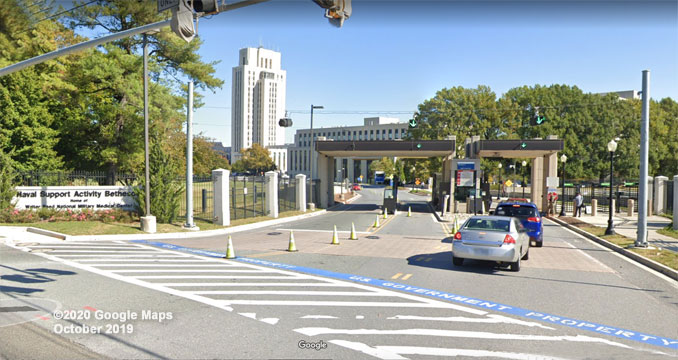 Dr. Sean Conley: "This morning the president is doing very well…at this time the team and I are extremely happy with the progress the president has made."
In addition to treatment revealed yesterday, Dr. Garibaldi revealed that President Donald Trump received a Remdesivir, which is a broad-spectrum antiviral medication developed by the biopharmaceutical company Gilead Sciences.
Dr. Sean Conley provided the following statement on Saturday, October 3, 2020. This morning I'd like to start by sharing that the President and the First Family and First Lady are extremely grateful for your support and prayers that the whole world and country have been providing.
Dr. Conley said that this morning the president is doing very well, and introduced some of his medical team: Dr. Sean Dooley, Pulmonary Critical Care; Dr. Brian Garibaldi, Pulmonary Critical Care; Dr. Robert Browning, Pulmonary Critical Care; Dr. Jason Blayloch, Infectious Disease; Dr. Wes Campbell, Infectious Disease; Dr. John Hutcheon, Anesthesia; Maj. Kurt Klein, Army Nurse; Commander Maghan Nasworthy, Navy Nurse; Lt. Juliana Levopa, Navy Nurse; Lt. Commander John Shea, Clinical Pharmacist; Lt. Beth Carter, Navy Nurse; Lt. Maureen Mehan, Navy Nurse; and Dr. Jess Shirenell, Director Executive Medicine Program.
Dr. Conley said, "As reported yesterday in consultation with this group, I recommended that we bring the president to Walter Reed to provide state of the art monitoring and any care that he may need. Just 72 hours into the diagnosis now, the first week of COVID, and in particular days 7-10 are the most critical in determining the likely course of this illness. At this time, the team and I are extremely happy with the progress the president has made. Thursday he had a mild cough with nasal congestion and fatigue — all of which are now resolving and improving."
Dr. Dooley revealed some specifics of the case. With a multi-disciplinary approach the team has monitored the president's heart function, kidney function, liver function — all of those are normal; and the president this morning is not on oxygen. Dr. Dooley reported he is not having difficulty breathing, having walked around the White House medical unit upstairs. He described the president in good spirits, and quoted the president saying, "I feel like I could walk out of here today."
Dr. Garibaldi discussed therapeutics and the plan for today. He stated that about 48 hours ago, the president received a special antibody therapy directed against the coronavirus. Friday evening President Trump received his first dose of IV Remdesivir, and the plan is to complete a five-day course of Remdesivir. The big plan for day since he is in such good spirits, is to encourage him to eat, drink, to stay hydrated, to be up out of bed, and to be working and to do the things he needs to do to get well.
Dr. Conley added that President Trump has been fever free for over 24 hours. "The team remains cautiously optimistic, but he's doing great," said Dr. Conley.
His last oxygen saturation reading was 96 percent. Dr. Conley confirmed that the president had a fever Thursday into Friday, but since Friday morning he had none. There was some lack of clarity regarding with the president was ever recently on supplemental oxygen. Dr. Conley replied to the press that President Trump never had any difficulty breathing.
Thursday afternoon a repeat COVID-19 PCR test was ordered, following notification of infection involving a close contact, along with some clinical indications. Late Thursday night the PCR confirmation was positive.
If the president needs the 5-day Remdesivir, that will be the course, according to Dr. Conley.
His heart rate has been in the 70s to 80s. His blood pressure systolic had been 110 to 120 mm Hg.
Dr. Conley replied that President Trump has had no supplemental oxygen on Thursday, Friday, or Saturday.
Many used Twitter to question whether the report was transparent, and whether supplemental oxygen was used at the White House before the president was transported to Walter Reed Medical Center.
President Trump's vital signs were "very concerning" over the last day and he is not out of danger, the White House chief of staff Mark Meadows said on Saturday, contradicting a statement by the president's doctors on television just minutes before.https://t.co/HeFN0b19yK

— The New York Times (@nytimes) October 3, 2020
RELATED NEWS …
CARDINAL NEWS | President Donald Trump's COVID-19 Treatment Learned As He is Admitted to Walter Reed Medical Center
THANKS FOR READING CARDINAL NEWS …


^^ MOBILE? USE VOICE MIC ^^
facebook …
Please 'LIKE' the 'Arlington Cardinal Page. See all of The Cardinal Facebook fan pages at Arlingtoncardinal.com/about/facebook …

Help fund The Cardinal

Arlingtoncardinal.com/sponsor
THANKS FOR READING CARDINAL NEWS
See also …
USDA | Coronavirus (COVID-19) Update: FDA Issues Emergency Use Authorization for Potential COVID-19 Treatment
Wang Y, Zhang D, Du G, Du R, Zhao J, Jin Y, Fu S, Gao L, Cheng Z, Lu Q, Hu Y, Luo G, Wang K, Lu Y, Li H, Wang S, Ruan S, Yang C, Mei C, Wang Y, Ding D, Wu F, Tang X, Ye X, Ye Y, Liu B, Yang J, Yin W, Wang A, Fan G, Zhou F, Liu Z, Gu X, Xu J, Shang L, Zhang Y, Cao L, Guo T, Wan Y, Qin H, Jiang Y, Jaki T, Hayden FG, Horby PW, Cao B, Wang C. Remdesivir in adults with severe COVID-19: a randomised, double-blind, placebo-controlled, multicentre trial. Lancet. 2020 May 16;395(10236):1569-1578. doi: 10.1016/S0140-6736(20)31022-9. Epub 2020 Apr 29. Erratum in: Lancet. 2020 May 30;395(10238):1694. PMID: 32423584; PMCID: PMC7190303. Link to full article on Elsevier Public Health Emergency Collection