President Trump shared a video to Twitter Friday after his positive diagnosis of COVID-19.

Less than 24 hours after announcing he test positive for the SARS-CoV-2 that causes Coronavirus COVID-19, President Donald Trump was admitted to Walter Reed Medical Center in an "abundance of caution." Friday afternoon, October 2, 2020, White House physician Dr. Sean Conley said Trump was "fatigued but in good spirits," and had been given an experimental antibody cocktail treatment, and was taking several nutritional supplements as well. Multiple news media companies without officially confirmed sources reported Friday that the president has experienced fever, chills, a cough and nasal congestion.
Dr. Sean Conley also said the First Lady Melania Trump, who turned 50 earlier this year, "remains well with only a mild cough and headache."
President Donald J. Trump is being treated to strengthen his immune system, taking zinc, Vitamin D, and Vitamin C. He is also taking Pepcid, aspirin, and melatonin.
The mechanism of Pepcid is not certain, but is believed to prevent a hyperimmune response. Famotidine (US brand name Pepcid) is a histamine-2 blocker that is known to aid stomach health by decreasing the amount of acid the stomach produces. Famotidine is used to treat and prevent ulcers in the stomach and intestines. Famotidine also treats conditions in which the stomach produces too much acid, such as Zollinger-Ellison syndrome. The drug-repurposing of Famotidine for COVID-19 treatment involves the drug acting as an antagonist or inverse-agonist of histamine signaling and via its arrestin biased activation — all a result of its binding to Histamine H2 receptors. A SARS-CoV-2 infection that results in COVID-19 may be at least partially mediated by reduction of a pathologic histamine release (a hyper-immune response). Arrestins (Arr) are a small family of proteins important for regulating signal transduction (the molecular process in which a chemical or physical signal is transmitted through a cell). Angiotensin II action is tempered by β-arrestin with possible therapeutic effects that reduce signaling that drives vasoconstriction and adverse cellular responses in heart failure and acute lung injury.
Aspirin is indicated to prevent thrombosis — local coagulation or blood clotting in a part of the circulatory system. Included in some cases of SARS-CoV-2 infections that cause COVID-19, the illness triggers the formation of blood clots that can lead to strokes, blood clots in the lungs that compromise oxygenation and other life-threatening complications, even in younger people. The virus attaches to the ACE2 receptor of endothelial cells, using it as an entry point to infect cells. Endothelial cell-lined blood vessels extend to every organ in the body. COVID-19 complications relate to the virus attaching to endothelial cells, not only in the lungs, but in the heart and multiple organs. In certain individuals COVID-19 illness does something harmful that is particular to the coagulation system.
Melatonin is well known for aiding with sleep and rest, but may help with COVID-19 treatment with additional benefits. Melatonin is a well-known anti-inflammatory and anti-oxidative molecule, and is protective against ALI/ARDS (Acute Lung Injury/Adult Respiratory Distress Syndrome) caused by viral pathogens and other pathogens. Melatonin is effective in critical care patients by reducing vessel permeability, anxiety, sedation use, and improving sleeping quality, which might also be beneficial for better clinical outcomes for COVID-19 patients.
President Trump is also taking an investigational treatment — an antibody cocktail from Regeneron designed to reduce viral load. The cocktail "REGN-COV2" was shown to reduce medical visits in non-hospitalized patients, rapidly reduce viral load until day 7 of treatment in seronegative patients, and was connected with a rapid reduction in viral load in seropositive patients.
"The greatest treatment benefit was in patients who had not mounted their own effective immune response, suggesting that REGN-COV2 could provide a therapeutic substitute for the naturally-occurring immune response. These patients were less likely to clear the virus on their own, and were at greater risk for prolonged symptoms."

— George Yancopoulos, president and chief scientific officer of Regeneron
REGN-COV2 is an artificial "antibody cocktail" designed to produce resistance to the SARS-CoV-2 coronavirus responsible for the COVID-19 pandemic with a mixture of two monoclonal antibodies, REGN10933 and REGN10987. The combination of several antibodies is intended to prevent mutational escape, which is the ability of a microorganism or in this case a virus, to avoid destruction from host immune responses by making mutations of genotype and phenotype. Monoclonal antibodies (mAb) are antibodies that are made by identical immune cells which are all clones belonging to a unique parent cell.
President Donald Trump was transported to Walter Reed Medical Center on Friday, October 2, 2020 "out of an abundance of caution" according to White House officials.
"President Trump remains in good spirts, has mild symptoms, and has been working throughout the day," press secretary Kayleigh McEnany said in a statement to reporters at the White House.
"Out of an abundance of caution, and at the recommendation of his physician and medical experts, the President will be working from the presidential offices at Walter Reed for the next few days. President Trump appreciates the outpouring of support for both he and the First Lady," according to McEnany.
President Donald Trump appeared Friday evening boarding Marine One helicopter at the White House before a flight to Walter Reed National Military Medical Center. This was the first appearance since the announcement that he had tested positive for SARS-CoV-2, which is the virus that causes COVID-19 illness. Trump, wearing a mask, walked out of the White House and gave a thumbs-up, but did not speak.
Officials announced President Trump would continue to work from the hospital's presidential suite, which is equipped to allow him to keep up his official duties.
Aashish Manglik, Laura M. Wingler, Howard A. Rockman, Robert J. Lefkowitz β-Arrestin–Biased Angiotensin II Receptor Agonists for COVID-19 Circulation. 2020 Jul 28;142:318–320 (PMID: 32412788)
NIH Director's Blog | Searching for Ways to Prevent Life-Threatening Blood Clots in COVID-19
Zhang R, Wang X, Ni L, Di X, Ma B, Niu S, Liu C, Reiter RJ. COVID-19: Melatonin as a potential adjuvant treatment. Life Sci. 2020 Jun 1;250:117583. doi: 10.1016/j.lfs.2020.117583. Epub 2020 Mar 23. PMID: 32217117; PMCID: PMC7102583. Link to full article as part of Elsevier Public Health Emergency Collection
AAAS | Famotidine, Histamine, and the Coronavirus
AAAS | New York clinical trial quietly tests heartburn remedy against coronavirus
ClinicalTrials | Regeneron trial finds Covid-19 therapy improved symptoms
Regerneron Investor Relations | REGENERON'S REGN-COV2 ANTIBODY COCKTAIL REDUCED VIRAL LEVELS AND IMPROVED SYMPTOMS IN NON-HOSPITALIZED COVID-19 PATIENTS
BREAKING: Marine One arrives at Walter Reed Medical Center where Pres. Trump is set to stay for several days under observation after testing positive for COVID-19. https://t.co/ag5gzvgoEQ pic.twitter.com/M8SpgHhfEq

— ABC News (@ABC) October 2, 2020
As Pres. Trump heads to Walter Reed Medical Center, @DrLaPook tells @NorahODonnell that the experimental antibody cocktail the WH says Trump was given earlier today "hasn't been shown yet to be safe and effective" pic.twitter.com/OyrG4ElQIo

— CBS News (@CBSNews) October 2, 2020
BREAKING: Pres. Trump arrives at Walter Reed Medical Center after testing positive for COVID-19. https://t.co/kNuRRevvsO pic.twitter.com/up2DBT0iNq

— ABC News (@ABC) October 2, 2020
Get updates from The Cardinal ALL NEWS FEEDS on Facebook. Just 'LIKE' the 'Arlington Cardinal Page (become a fan of our page). The updates cover all posts and sub-category posts from The Cardinal — Arlingtoncardinal.com. You can also limit feeds to specific categories. See all of The Cardinal Facebook fan pages at Arlingtoncardinal.com/about/facebook …

Help fund The Cardinal

Arlingtoncardinal.com/sponsor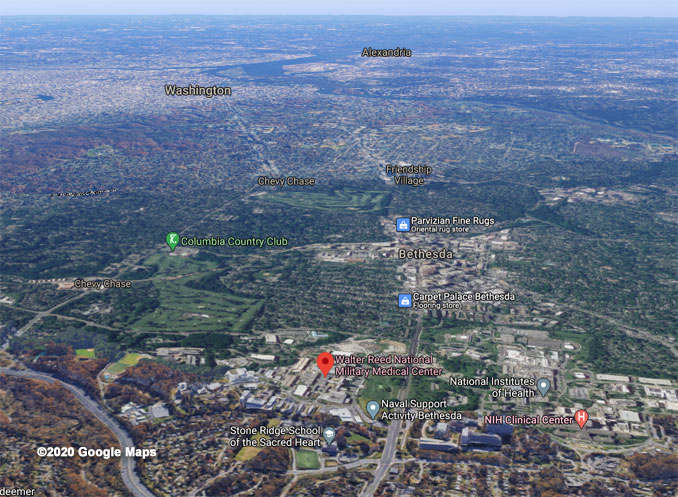 Live: Trump departs on Marine 1 to Walter Reed Medical Center after testing positive for COVID-19 (Difficult to see Trump on other side of helicopter (45:03), which lifts of at 48:25).
President Trump arrives at Walter Reed Medical Center. According to the White House it is out of 'abundance of caution'.
President Trump departs the White House, boards Marine One and travels to Walter Reed Medical Center in Bethesda, MD. Per White House Statement: "Out of an abundance of caution, and at the recommendation of his physician and medical experts, the President will be working from the presidential offices at Walter Reed for the next few days." President Trump tested positive for COVID-19 the previous day.