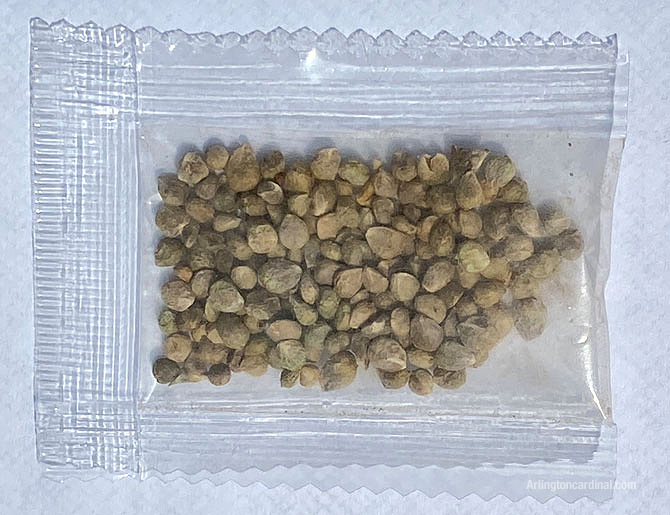 Agricultural Smuggling
People in more than half of the states of the United States have reported receiving a suspicious package containing seeds in their mail boxes. The strange incidents are believed to be part of an e-commerce scam known as a brushing scam, but the USDA and state agricultural department are stressing the importance of taking precautions that the unknown seeds don't end up as invasive plants hurting agriculture in the United States. Sending mislabeled packages with seeds by mail to bypass customs is a crime, and is known as agricultural smuggling.
Unsolicited seeds in mislabeled packages have been received in residential mailboxes in Cook County and Lake County in Illinois and in Florida, Montana, Utah, Virginia, the state of Washington and many other states.
USDA on Unsolicited Seeds
Don't plant the seeds
Don't open the packages of seeds
Don't throw them out
Although the seeds were not initially identified, they should also be secured from being eaten by children or pets in case the seeds contain a poison or drug, such as a hallucinogen.
Whether to protect the United States from 1) an intentional bioterrorism act or 2) an invasive species side effect of the brushing scam, the USDA want citizens that received the packages to prevent any intentional or accidental viable planting of the seeds.
In a brushing scam, an e-commerce seller attempts to boost seller ratings by creating fake but confirmed orders. A shipment of an empty box or a cheap item minimally has to occur for an order to be considered valid, but a large number of valid shipments or fake reviews associated with the valid shipments can boost the items from the shipper or boost the shipper's business status on e-commerce websites.
There is also the possibility that the agricultural smuggling is meant to be disguised as a brushing scam, but is actually an attempt to overwhelm investigators while an actual agricultural smuggling and/or bioterrorism crime is the goal.
Washington State Department of Agriculture

Avoiding plant import regulations and bypassing customs (for example, by mislabeling a package and identifying its contents as something else) to get plant material into the United States is known as agricultural smuggling and is not only illegal, but poses a serious threat to our farms, gardens, animals, and environment.

They could be invasive. Some plants are not allowed to enter the country because they are known to be invasive, and could outcompete native plants.

They could harbor pests and diseases. Plants and seeds can have insect or disease pests that could devastate native plants that have no defense against them. This could lead to the loss of plants or require increased pesticide use to manage.

They could harm livestock. Some plants are toxic to livestock and other animals – even humans. If they are planted, they could be harmful to livestock and other animals.

— WSDA | Agricultural smuggling – a threat to farms, gardens, and our ecosystem
One resident in Arlington Heights received a small package of brownish-gray seeds about the size of unground pepper. Some other shipments reported the seeds look like larger black sunflower seeds. The shipping package arriving in Arlington Heights was a white square plastic envelope from Suzhou JiangSu China. The description of the contents was mislabeled a "necklace" (one piece), but there was only a seeds package inside — specifically another clear sealed plastic package inside the white plastic envelope. Some reports have included a necklace and seeds in the envelope.
The shipping label also included the statement, "I certify that the particulars given in this declaration are correct and this item dose (sic) not contain any dangerous article prohibited by legislation or by postal or customers regulation."
Initially, there was no indication how shippers obtained shipment addresses, which may have been obtained from third-party sellers or e-commerce security breaches. Earlier in the year, the Arlington Heights resident had purchased seeds from legitimate shippers, and some were shipped late, so there was confusion when the unsolicited seed shipment arrived by US Mail.
#APHIS is working closely with @CBP and State Depts of Ag re: unrequested seeds. If received, pls contact State Dept of Ag https://t.co/g0WhR57Wv3 or the #APHIS State Plant Health Office https://t.co/CdHtWghDbC. Keep packaging and do not plant seeds from an unknown origin! pic.twitter.com/LORKeTh4Tc

— USDA APHIS (@USDA_APHIS) July 27, 2020
Did you receive seeds unsolicited? Find out how to report: https://t.co/ItduSpDxYE. We are working with our federal and state partners to investigate. Pls don't plant seeds from unknown origins!

— USDA APHIS (@USDA_APHIS) July 28, 2020
The USDA released a statement Tuesday July 28, 2020, reporting that the USDA is aware that people across the country have received suspicious, unsolicited packages of seed that appear to be coming from China. USDA's Animal and Plant Health Inspection Service (APHIS) is working closely with the Department of Homeland Security's Customs and Border Protection, other federal agencies, and State departments of agriculture to investigate the situation.
USDA urges anyone who receives an unsolicited package of seeds to immediately contact their State plant regulatory official or APHIS State plant health director. Please hold onto the seeds and packaging, including the mailing label, until someone from your State department of agriculture or APHIS contacts you with further instructions. Do not plant seeds from unknown origins.
The USDA added, we don't have any evidence indicating this is something other than a "brushing scam" where people receive unsolicited items from a seller who then posts false customer reviews to boost sales. USDA is currently collecting seed packages from recipients and will test their contents and determine if they contain anything that could be of concern to U.S. agriculture or the environment.
Statement from the USDA:

USDA is committed to preventing the unlawful entry of prohibited seeds and protecting U.S. agriculture from invasive pests and noxious weeds. Visit the APHIS' website to learn more about USDA's efforts to stop agricultural smuggling and promote trade compliance.

— USDA
Statement from the Illinois Department of Agriculture regarding the mailing of unsolicited seeds:

"We are currently working with USDA's Animal and Plant Health Inspection Service (APHIS) to address reports of unsolicited shipments of seeds from foreign countries. Anyone who receives unordered seeds in the mail should contact the Illinois Department of Agriculture by emailing the following information to [email protected]: First and Last Name, Phone Number and the number of packages received. Do not open the package, plant the seeds, or throw them out. Please keep all seeds unopened and with their original packaging and labels, including mailing labels, until further instruction is provided."

— Illinois Department of Agriculture (Tuesday, July 28, 2020)
APHIS, the Animal and Plant Health Inspection Service is an agency of the United States Department of Agriculture (USDA) based in Riverdale, Maryland. APHIS is responsible for protecting animal health, animal welfare, and plant health.
APHIS aims to protect American animals, plants, and the agricultural industry by offering:
Protection from invasive non-native plants, animals, insects, and diseases
Monitoring and management of existing agricultural pests and diseases
Resolution and management of trade issues related to animal or plant health
Prevention or cessation of the inhumane treatment (of animals)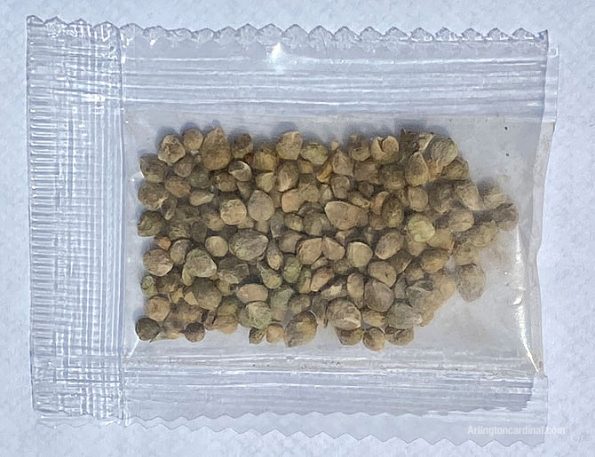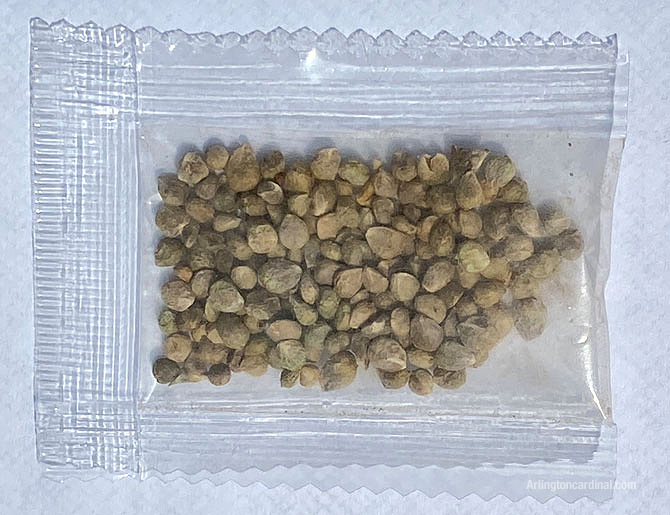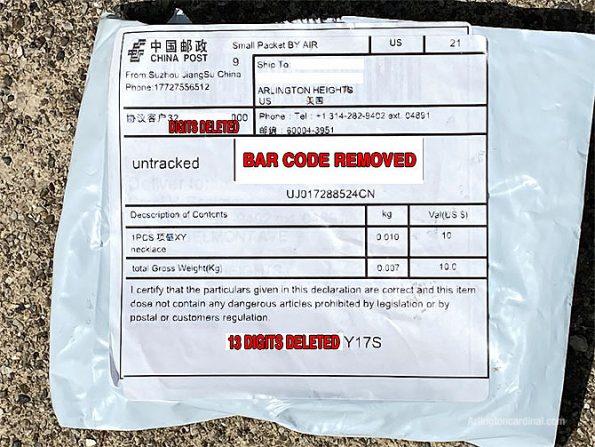 The threats and challenges for APHIS responsibility:
Non-compliant biotech events
Invasive species
Agricultural animal/plant health threats
Agricultural bioterrorism
Sanitary and phytosanitary trade barriers
Wildlife conflicts and diseases
Zoonotic diseases
Animal welfare issues
The most well-known invasive insect species of the year 2020 are the Asian Giant Hornet (Vespa mandarinia). Remember murder hornets last Spring? The name is cringeworthy to entomologists, because they don't define these large hornets deserving the name murder hornets. The hornets don't go out to hunt humans, but they will vigorously defend their nest if a human ventures within 20 feet of the entrance of the nest, or if there is any extremely close contact with an individual hornet — and they can and do kill humans. The larger concern, due to greater likelihood, is the protection of honey bees, which can be decimated by Vespa mandarinia. The Asian Giant Hornet species, first officially observed in North America in 2019 in British Columbia and then in the United States in the state of Washington, is an example of an invasive species that threatens honey bees, by "murdering" entire bee hives to harvest honey bee larvae, and transport the honey bee larvae back to their own hornet nest to feed Asian Giant Hornet larvae. The hornets are properly known as Asian Giant Hornets (Vespa Mandarinia). A package with an entire Vespa mandarinia nest containing live larvae and pupae was intercepted at a U.S. port of entry, according to the Washington State Department of Agriculture — quoting a personal communication in 2020 with Allan Smith-Pardo, an entomologist – National Apoidea Specialist and biological scientist with the USDA-APHIS-PPQ Science and Technology. Initially details of the incident have not been released. The Vespa mandarinia nest interception is an example of a critical incident that would fall under the authority of APHIS. There is no publicized connection with the recent discovery of Vespa mandarinia in the United States and British Columbia and the port interception of the entire nest.
MSM MEDIA TWEETS BELOW ADS …
Get updates from The Cardinal ALL NEWS FEEDS on Facebook. Just 'LIKE' the 'Arlington Cardinal Page (become a fan of our page). The updates cover all posts and sub-category posts from The Cardinal — Arlingtoncardinal.com. You can also limit feeds to specific categories. See all of The Cardinal Facebook fan pages at Arlingtoncardinal.com/about/facebook …

Help fund The Cardinal

Arlingtoncardinal.com/sponsor
The USDA urges anyone who receives an unsolicited package of seeds to immediately contact their state's plant regulatory official or the plant health director of their state's Animal and Plant Health Inspection Service. https://t.co/xf2pFc8gm5

— ABC News (@ABC) July 29, 2020
Officials in at least 28 states are urging residents to report any unsolicited packages of seeds that appear to have been sent from China because they could be harmful. https://t.co/GWVPPggXgd

— NBC News (@NBCNews) July 28, 2020
Mystery seeds from China are landing in Americans' mail boxes https://t.co/E5MxWs65Bb

— CBS News (@CBSNews) July 29, 2020
If you've received a mysterious package of seeds in the mail lately, don't plant them https://t.co/9DLLgMx9HI

— CNN (@CNN) July 28, 2020
— Fox News (@FoxNews) July 26, 2020
Suzhou JiangSu China, near Shanghai, is located on the east coast of China about 400 miles southeast across the Yellow Sea from South Korea and the East China Sea from Japan.