Yes, all Arlingtoncardinal.com and Cardinal News Facebook pages are suspended again for violating Facebook Community Standards. Why? One of our automatic feeds, which we no longer use due to potentially "unsafe" third party media sources, shared an article on July 19, 2017 (YES, 2017!) that Facebook says goes against Facebook's community standards.
Facebook Sorry We Got it Wrong alert.

NOTE: Facebook went crazy on CARDINAL NEWS and falsely suspended our Facebook pages several times in the past two years. This forced CARDINAL NEWS to unpublish several pages that might be at risk of generating additional suspensions.
The article shared in 2017 by an automatic RSS feeder (the one we no longer use for potentially unsafe news sources) was published on DailyMail.com — United Kingdom's third-biggest-selling daily newspaper after The Sun and Metro. The article was about 'real women' and expectant mothers.
Art photographer Aline Muller, a Brazil native, shared photographs of a photo shoot from Rio de Janeiro with the mission of emphasizing that "people can see 'real women', including women who are pregnant, women who are already mothers, and women who have not experienced maternity, but can still relate to it." According to the photographer Aline Muller, the message behind the images is "acceptance, support and the confidence that we are all part of the same and macro cycle; we are not alone." The article included the promotion of the hashtags #mybodymychoice, #divinefeminine and #sisterhood "making it clear that her project pays tribute to women and their bodies," according to author Clemence Michallon for DAILYMAIL.COM.
CARDINAL NEWS previously automatically shared on multiple Facebook pages, a large volume of articles for the benefit of readers. The Aline Muller article was shared automatically in 2017 as part of that process, without human review by CARDINAL NEWS. Facebook page categories for Health, Entertainment, Politics, Emergency/Public Safety News, Weather, Astronomy and more are available from CARDINAL NEWS. Due to the risk of being suspended by Facebook, CARDINAL NEWS decided in June 2019 to discontinue sharing outside news media sources automatically or without human review. The shares are now mostly limited to original content and aggregated content from Arlingtoncardinal.com.
TODAY: Facebook has also suspended CARDINAL NEWS Facebook pages this afternoon Monday August 12, 2019 for sharing a CNN article titled, "How exercise can improve your love life" … the only other photos in the CNN article (in addition to the photo directly below) that come close to friskiness of the this photo are some bare feet.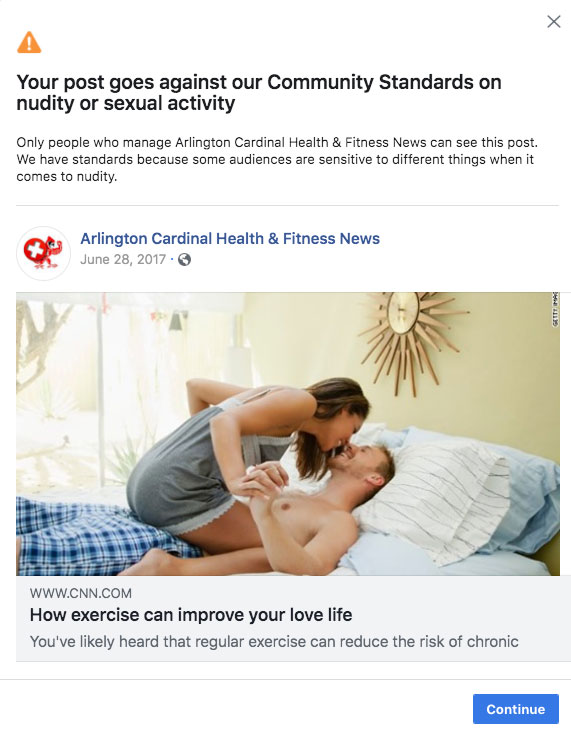 Facebook has decided to dig up old articles and punish CARDINAL NEWS for sharing articles from major media sources. And even though CARDINAL NEWS emphasized to Facebook in an appeal for review that automatic shares are no longer operating due to potentially unsafe media sources, Facebook rejected the appeal, and CARDINAL NEWS is, beginning today, August 12, 2019, suffering an unfair 30-day suspension.
What this means to you: You will not get any public safety alerts or crime notifications via Cardinal News on any of our Facebook pages until about September 12, 2019 — unless the Puritanical Psychopaths at Facebook release the suspension early. We recommend you follow Twitter.com/earlyreport to get notifications. We also recommend you save Arlingtoncardinal.com to your home screen on your smartphone — whether you use an Apple iPhone or an Android OS phone — and check and browse the site manually.
What this means for CARDINAL NEWS: Personally it means I (the author, Mark Bostrom) can't communicate any messages with my family and friends for 30 days. If a family member shares a photo of a family memory, I can't respond. Facebook does not even offer an alert that notifies family or friends or clients that I am unavailable. I am essentially experiencing a modern-day technological excommunication by the childish, draconian, lying and incompetent hypocrites at Facebook.
Commercially it means Arlingtoncardinal.com Facebook pages cannot respond to inquiries, tips or messages that Facebook users send to any of our pages. Arlingtoncardinal.com can't say "Thank you" for tips, or participate in any of the normal civil processes of communication. People may think we're giving them the cold shoulder or that we are incompetent or thoughtless, but in fact we are incapable of replying to anyone because of Facebook's draconian procedures. For example, this is a peak time for the CARDINAL NEWS page Facebook.com/AsianGiantHornet when people from all of the world in the northern hemisphere inquire about hornet sightings. European Hornets in the United States and Europe are busiest at this time of the year. Facebook still "dings" alerts about incoming messages, but I can't answer any of them.
CARDINAL NEWS will possibly suffer a loss of pageviews and subsequently a loss of income. Cardinal News will not suffer a loss if the thousands of regular readers make an extra effort to share our articles on your Facebook personal pages or groups pages that you are a participant. Additionally, readers should please consider using Twitter and NextDoor to give CARDINAL NEWS some extra love by sharing our articles, especially this article. CARDINAL NEWS plans to activate awareness of Facebook's antagonistic attitude toward the #mybodymychoice issue by contacting the DailyMail.com author of the article and photographer Aline Muller to let her know the antagonistic attitude toward her cause. We also plan to contact other activists of the #mybodymychoice cause and encourage readers to do so as well by sharing this article to family, friends, and activists you might now.
As your NEW NOTIFICATION ALTERNATIVE to our Facebook fail, all Arlingtoncardinal.com articles are tweeted on Twitter.com/earlyreport
CARDINAL NEWS has also prepared for problems with Facebook, and two months ago set up an alternate way to notify CARDINAL NEWS about tips and events …
You can also use our contact page at …
You can also check our suspension status and history of suspensions here …
RELATED NEWS …
CARDINAL NEWS | Facebook Suspends Cardinal News Again! For Sharing CNN Article About Classic Led Zeppelin Album Cover Ban That CNN Says Was Reversed
THANKS FOR READING CARDINAL NEWS …


^^ MOBILE? USE VOICE MIC ^^
facebook …
GET ALERTS on Facebook.com/ArlingtonCardinal
GET ALERTS on Facebook.com/CardinalEmergencies
GET ALERTS on Facebook.com/ArlingtonHeightsCrime
Please 'LIKE' the 'Arlington Cardinal Page. See all of The Cardinal Facebook fan pages at Arlingtoncardinal.com/about/facebook …

Help fund The Cardinal

Arlingtoncardinal.com/sponsor
THANKS FOR READING CARDINAL NEWS