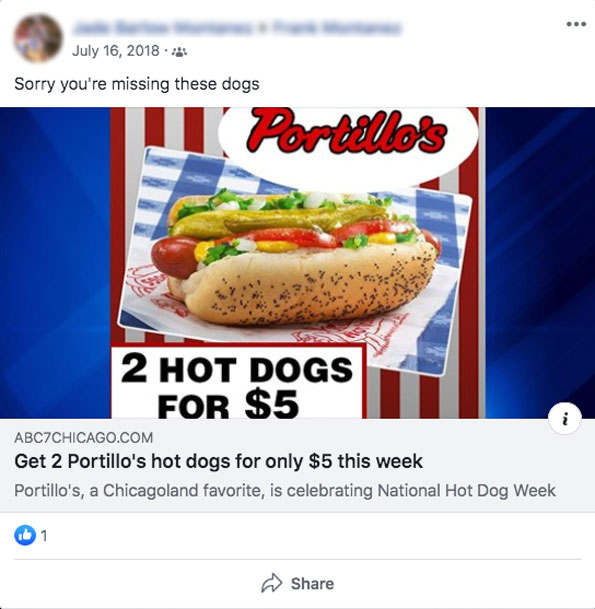 Sometime during the early morning hours on Monday August 12, 2019 Facebook suspended CARDINAL NEWS for sharing an article on July 19, 2017 (YES, 2017!). Facebook claimed the sharing of the article from UK Daily Mail was against Facebook's community standards. This suspension was the latest of many previous suspensions that stuck for a significant penalty of 7 days or 30 days. There were also two other suspensions from Facebook on Monday August 12, 2019, but they were immediately released. Many of the previous suspensions were reversed when Facebook replied, "Sorry We Got it Wrong" but some were not reversed, and the suspensions ended early with no explanation from Facebook.

NOTE: Facebook went crazy on CARDINAL NEWS and falsely suspended our Facebook pages several times in the past two years. This forced CARDINAL NEWS to unpublish several pages that might be at risk of generating additional suspensions.
CARDINAL NEWS previously automatically shared a large volume of articles on Facebook and some are suspiciously being raised as violations of Facebook's community standards over two years after they were shared. CARDINAL NEWS shared these multiple articles from major news media sites, but discontinued these third party shares because Facebook said some of the articles shared violated Facebook's community standards. When Facebook persisted and dug up the older articles in the archives, it became necessary to unpublish the pages in case Facebook would continue to find violations.
Many people have asked CARDINAL NEWS about the content that caused the suspensions. Here are examples of articles that caused suspensions; many were from British media such as UK Daily Mail. They were automatically shared; they weren't shared by a human at CARDINAL NEWS …
#1) An article about 300+ nudists that gathered on a beach. The article included a photo of the group from a cliff about 400 yards away. You could tell they were naked, but there were absolutely no discernible features.
#2) An article about a bachelor party where the groom was wrapped in cellophane to a light post as part of some ritual. The groom was naked, but there were no discernible features because of the many revolutions of cellophane around most of his body.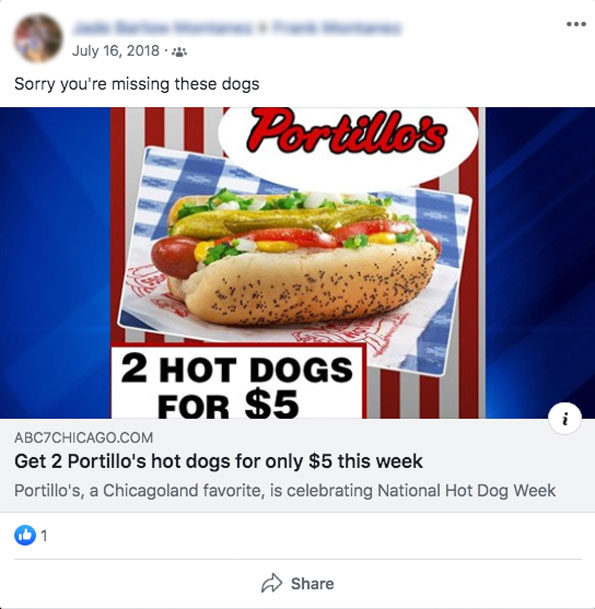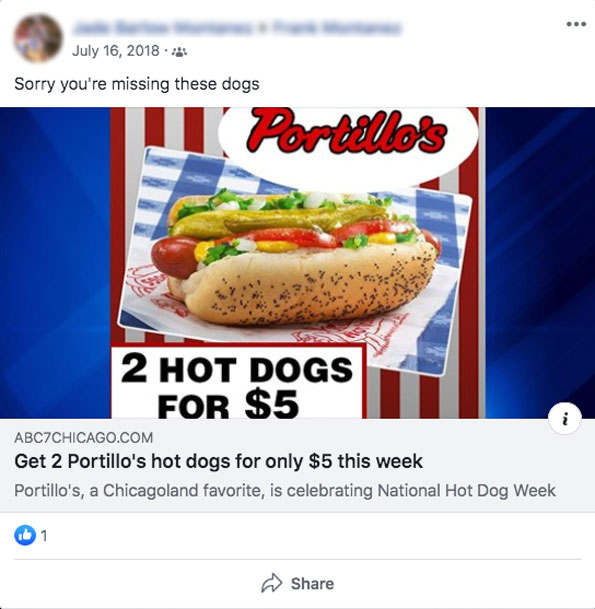 #3) An ABC 7 Chicago article about a Portillo's hot dog that showed a picture of a hot dog. This was an odd sort of suspension because CARDINAL NEWS didn't get a notification of a suspension, but was unable to share any articles for about 90 minutes. A good friend, formerly from Arlington Heights and currently living in Texas, shared the CARDINAL NEWS post of the ABC 7 Chicago article and was commenting to friends in Texas how much she missed Portillo's, and how much her husband missed eating a real hot dog from Chicago. She got a notice from Facebook that she had shared something that violates Facebook's community standards and that her share had been removed. The hot dog picture was removed from her timeline for about 90 minutes, and then re-appeared with a notice from Facebook that the post was OK. Simultaneously, Facebook functions for CARDINAL NEWS returned, but CARDINAL NEWS was never officially notified about a suspension.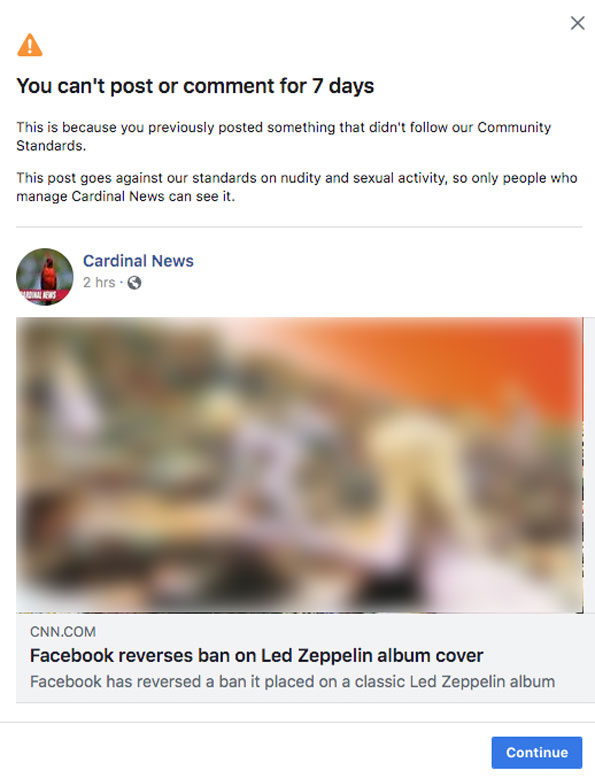 #4) A CNN article about Facebook's reversal of the banning of a photo of a Led Zeppelin album cover "Houses of the Holy" album cover on June 22, 2019. The photo in the article was the photo that was previously banned, but with the incompetence of Facebook, triggered a violation anyway. CARDINAL NEWS blurred the image for this article, just to play it safe.
#5) An Irish Mirror article about an Instagram selfie photo of kickboxer Conor McGregor that showed him only wearing shorts. The visibility of McGregor's "package" in his shorts was deemed too much for Facebook's community standards. If recalled correctly, this suspension was released early, but there was no official notification from Facebook that the suspension was released. The Conor McGregor suspension caused the failure of Cardinal News to break the news of the Rolling Meadows Walmart shootout on Facebook on Saturday June 15, 2019.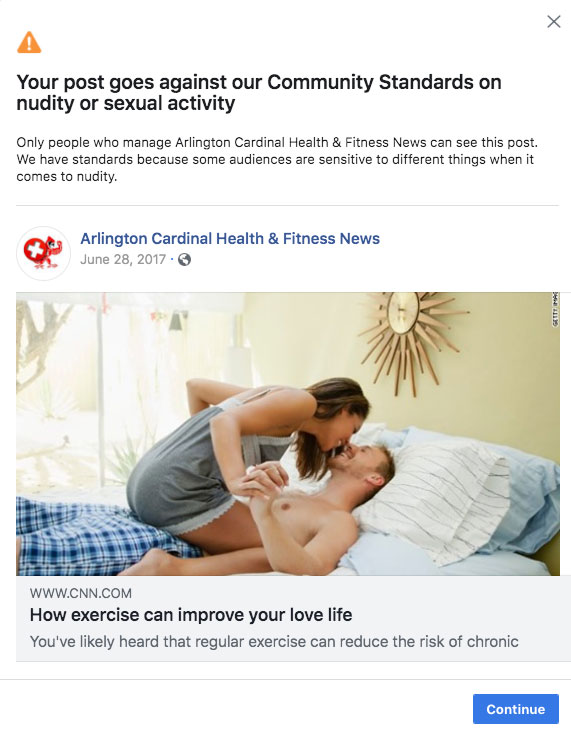 #6) A CNN article titled, "How exercise can improve your love life" with a photo of a woman in pajamas sitting on a man in pajamas. Their postures were not overly suggestive of sexual activity. This suspension was immediately released. Nevertheless, CARDINAL NEWS decided to unpublish the Facebook page "Arlington Cardinal Health & Fitness News" as a precaution in case there are other old posts that could trigger a suspension.
#7) A Daily Mail article published March 17, 2017 about an Instagram photo of MTV's "Ex On The Beach" contestant Frankie Isabella. She appeared in a standing tanning booth only wearing a thong, but with her hands and arms concealing her breasts. This suspension was immediately released.
#8) A Daily Mail article shared July 19, 2017 showed group photos of 'real women' including naked women who are pregnant, women who are already mothers, and women who have not experienced maternity, according to project photographer Aline Muller. The images were blurred or pixellated by UK Daily Mail to cover nipples and genitalia. The article included the promotion of the hashtags #mybodymychoice, #divinefeminine and #sisterhood "making it clear that her project pays tribute to women and their bodies," according to author Clemence Michallon for DAILYMAIL.COM. This suspension was not released, and Facebook stated in a reply to CARDINAL NEWS that they confirmed that the article violates Facebook's community standards. Facebook upheld a whopping 30-day suspension for showing 'real' women making a statement — the longest suspension to date.
However, Facebook's confirmation of a community standards violation is incorrect on the 30-day suspension. And her is why …
Here are excerpts from Facebook's very own community standards statement involving nudity …
Policy Rationale
Our nudity policies have become more nuanced over time. We understand that nudity can be shared for a variety of reasons, including as a form of protest, to raise awareness about a cause, or for educational or medical reasons. Where such intent is clear, we make allowances for the content (bold emphasis added). For example, while we restrict some images of female breasts that include the nipple, we allow other images, including those depicting acts of protest, women actively engaged in breast-feeding, and photos of post-mastectomy scarring. We also allow photographs of paintings, sculptures, and other art that depicts nude figures.

Do not post:
Real nude adults, where nudity is defined as
Visible genitalia except in the context of birth giving and after-birth moments or health-related situations (for example, gender confirmation surgery, examination for cancer or disease prevention/assessment)
Visible anus and/or fully nude close-ups of buttocks unless photoshopped on a public figure
Uncovered female nipples except in the context of breastfeeding, birth giving and after-birth moments, health-related situations (for example, post-mastectomy, breast cancer awareness or gender confirmation surgery) or an act of protest
Hopefully, CARDINAL NEWS readers can understand why it is our best business policy to minimize our interaction with Facebook, even after the current suspension is released. As punishment, Facebook doesn't just ban the page that had "the offending" article; Facebook bans ALL of the Facebook pages for CARDINAL NEWS, and prohibits sending any personal messages to family and friends. Facebook also prohibits replying to any inquiries from readers about incidents or news on ALL of the Facebook pages for CARDINAL NEWS.
Due to the risk of being suspended by Facebook, CARDINAL NEWS decided in June 2019 to discontinue sharing outside news media sources automatically or without human review. This is why shares are now mostly limited to original content and aggregated content from Arlingtoncardinal.com.
Also, CARDINAL NEWS has unpublished several Facebook pages that are at risk of containing additional articles that might violate Facebook's community standards. Facebook provides no effective search technology that would permit CARDINAL NEWS to find potentially offensive articles — especially articles that were shared two or more years ago. Ironically, it is also Facebook's own code that scrapes the original articles (for example, from Daily Mail), and it is their own technology that fails to recognize so-called violations of their community standards as it is being scraped for inclusion in a Facebook page timeline.
Please keep in mind that CARDINAL NEWS never intended to share any images that would offend anyone.
On the inspiration of the Friedrich Nietzsche aphorism "What doesn't kill you, makes you stronger" CARDINAL NEWS is working to minimize the impact of Facebook's multiple suspensions, and looking at additional outlets, including microblogging and social networking site Tumblr, to bolster alternative methods of outreach. CARDINAL NEWS is already on Twitter with Twitter.com/earlyreport and you are encourage to follow Twitter for news and incident notifications instead of Facebook.
CARDINAL NEWS appreciates people sharing this article that demonstrates Facebook's lack of customer service, Facebook's lack of respect for human sanctity, Facebook's incompetence, and Facebook's discrimination against woman with so-called "real" body types.
If any of you know influential insiders that work for Facebook, it would be greatly appreciated if you forward this article to the appropriate channels within Facebook.
Also, if any of you happen to be a US Senator or US Representative or are connected to a politician that is concerned about Facebook's anti-competitive trade practices or lack of respect for Freedom of Speech and Freedom of the Press, please take note of the transgressions of Facebook mentioned in this article, or please forward this article with your concern to the politician or government official that represents you.
Also, if you are an attorney or if you know an attorney that is working on a case against Facebook, please take note or forward this article to the appropriate person.
And one more thing … it is greatly appreciated if you can keep CARDINAL NEWS in mind and give an extra effort to share our articles for the next month until the suspension is over. Also, consider following CARDINAL NEWS at Twitter.com/earlyreport … and also consider saving Arlingtoncardinal.com to your home screen on your smartphone.
By the way, fresh off a worldwide apology tour in May 2018, following a major data breach involving Cambridge Analytica, Facebook asked users to send in nude photos of themselves … see NY Daily News | Facebook asks users to send in nude photos in effort to combat revenge porn …
RELATED NEWS …
CARDINAL NEWS | Facebook Suspends Cardinal News Again! For Sharing CNN Article About Classic Led Zeppelin Album Cover Ban That CNN Says Was Reversed
CARDINAL NEWS | Facebook Releases Unjust Suspension of Shared Links of Official Facebook Page for Arlingtoncardinal.com
CARDINAL NEWS | As Facebook Bans Users, Businesses or Features with Abuse of Monopoly Power, It Will Trigger Serious Anti-Trust Regulatory Control
RECOMMENDED: Save Arlingtoncardinal.com to your smartphone's home screen.
THANKS FOR READING CARDINAL NEWS …


^^ MOBILE? USE VOICE MIC ^^
facebook …
Please 'LIKE' the 'Arlington Cardinal Page. See all of The Cardinal Facebook fan pages at Arlingtoncardinal.com/about/facebook …

Help fund The Cardinal

Arlingtoncardinal.com/sponsor
THANKS FOR READING CARDINAL NEWS