Lindenhurst police and Lake Villa firefighter/paramedics responded about 7:00 p.m. Friday, August 10, 2018 near the intersection of Grand Avenue and Hillcrest Lane to a report of a child hit by a 2007 Dodge minivan. A female child suffered severe injuries and was transported to an area hospital by Lake Villa firefighter/paramedics.
The injured girl was identified as Leah Beth in a GoFundMe page set up by a family member. Leah Beth was transferred by Flight For Life to Advocate Children's Hospital in Park Ridge, where she was listed in critical condition.
Advocate Children's Hospital is on the campus of Advocate Lutheran General Hospital in Park Ridge, which holds a Pediatric Critical Care Center designation from the State of Illinois — a designation that reflects the highest level of pediatric critical care and emergency care for the unique needs of children, according to Advocate Health.
Personal Facebook Post …

Yesterday evening our beautiful daughter got hit by a car.

She was flown flight for life to Advocate Children's Hospital and is in critical condition. These next 48-72 hours are crucial.

We are asking all of our friends and family and Leah's Facebook fans (she'd ask you all to subscribe to her channel) to please pray for our Leah Beth as she fights for her life. We believe in the power of prayer and that each and every one of you can lift her up for healing.

— Jenni Chambliss Dinchak (Leah Beth's mother)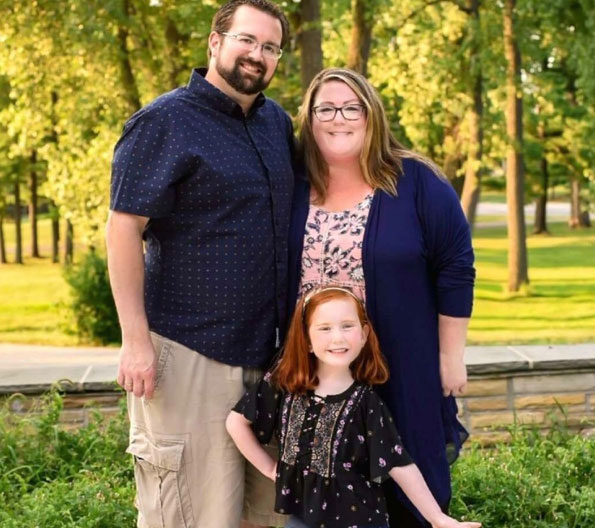 Family photo from #LeahStrong gofundme page — www.gofundme.com/leahbethstrong.
The driver of the minivan was not injured, and there were no other injuries reported. Police report the driver of the minivan was 16 years-old.
The Lake County Major Crash Assistance Team (MCAT) is assisting Lindenhurst Police Department with the investigation. Police say that the young child was crossing Grand Avenue from Hillcrest Lane with her mother. The Speed Limit on Grand Avenue, according to Google Street View is 35 MPH.
The accident scene was located near Lindenfest, an annual summer festival in Lindenhurst held at the grounds of the Lindenhurst Village Hall and Lindenhurst Police Department at 2301 Sand Lake Road — bordered by Grand Avenue and Sand Lake Road. The festival was underway Friday night — scheduled Thursday August 9, 2018 through Sunday August 12, 2018. Police stated this is the first time a pedestrian was injured while crossing Grand Avenue during Lindenhurst.
Anyone with information about the incident is urged to call the Lindenhurst Police Department at 847-356-5400.
Photo from #LeahStrong gofundme page — www.gofundme.com/leahbethstrong