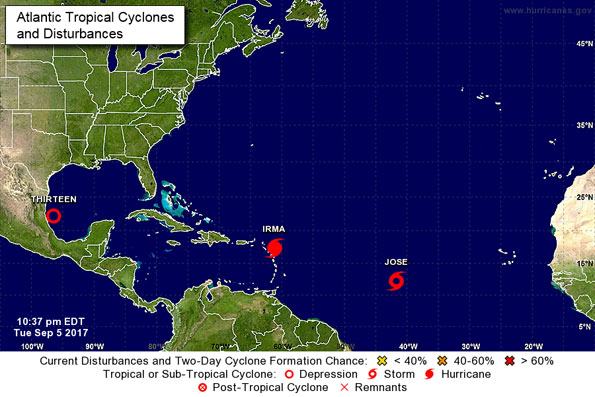 Hurricane Irma, a Category 5 hurricane, has become one of the strongest storms recorded in the Atlantic, and is threatening to hit into Caribbean islands including Puerto Rico and the Virgin Islands with "potentially catastrophic" force on Wednesday, according to the National Hurricane Center. Forecasters' immediate concerns are for the people of the northeastern Caribbean — including Antigua, Barbuda, Anguilla and the Virgin Islands.
Early modeling, which is not entirely reliable, predicts Hurricane Irma turning toward the right (north) and running up the east coast of Florida starting about Saturday. However, Hurricane Irma could skip most of Florida and head straight into the Gulf of Mexico.
Irma was westbound Tuesday afternoon in the Atlantic about 180 miles east of Antigua and Barbuda with maximum sustained winds of 185 mph — well above the 157 mph threshold for a Category 5 hurricane.
Hurricane Irma is second in Atlantic wind speeds to Hurricane Allen (1980), which peaked at 190 mph in the Atlantic Ocean. The last storm with sustained winds as strong as Hurricane Irma in the Atlantic sea was Hurricane Wilma (2005), which weakened before it skimmed near Mexico's Yucatan Peninsula and then backtracked across Florida.
Irma's forecast track currently has it near or over Antigua and Barbuda, St. Kitts and Nevis, and Anguilla by late Tuesday or early Wednesday, and the British and US Virgin Island's and Puerto Rico on Wednesday afternoon.
Computer models show the system possibly near the Dominican Republic, Haiti and the Turks and Caicos Islands on Thursday and Friday, and Cuba on Friday and Saturday — and potentially turning north toward Florida on Saturday.
Miami-Dade County personnel will start evacuating special-needs residents on Wednesday, and may announce other evacuations soon. I would rather inconvenience our residents with evacuations than suffer loss of life"

— Miami-Dade Mayor Carlos Gimenez
On Tuesday Gov. Rick Scott declared a state of emergency and ordered the activation of 100 National Guard troops. Also 7,000 National Guard troops were ordered to report for duty by Friday morning.
In Monroe County, which includes the Florida Keys, visitors were ordered to evacuate by sunrise Wednesday, and evacuation for residents are expected to follow soon.
After declaring a state of emergency across Florida, Gov. Rick Scott said President Donald Trump had "offered the full resources of the federal government as Floridians prepare for Hurricane Irma."
"We do not know the exact path of this storm, but weather can change in an instant and while we hope for the best, we must prepare for the worst."

— Florida Gov. Rick Scott
Initially, Hurricane Warnings (74 mph plus winds) were activated for Puerto Rico, the US Virgin Islands, Montserrat, St. Kitts and Nevis, Saba, St. Eustatius, St. Martin/St. Maarten, and St. Barts.
Anguilla, Antigua, Barbuda, all the way up even toward the British Virgin Islands are in grave danger of a hurricane eyewall hit with 150 mph winds. — that devastates the island, no matter what island it is," CNN meteorologist Chad Myers said Tuesday.
On Antigua, home to roughly 80,000 people, fishermen used machines to lift their boats onto docks and other residents flocked to stores to stock up on food and other supplies ahead of the storm, video broadcast by ABS TV Antigua and distributed by Reuters shows.
The US Virgin Islands, with about 100,000 people, declared a state of emergency Tuesday and ordered the National Guard into active service.
Category 4 involve sustained winds of 130–156 mph. Category 4 hurricanes tend to produce more extensive curtainwall failures, with some complete structural failure on small residences. Heavy, irreparable damage and near complete destruction of gas station canopies and other wide span overhang type structures are common. Mobile and manufactured homes are often flattened. Most trees, except for the sturdiest, are uprooted or snapped at trunks –causing obstructed road and isolation of many areas. Category 4 hurricanes cause extensive beach erosion, while terrain may be flooded far inland. Total and long-duration electrical and drinking water losses are common, and interruptions often last many weeks.
Category 5 Hurricanes involve sustained winds ≥ 157 mph. A Category 5 is the highest category of the Saffir–Simpson scale and correlated with extremely catastrophic damage. These storms cause complete roof failure on many residences and industrial buildings, and some complete building failures. Small utility buildings are blown over or blown away. Collapse of many wide-span roofs and walls, especially those with no interior supports, is common. Very heavy and irreparable damage to many wood frame structures and total destruction to mobile/manufactured homes is widespread. Only a few types of structures are capable of remaining intact, and only if the buildings located at least 3 to 5 miles (5 to 8 km) inland. The stronger hurricane-resistant structures include office, condominium and apartment buildings and hotels that are of solid concrete or steel frame construction, public multi-story concrete parking garages. Additionally, residences that are made of either reinforced brick or concrete/cement block and have hipped roofs with slopes of no less than 35 degrees from horizontal and no overhangs of any kind, and with windows that are either made of hurricane-resistant safety glass or covered with shutters are hurricane-resistant. Residences without these features, the absolute destruction of a structure is certain.
A Category 5 hurricane's flooding causes major damage to the lower floors of all structures near the shoreline, and many coastal structures can be completely flattened or washed away by the storm surge.
Virtually all trees are uprooted or snapped and some may be debarked, isolating most communities impacted by 157-plus winds. Massive evacuation of residential areas may be required if the hurricane threatens populated areas.
Total and extremely long-duration power outages and water losses are to be expected, with interruptions possibly lasting for several months.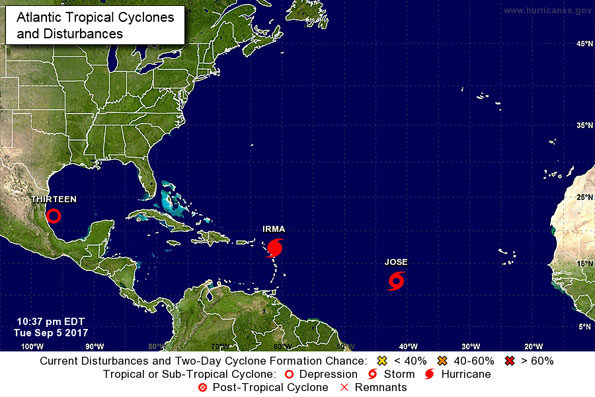 Hurricane Irma National Hurricane Center plot on Tuesday September 5, 2017 at 10:37 p.m. EDT.
Similar to Florida residents, hundreds of people emptied store shelves of food and drinking water in Puerto Rico, just as Puerto Rico Gov. Ricardo Rosselló declared a state of emergency and activated the National Guard on Monday.
People also lined up outside hardware stores hoping to get plywood to cover windows, batteries and power generators.
In August 2017, the director of Puerto Rico's power utility, Ricardo Ramos Rodríguez, reported several factors have made the island's electric system "vulnerable and fragile." There is a shortage of power company workers, because many have retired or left for better prospects in the United States.
Hurricane Irma is a classic "Cape Verde hurricane," meaning it formed in the far eastern Atlantic, near the Cape Verde Islands (now known as the Cabo Verde Islands) and western Africa.
Cape Verde storms historically have become some of the largest and most intense hurricanes. Examples include Hurricane Hugo, Hurricane Floyd, Hurricane Fran and Hurricane Ivan.
Stay informed with news from PublicSafetyReporter.com's Emergencies Behind the Scenes Facebook page — Facebook.com/CardinalEmergencies. Includes links to favorite public safety and emergency rescuers and product manufacturers and safety companies that have Facebook pages. Submit your pictures or just stay up-to-date on with fire, rescue, EMS and police photo galleries. Please add your public safety photo to the timeline, or send a message to the page.