CARNIVAL OPERATOR OF FIRE BALL ATTRACTION AT FRONTIER DAYS NOT SAME CARNIVAL OPERATOR AS OPERATOR AT OHIO STATE FAIR
VIDEO NO LONGER AVAILABLEThe Columbus Division of Fire says one person is dead and five critically injured after a ride malfunctioned at the Ohio State Fair.
Columbus police and firefighters responded about 7:20 p.m. Wednesday July 26, 2017 to a report of a carnival ride accident at the Ohio State Fair, The Ohio Expo Center & State Fair
717 East 17th Avenue. The Fire Ball ride is a popular ride at Frontier Days in Arlington Heights, but the Fire Ball at the Ohio State Fair was not operated by the same carnival operator that assembles rides at Frontier Days.
An 18-year-old man was killed and seven other people were injured when an amusement ride at the Ohio State Fair malfunctioned about 7:20 p.m. Wednesday July 26, 2017 on the fair's opening day. One of the passenger cars appeared to collide with a red steel beam base support before breaking away from a spoke lever that connects the axis that spins the ride. It is initially uncertain if the passenger car, which holds four riders, simply broke free from the spoke lever or broke free after hitting the base support.
Battalion Chief Steve Martin, a spokesman for the Columbus Fire Division, said some of the victims were thrown from the Fire Ball ride during the incident at about 7:20 p.m. Wednesday July 26, 2017. Outside the United States, the ride is known as the Afterburner.
Upon impact or separation with a loud crashing noise, an 18-year-old man was ejected from the passenger car and thrown high into the air. The man landed on the ground about 50 feet from the ride, and was killed from the accident.
Three other people were critically injured, including another person who was ejected from the ride. A witness on a Fox News video reported that one girl lost her leg in the accident.
Four other patients were in stable condition at hospitals Wednesday night.
Three injured patients were transported to OhioHealth Grant Medical Center. Four patients were transported to Ohio State University's Wexner Medical Center.
VIDEO on PublicSafetyReporter.com (VIEWER DISCRETION) …
The Ohio State Fair carnival rides were provided by carnival operator "Amusements of America".
According to the Amusements of America official web site the carnival operator is listed in the Guinness Book of Records as the largest traveling amusement park in the world and currently carry over 100 rides and attractions. Currently, we carry an assortment of super spectacular rides including our Giant Wheel, Wave Swinger, Full Size Crazy Mouse Coaster, Avalanche Coaster, and the ever-popular Fire Ball.
The ride swings passengers and rotates passengers in a passenger car. The Fire Ball ride, manufactured by KMG (Netherlands), is billed as an "aggressive thrill" ride that swings riders like a pendulum from side to side.
The ride reaches 40 to 64 feet above the ground while spinning riders at 13 revolutions per minute, according to ride-enthusiast websites. The ride holds 24 passengers in six, four-seat passenger cars (gondolas), one each at the end of six spoke arms.
The ride was inspected by the Ohio Department of Agriculture and approved Wednesday prior to approval for operation. All rides have been suspended until another inspection round.
The Ohio State Fair is located in Columbus, Ohio and runs from July 26 – August 6, 2017.
Stay informed with news from PublicSafetyReporter.com's Emergencies Behind the Scenes Facebook page — Facebook.com/CardinalEmergencies. Includes links to favorite public safety and emergency rescuers and product manufacturers and safety companies that have Facebook pages. Submit your pictures or just stay up-to-date on with fire, rescue, EMS and police photo galleries. Please add your public safety photo to the timeline, or send a message to the page.
The Fire Ball ride at Frontier Days June 30 – July 4, 2017 in Arlington Heights was assembled and operated by carnival operator "North American Midway Entertainment."
The Fire Ball ride at the Ohio State Fair was assembled and operated by carnival operator "Amusements of America."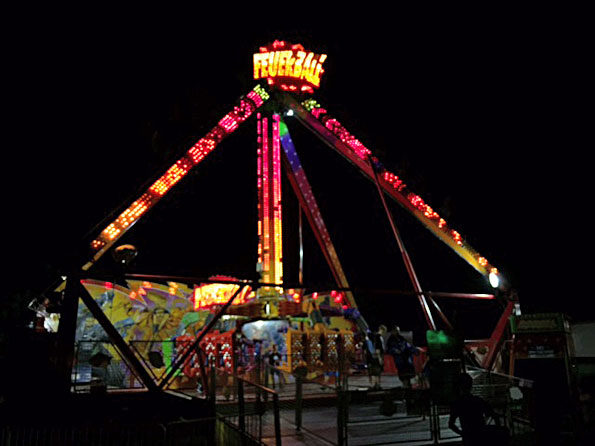 Fireball (FEUERBALL) ride at Frontier Days Arlington Heights (July 2017).
A swinging and spinning amusement park ride called the Fire Ball broke apart on the opening day of the Ohio State Fair in Columbus on Wednesday, killing one man and injuring seven other people, officials said. (July 27)
CBS Chicago: One dead, several hurt on carnival ride.
Inspector describes inspections after one person was killed and seven others injured when a ride broke at the Ohio State Fair Wednesday.