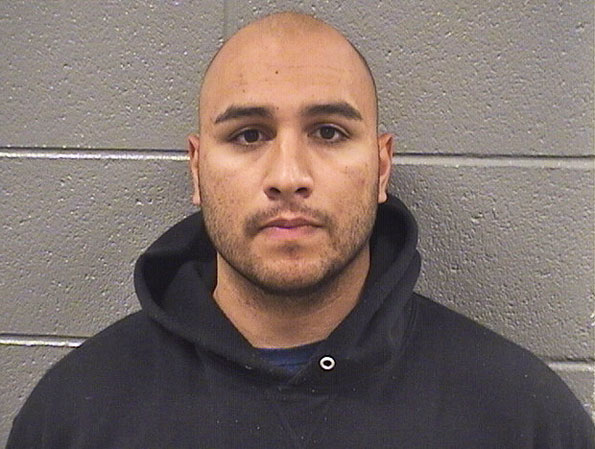 Matthew De Leon, age 23, was charged with three counts of aggravated battery late Tuesday night following the captured of his brutal attack on a female security guard in Chicago's River North neighborhood.
Chicago police were questioning the suspect by Tuesday morning after the early Sunday attack was captured on surveillance cameras at the entrance of the 630 North Franklin condo building on Franklin Street. De Leon turned himself Monday evening.
A security video showed a sucker punch thrown by De Leon. The security video shows security guard Zola Stigler walking up to a man lying down on the sidewalk and vomiting against the building about 2:00 AM Sunday. Stigler said she checked on whether the man needed help and then called Chicago Police.
Stigler was seen on the video bringing out a bucket after the man had vomited. She was out there cleaning up after attempting to help the man. A short time later, De Leon's wife, sister in-law, and his sister-inlaw's boyfriend arrived, and Stigler asked them to leave the area so she could work to clean up the sidewalk. That's when the offender threw a water bottle at Zoa Stigler and then punched her hard in the face with a hard right hook punch. The man's friends did not assist the guard or attempt to stop the attack. They all walked away from the scene immediately after the attack.
The female security guard sustained a broken nose and black eye — an injury that requires surgery on the orbit (eye socket) of her eye. She was not able to appear in court today because she was undergoing surgery.
Today, Wednesday, May 17, 2017, De Leon appeared in Bond Court. A Cook County judge ordered him held in lieu of $250,000 bail. His attorney said he will remain in custody until his next court date on Tuesday.
De Leon who is from the city's Portage Park neighborhood, is a U.S. Army serviceman who was visiting his family before an upcoming deployment to Hawaii.
See more …
ABC 7 Chicago Man charged in River North attack on female security guard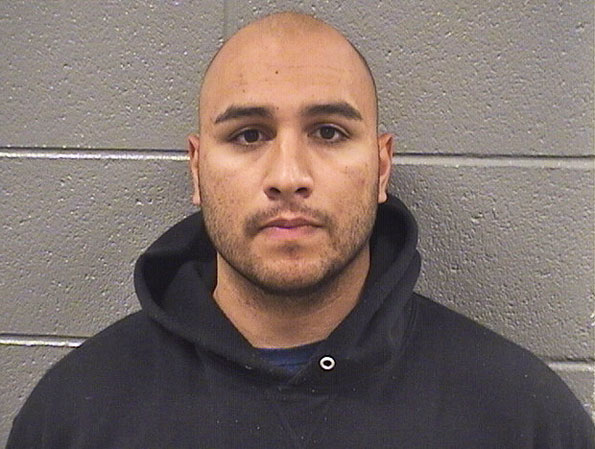 Matthew DeLeon, Aggravated Battery Suspect.
Stay informed with news from PublicSafetyReporter.com's Emergencies Behind the Scenes Facebook page — Facebook.com/CardinalEmergencies. Includes links to favorite public safety and emergency rescuers and product manufacturers and safety companies that have Facebook pages. Submit your pictures or just stay up-to-date on with fire, rescue, EMS and police photo galleries. Please add your public safety photo to the wall album, or send a message to the page.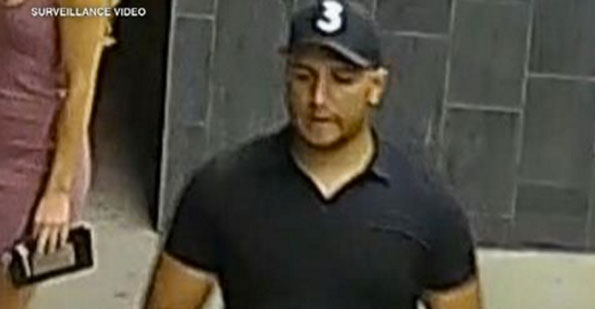 Suspect leaving the scene after punching security guard Zoa Stigler in view of a security camera, and causing serious injuries to Zoa Stigler.
gofundme: Let's all help for Zoa's recovery
Go Fund Me "Story" Format
My name is Asad Khan and I am the President of the Board for the 630 N Franklin Building where Zoa Stigler, our security officer was viciously attacked by a thug as she was doing her job by protecting our building early Sunday morning which happened to be MOTHER's DAY. He fractured her right eye socket and also the bridge of her nose.
She was initially trying to help this thug by checking up on him to make sure he was doing alright as he was lying on the ground by the building. He proceeded to vomit by the building which prompted Zoa to request that he and his 3 friends move away as she needs to clean it up. As you can see in the video links below that this provoked the THUG to throw a water bottle at her and viciously punch her in the face before turning around and walking away. His 3 friends didn't do anything and turned around and walked away from the scene also.
Zoa is so dedicated and hard working that in spite of being in pain and disoriented, she had the mind set of cleaning up the mess caused by this thug before being taken to the hospital…. AMAZING!!
This story has been covered by every local Chicago news channel as of yesterday and we are hoping to find this thug so that he can face the consequences. Some of the links to the video are below:
http://wgntv.com/2017/05/14/attack-on-security-guard-caught-on-video/
http://www.nbcchicago.com/news/local/river-north-security-guard-punched-in-brutal-attack-sunday-morning-422218563.html
http://abc7chicago.com/news/river-north-condo-security-guard-attacked;-police-search-for-man-in-video/1993645/
http://chicago.cbslocal.com/2017/05/15/security-guard-sucker-punched-face-caught-on-video/
Zoa was unable to spend Mother's day with her 2 beautiful daughters, Sierra and Sheila as she is a Single mother who works part time to make ends meet and is going to school part time to finish her Business Finance degree.
She may require surgery on her eye to fix the damage and may have to take time off work and school for recovery. Let's all help the strong willed, amazing, hard working and kind ZOA by showing our love by supporting her financially!