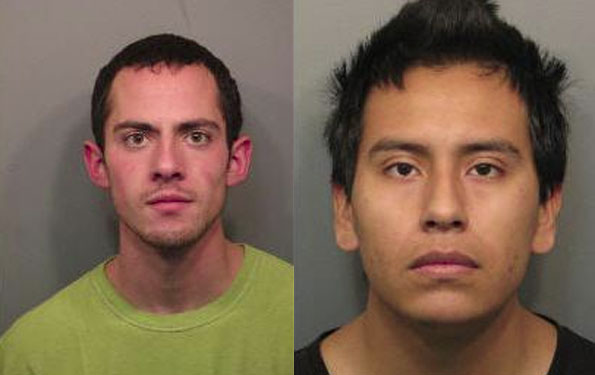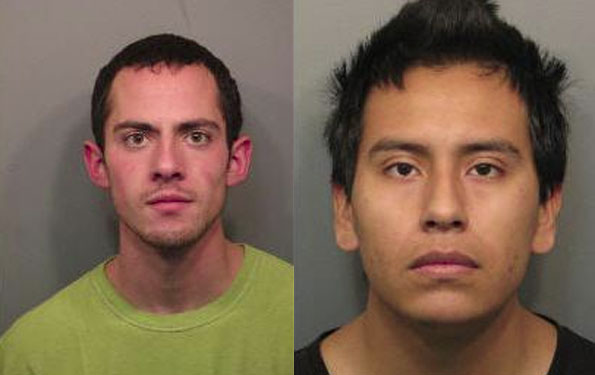 Felony criminal damage suspects Stephen Hlavacek (left) and Luis Landa Gutierrez (Arlington Heights Police Photos).
On October 27, 2016, the Arlington Heights Police Department began receiving Criminal Damage to Property (CDTP) complaints involving vehicle windows being shot out with what appeared to be a BB/pellet gun. To date, the AHPD has received a total of 41 complaints related to vehicle/residential windows being damaged. The damage caused during these incidents is estimated by the Arlington Heights Police Department to be over $11,000.
On November 20, 2016, the AHPD received a report of a trash can fire on the 2300 block of N. Kennicott Ave. During the investigation into this incident it was learned surveillance video captured a suspect vehicle. Eventually, the suspect's vehicle was identified as belonging to Stephen Hlavacek.
The investigation into the arson also developed Stephen Hlavacek as a suspect in the criminal damage to property incidents. On Wednesday, December 21, 2016, Stephen Hlavacek and Luis Landa Gutierrez were arrested and subsequently charged with one count of Felony Criminal Damage to Property. Additionally, Hlavacek was charged with Arson.
During the investigation, eight BB/pellet guns belonging to the offenders were recovered. The investigation into these incidents is continuing with the possibility of additional charges being filed. The Arlington Heights Police Department was assisted by the Wheeling Police Department.
OFFENDER #1 …
Stephen A. Hlavacek,
Birthday: 02/03/1996
Age: 20 years-old on December 23, 2016 1301 Marcey Lane, Wheeling, IL 60090
OFFENDER #2 …
Luis F. Landa Gutierrez
Birthdate: 04/19/98
Age: 18 years-old on December 23, 2016 Last known Address: 671 Piper Lane, Prospect Heights, IL, 60070
Bond hearing for the suspects was December 23, 2016, at 1:30 p.m. Rolling Meadows Courthouse. Both suspects are possibly out on bond (unknown amount).