Audio from 9-1-1 call when Henry Laseke called Northwest Central Dispatch System for help after he accidentally drove his SUV into a retention pond (includes video of diver's attempts to save his life).
The Northwest Central Dispatch System (NWCDS) dispatcher, who rudely and repeatedly said "Sir … what is your address," while Henry Laseke, age 89, was sinking in a condominium pond and eventually drowned in Arlington Heights, was given a three-day suspension after an internal inquiry.
Dispatcher Dawn Brezwyn failed to advise the victim how to get out of the vehicle, even though a computer program and backup printout cards are designed to assist dispatchers with proper instructions for the protocol for a sinking vehicle emergency.
The inquiry discovered that Brezwyn repeatedly entered the wrong codes into the dispatch system — finally telling investigators that she did not know the proper code, according to records that the Chicago Tribune reviewed.
The Chicago Tribune reports that Dawn Brezwyn's notice stated that she "fumbled with a computer program" and "didn't use resources that would have guided her in the call." Several sources have reported that the computer with the Emergency Medical Dispatch (EMD) instructions froze, and that supervisors that were standing around Brezwyn's work station also froze, but the Chicago Tribune reports that officials advised that no other personnel at NWCDS were disciplined. Most dispatchers at NWCDS had no awareness of what actually happened, and over the past months since the July 25, 2013 drowning incident, none of the dispatchers would actually talk about the incident because they were afraid of losing their jobs.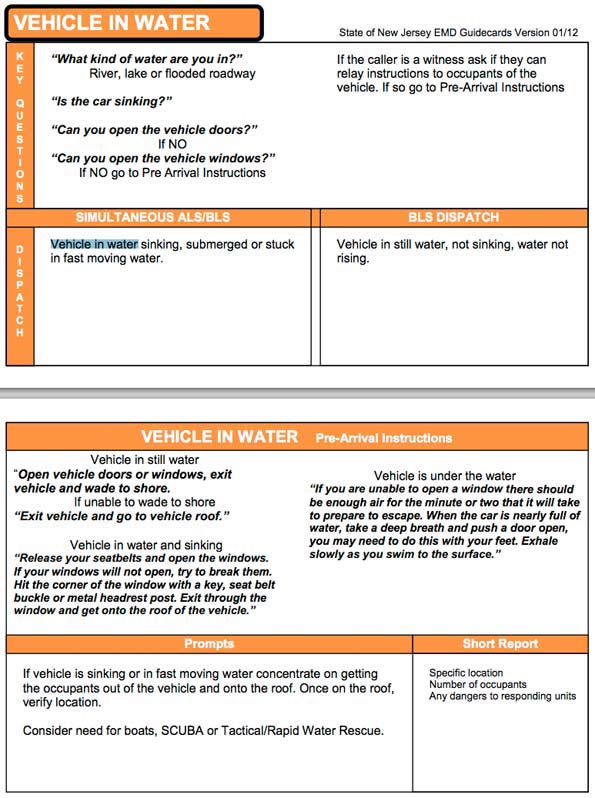 Screen shot of a State of New Jersey EMD Guidecard (Version 01/12) for the VEHICLE IN WATER protocol that includes conditions that involve a sinking vehicle (See State of New Jersey Emergency Medical Dispatch Guidecards [PDF]).
EMD instructions for a sinking car include telling the victim to open the vehicle windows and doors. If this is not performed quickly enough, water pressure makes it difficult to open windows and doors. The next option is to try to break the windows. If that doesn't work, the next option is to wait until the vehicle interior fills with water and equalizes inside and outside water pressure, which should make it possible to push the door open. That is an agonizing option because the victim might have to take a final gulp of air at the air pocket at the ceiling of the vehicle, and hold their breath until the pressure finally equalizes — and as the air pocket diminishes at the ceiling of the vehicle.
"Northwest Central Dispatch System has been awarded accreditation as an EMD Dispatch Center of Excellence.

We are the the (sic) first center in Illinois and 139th in the world to earn this distinction."

— NWCDS Website Front Page
The Chicago Tribune reports that after returning from vacation, Brezwyn logged 76 on-the-job hours before taking the call from Henry Laseke. Though Brezwyn initially told agency officials during the inquiry that she didn't recall the self-training request, records show, she also said she had been too busy during those shifts to complete the EMD training exercises.
The Chicago Tribune reported that this disciplinary action regarding the Laseke case was the second disciplinary action taken against Brezwyn this year. In January 2013, Brezwyn received a written reprimand for failing to dispatch Rolling Meadows police to assist on a medical call involving an unconscious man which, of course, involved dispatch of paramedics. The man later died. Police are important on these type of calls because they are already on the street, and if they are equipped with an Automated External Defibrillator or AED, can apply emergency AED treatment more quickly than most paramedic responses. There was no indication that the man in this call actually required an AED on the scene.
The Chicago Tribune described Pat Dollard, Assistant Director of Technical Services, explaining that it was clear from the calls that a bystander had gone into the pond to try to rescue Laseke, "which makes it very probable that he would have been attentive to that person's attempts at assistance and direction instead of the call."
What Dollard does not admit is that it might have been extremely hard for an elderly man to trust the dispatcher and to interpret the instructions from someone who asks for an address when that dispatcher had already been told that he was in a pond (since most ponds don't have numeric addresses). The tone of the dispatcher's voice also likely could have startled the man. Additionally, the dispatcher should have had a screen display with a Google-map-like satellite view of the pond with a geopositional interpretation of Henry Laseke's cell phone location. Unless that display was malfunctioning, Laseke's position in the sinking car should have been displayed within several meters or feet. So the question NWCDS needs to ask and get answered is, why ask Henry Laseke over and over again, "What is your address?"
Immediately after the incident, the Arlington Heights Police Department stated they were also conducting their own investigation, in addition to the investigation being conducted by NWCDS. No media releases have indicated the results of the Arlington Heights Police Department investigation.
Since April 2012 numerous failures and glitches have occurred with NWCDS computers, data messaging failures, radio failures, and fire station alerting system failures. Almost daily the data messaging fails. NWCDS frequently does not send the address to the responding emergency units as it is designed. Firefighters and police almost on a daily basis report that they are not getting their messages or system acknowledgement of their messages.
Immediately after today's fatal fire was extinguished, there were problems with the dispatch radio. Radio speakers in the fire station weren't automatically opening when new calls were toned out, and the dispatch center had trouble communicating with a fire engine that was assigned to respond to a fire alarm activation. The dispatch center also failed to become aware that a fire engine (Engine 4) housed at Fire Station 4 had returned to quarters after standing by for coverage in the center of the Village of Arlington Heights. NWCDS was dispatching a neighboring town to respond to a north side call while Engine 4 sat in service and available in Fire Station 4.
In July 2012, the NWCDS system failed to dispatch emergency medical units to a heart attack call in Palatine. In July 2013, the IFERN radio, which is used for major disasters and major fires failed during a major fire in Inverness. The radio failure caused a delay in proper alerting mutual aid fire companies. The house fire was eventually elevated to a third alarm.
Frequently, the overhead speaker tones do not work at fire stations. NWCDS also switched technology to an automated voice dispatch with a synthesized voice that is hard to understand, and doesn't give the full details that firefighters appreciate hearing while they are proceeding on foot to their emergency rigs.
On July 19, 2012, Executive board member Rick Tracy of the Metropolitan Alliance of Police –of the telecommunicators' union — presented a "no-confidence" vote at the Northwest Central Dispatch System's board of directors meeting. Several union members spoke at the board meeting. At least 29 union members attended the board meeting. Union President Jennifer DeLaCerda said Sunday's July 8 incident was not an isolated incident and there have been ongoing problems with the CAD system since April 24, 2012 — even as recently as during a night time storm on July 18, 2012. Problems with double calls dispatched or failures to dispatch calls and other problems continued to exist. Union President Jennifer DeLaCerda stood in front of the NWCDS board, her bosses, and police and fire chiefs and asked for assistance from the chiefs to look into the validity of the union members' claims, saying the stress levels to an already stressful job have become unbearable, according to union members.
At the same meeting of the executive board of Northwest Central during a separate agenda business topic, fire chiefs and police chiefs decided not to open NWCDS to Park Ridge Fire Department and Des Plaines Fire Department. Both fire departments requested consideration to join NWCDS, but the police and fire chiefs decided acceptance into NWCDS would not be the proper decision because of the ongoing technical problems at NWCDS. Des Plaines and Park Ridge fire departments later worked an agreement with RED Center in Northbrook that operates a fire dispatch center (not police) for communities as close as Long Grove, Prospect Heights and Wheeling.
In July 2012, in an OP-ED pieced by The Cardinal it was expressed that "a computer system failure puts staff on edge, and decreases customer service to the citizens that need to call 9-1-1. Ironically, it's the human workers — especially the dispatchers and call takers — that could be the scapegoats in a software system failure coverup."
DIVE TEAM RESPONSE for SUV in a Pond on Courtland Dr in Arlington Heights.
See also …
The Cardinal 9-1-1 Audio of Henry Laseke's Call for Help: Did Northwest Central Dispatch Follow Protocol for Sinking Vehicle? [INCLUDES TRANSCRIPT]
The Cardinal House Fire Destroys Inverness Home on Carnoustie Ln Near Palatine Rd and Ela Rd, as Northwest Central Dispatch 911 Mutual Aid Dispatch Radio Fails
The Cardinal Complaints About ID Networks CAD Software at Northwest Central Dispatch 911 Raises Concern About Delays, Systemic Software Problems
The Cardinal Northwest Central Dispatch System 9-1-1 Dispatchers Vote No-Confidence in Management; CAD Failures Put Them at End of Rope
The Cardinal Arlington Heights Man Dies After SUV Hits Townhouse, Electric Transformer and Sinks in Pond
Get updates from The Cardinal ALL NEWS FEEDS on Facebook. Just 'LIKE' the 'Arlington Cardinal Page (become a fan of our page). The updates cover all posts and sub-category posts from The Cardinal — Arlingtoncardinal.com. You can also limit feeds to specific categories. See all of The Cardinal Facebook fan pages at Arlingtoncardinal.com/about/facebook …