Video segment on 'The Five' showing the discussion of MSNBC's Martin Bashir using an edited clip of Neil Heslin's testimony before the Connecticut legislature.
On talk show 'The Five' on Fox News Wednesday, January 30, 2013, the crew criticized MSNBC and other media outlets that used MSNBC's edited video of gun advocates "heckling" Neil Heslin, the father of a Sandy Hook victim, while he testified before the Connecticut legislature. The full tape of the incident shows gun advocates shouting things like "the Second Amendment" in response to Neil Heslin, father of victim Jesse Lewis, saying: "I ask if there is anyone who is in this room that can give me one reason or challenge this question: Why anybody in this room needs to have done of these assault-style weapons or military weapons or high capacity clips? Not one person can answer the question." There was a five second pause before gun advocates or Second Amendment advocates replied. MSNBC edited out Heslin's question and edited out the 5-second pause — making it appear that he was heckled by people in the background. The unedited video shows that he was not heckled.
It is not the first time MSNBC has deliberately edited images to mislead the audience. On August 17, 2009 an unidentified black man carried an AR-15 semi-automatic rifle during an ObamaCare protest outside of the Phoenix Convention Center in Arizona. At a safe distance, President Barack Obama was speaking to Veterans of Foreign Wars for a health care reform rally. Below are two video stills showing what MSNBC presented the following morning:
Check out VIDEO STILL FRAME #1 …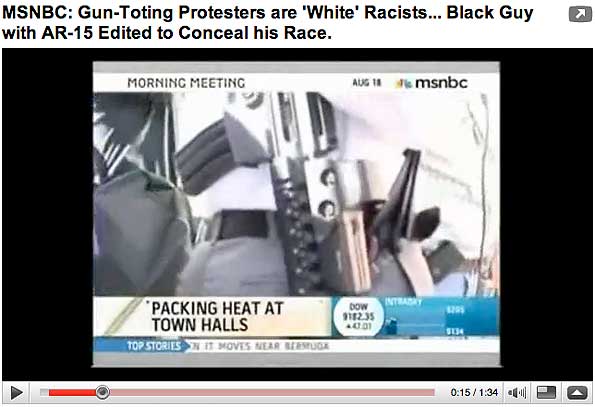 Close-up still frame shot on msnbc MORNING MEETING of 'man' legally carrying a semi-automatic assault rifle at Obamacare protest.
… and now check STILL VIDEO STILL FRAME #2 …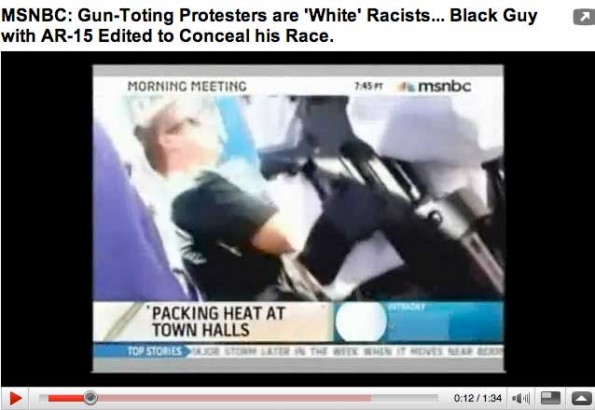 Still frame of the widest angle shot used during msnbc MORNING MEETING of 'man' legally carrying a semi-automatic assault rifle at Obamacare protest.
The next morning on MSNBC's MORNING MEETING, Contessa Brewer portrayed the man, displayed above, as a gun carrying white man — near the President ( 'a man of color.'). MSNBC never used the wide out shot that showed the man was a actually an African American male, not a white male. Video still frame #3 below displayed on ABC 15 News Phoenix gives an entirely different perspective.
… and finally VIDEO STILL FRAME #3 …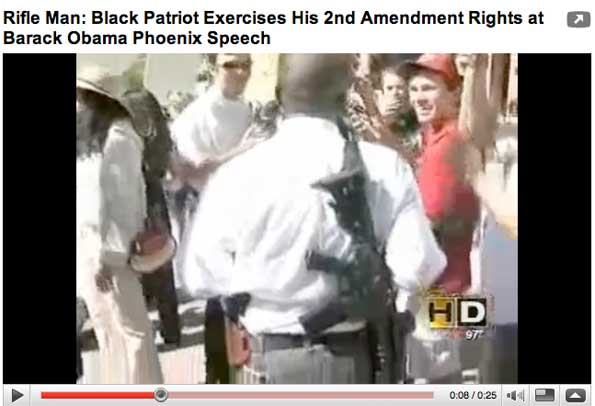 Still frame image from ABC 15 News Phoenix of the black male that was legally carrying a semi-automatic assault rifle at an Obamacare protest — a wide-out shot that MSNBC never showed.
Here's the video of the MSNBC segment …

"Angry at the government … and racism, you just put those two together."
The Arizona incident was previously covered by The Cardinal — Arlingtoncardinal.com (see The Cardinal MSNBC's Contessa Brewer Brews a Race Issue with Image of Black Man's Race Concealed)