VIDEO FROM FOX 10 TV ALABAMA REMOVED.
Special Report: Radio Black Out (VIDEO NO LONGER AVAILABLE).
In Alabama, FOX10 News has learned that the Mobile Police Department is adding encryption to its police radio communications on all channels. New police digital communications equipment, required by Federal law, has an option to encrypt communications. Encryption is not required by law, but is left up to police leaders to decide whether police radios will be encrypted. When police radios are encrypted, police communications can not be monitored by news media or neighborhood watch groups. Encryption uses a complex key that is very difficult to hack. In addition, hacking the encryption code is illegal. No scanners could legally be sold with the ability to monitor encrypted channels.
The Cardinal has learned that all police agencies dispatched by Northwest Central Dispatch (NWCDS) are also adding encryption to all channels when a new radio system (part of StarCom21) is deployed. StarCom21 is a statewide public safety trunked radio system in Illinois, including the Illinois State Police (mostly not encrypted) and a growing number of police agencies (not totally encrypted). StarCom21 is owned and operated by Motorola, with the State of Illinois as a major partner. Arlington Heights police and other police department members of NWCDS are planning to start putting the encrypted radios in service by about April 1, 2013, according to sources who spoke on the condition of anonymity. The original target deployment was 4th quarter 2012 or 1st quarter 2013, and there is a possibility there still may be further delays. The police agencies include Arlington Heights, Buffalo Grove, Elk Grove Village, Hoffman Estates, Inverness, Palatine, Prospect Heights, Rolling Meadows, Schaumburg and Streamwood — serving a total of almost 500,000 residents. The number of workers and employees and people traveling through the area brings the population to an estimated 800,000 to one million people during the day. Some reliable sources have reported that fire department dispatch channels will not be encrypted, but other reliable sources have reported that the final decision has not been made regarding encryption of fire department communications. The Cardinal first discovered the intent to encrypt police radios a little over one year ago in a Village of Hoffman Estates PUBLIC HEALTH AND SAFETY COMMITTEE AGENDA posting from December 5, 2011. Adding encryption to radios is reported to cost $388 extra per radio (see details at bottom of article).
For lack of a better word … we don't have anything to hide.
— Steve Huffman, Mobile Fire-Rescue (Alabama)
In Alabama, Mobile's Deputy Police Chief James Barber said the move will better protect the integrity of police operations, citing advanced technology that makes it easier for criminals to listen in and monitor police activity. The new radio system is reported to cost between $4 million and $8 million. But while some police leaders agree with Barber's position, others believe in keeping some police radio communications in the clear — without encryption. Some go so far to say that the public is their ally, and that they want the public to hear police radio communications. For many police decision-makers, encryption is counter to efforts to increase police transparency. Some police departments, such as Santa Cruz, California even have their own custom app that includes a police radio feed, crime map, a crime tip reporting section, photos, videos, news, and alerts. Alsip, Illinois also hosts a feed through radioreference.com.
Not only do the media and neighborhood watch groups, and hobbyists monitor police and fire communications; even other police departments and fire departments monitor each other. Ironically, the claim that the new digital radio system allows interoperability is not true when encryption is used. For several years, Cook County Sheriff's police radios have been encrypted. Arlington Heights interfaces with Cook County Sheriff police beats in the far northwest area of Arlington Heights, but Arlington Heights police officers cannot hear Cook County Sheriff's deputies communications. They can't get real time updates while police are responding to pursuits, domestic batteries in progress, stabbings, etc. All the information has to be relayed through dispatchers, which causes a delay, or even the possibility of errors as the dispatchers forward the information. If and when Arlington Heights police radios becomes encrypted, their police officers still aren't likely to be able to hear Cook County Sheriff's deputies because, they will probably use different encryption keys in the county system compared to NWCDS. A Niles police officer, who spoke on condition of anonymity, stated that it was more difficult to respond to unincorporated areas near Niles that were served by Cook County Sheriff's deputies when their radio communications were encrypted. He stated it was much safer to know the details of what he was responding to by hearing the communications on the Cook County Sheriff's radio.
Many off-duty police officers prefer to know what is happening in their own residential neighborhoods, and some use Apple iPhone apps or scanners to listen to what is happening in their own neighborhoods. If they see police activity, or suspicious activity, their training is of great benefit locally, but is negated by the encryption-caused elimination of real time information from a police scanner, or an iPhone app. Some will possibly resort to calling an inside line at Northwest Central Dispatch to find out what is happening. There are several off-duty police officers that live in Arlington Heights that stay aware of their surrounding via their job and while off-duty listening to police scanners.
The job of police departments is as much to protect citizens and prevent property loss, as it is to catch criminals. There are many scenarios where encryption, and the subsequent hiding of real time information from the public could have dangerous consequences.
Dangerous Scenarios with Encryption
Following are a number of situation where encrypted police radios defeat the public safety operations of police departments. When police make secret operations a priority over public safety communications, communities are eventually going to run into serious, perhaps deadly situations.
Armed Man at Large Scenario
Using a situation that happened in Park Ridge in August 2012, demonstrates a "what if" situation. Park Ridge police received a report of an armed robbery and stabbing near Elm Street and Wisner Street. Police discovered a cab driver stabbed and robbed. The offender was at large and apparently ran through the neighborhood nearby. Park Ridge police were already using encrypted police radios at the time of the crime. There is no way neighborhood watch groups or citizens would be aware of the crime because they can no longer hear the emergency communications. In a healthy community, the good people hopefully outnumber the criminals, and police communications involving threats to the community are open and transparent. Citizens can be alerted to danger in real time. Citizens are made aware of threats in their neighborhood or by a neighborhood watch group. In the police-encrypted community no neighbors would be aware of the danger. Suppose the offender managed to hide and avoid detection in a backyard because either a K-9 track was not available, or the K-9 failed to track the offender for some reason. The police eventually clear the area, presuming the offender has left the area. Suppose he hasn't. Suppose the offender then breaks into a house, gets the car keys and stabs the residents to death, so there is no chance they would call police. The offender takes the car and drives calmly out the garage and into Chicago. The car would not be reported stolen for hours or even days, until someone calls for a well-being check for the unresponsive or missing residents.
Could police be liable for the homicidal deaths of those residents for failure to warn neighbors of a threat? Previously residents could have protected themselves by monitoring police activity. Now, the radio product from Motorola makes that impossible. Could Motorola be liable for providing a product that has worked for years in a clear and transparent manner, but is now operating in secrecy. Is Motorola liable to provide warning to police departments that they must warn residents of public safety threats when they use encrypted police radios? After all, companies that make power saws or chain saws can be liable for not providing guards that reasonably protect users from the cutting edge, or that fail to warn users to wear safety glasses and use proper technique with the saw.
The Major Disaster Scenario
In times of major storms, police and fire calls are received many times per minute or per second. Down power lines, arcing power lines, electrified metal fences, fires started by power lines, flooding damage, flooded roads, stoplights out, crashes, branches and trees on houses, and even house fire or building fires caused by lightning or downed power lines. Even your average severe thunderstorm can wreak havoc like this to private homes, businesses, and the public infrastructure. This doesn't even consider the exponential damage from a tornado strike.
A major hazmat incident by accident or by terrorist act with a serious chemical threat could require extremely urgent real-time public communications. There is NO WAY reverse 9-1-1 can match the effectiveness of the media in notification of the public.
In a healthy informed community, the media, neighborhood watch groups, and individuals monitor police and fire communications and help each other become aware of serious injuries and fatalities, areas of hazards, and areas of major traffic problems. Even before the storm, police and fire communications forewarn of dangers because police and firefighters observe and report storm conditions as severe weather approaches. Dispatchers warn police and firefighters with very specific severe weather conditions as it advances across communities. With police communications encrypted, none of these observations will be available to the media, neighborhood watch groups or storm spotters.
The Disaster Response Scenario
With encrypted police radio communications, real-time damage assessment is delayed. Police and firefighters from nearby communities will no longer be able to listen in on their stricken neighboring communities (that being us, Arlington Heights, etc.). With police and fire communications in the clear, neighboring police and firefighters can prepare for the call for mutual aid. With encryption, they will be caught flat-footed. Emergency responses from board-up services, the Red Cross, insurance adjusters, and even special equipment in major disasters will all be delayed because the companies or agencies will not be monitoring communities with encrypted public safety channels, because they can't. These auxiliary servics will also be called in for assistance, but they will also be caught flat-footed, instead of being ready to roll.
Any delays from real-time coincides with delays from auxiliary services responses and insurance responses.
The Missing Child or Missing Endangered Person Scenario
A missing or kidnapped child, or recent criminal activity regarding a child sex offender at large will have an ineffective emergency response when media, neighborhood watch groups are not able to monitor real-time police communications. Police that want encryption might tell you that the AMBER ALERT is effective for this scenario. But early detection, and fresh memories are far more important than the AMBER ALERT which is often delayed and must meet certain criteria before it is activated.
The Mass Shooting Scenario
The chaos of a mass shooting is only enhanced by lack of real-time updates caused by encrypted police radio communications. Police can use encrypted side channels, on-board computers, and telephones for specific tactical operations, so that the offender or offenders cannot eavesdrop on tactical plans. Police can also have control of what the public learns; and even what they might want the offenders to know, if one-to-one negotiations are not possible. Open communications can help discover shooting victims in an uncontained scene, and can also help discover suspects who may be at large and are known by specific descriptions. Police absolutely must keep at least one channel of public safety dispatch open in the clear so citizens can be aware in real-time what is happening. Citizens can then avoid danger, or even be forthcoming with helpful information that could result in the capture of shooters, or the discovery of accomplices or other victims.
Police Mutual Aid Scenario
Police officers from communities that are not members of NWCDS that border NWCDS police communities will not be able to monitor police communications of the respective neighboring NWCDS community. For example, Wheeling police officers in their squads will not be able to monitor neighboring Arlington Heights, Buffalo Grove, or Prospect Heights police activity. Some outstanding police officers listen to neighboring communities' police channels so they can be prepared if a police pursuit is headed their way, or if a suspect is at large near the border of the communities. Also, if it sounds like a neighboring police officer is in trouble or might need backup, they respond before help is even requested. That safety factor will be gone when NWCDS police agencies encrypt their radios. Other examples would include Wood Dale and Elk Grove, Bensenville and Elk Grove Village, Itasca and Elk Grove Village, Lake County Sheriff's deputies and Buffalo Grove, Vernon Hills and Buffalo Grove, Mundelein and Buffalo Grove, Riverwoods and Buffalo Grove, Glenview and Prospect Heights, Des Plaines and Mount Prospect, Wheeling and Mount Prospect, Glenview and Mount Prospect, Barrington and Palatine, and possibly others.
Cooperative Police-Citizen Scenario and Situational Awareness
If two firefighters hadn't been listening to their police/fire scanners in 1982, a lot more people may have died of cyanide poisoning from contaminated capsules. When the Tylenol murders occurred in 1982 in Chicagoland, it was the "luck" of two off-duty firefighters listening to police/fire scanners that hastened the discovery of cyanide as the culprit in the sudden deaths that started occurring on September 29, 1982. They recognized similarity in deaths in Arlington Heights and a death in Elk Grove Village. Off-duty Arlington Heights Fire Department lieutenant Philip Cappittelli and Elk Grove Village firefighter Richard Keyworth (during a discussion as friends about communications they heard on their personally-owned public safety scanners) recognized that the mysterious deaths in Arlington Heights and Elk Grove Village all involved Tylenol and reported their discovery to people at the center of the investigation. Tylenol from the scene was tested and cyanide was detected after Arlington Heights fire officer Chuck Kramer and Village of Arlington Heights nurse Helen Jensen rushed to the Janus victims' home in Arlington Heights to recover the suspected bottle of Tylenol. Three people: Adam Janus, Stanley Janus, Theresa Janus eventually died from that household. The contents tested positive for cyanide. Tylenol was immediately taken off store shelves, which may have saved hundreds more lives. People were also asked to flush their Tylenol down the toilet.
Today, people probably would have been asked to turn in their Tylenol for investigation. We'll never know how many Tylenol products were contaminated. Some serious theories exist that the Tylenol was actually contaminated at a distribution center, not off of the shelves as reported by authorities and the media. If the three victims hadn't been stricken in the same household, the cyanide connection may have never been discovered because cyanide death acts like a heart attack. If Adam Janus had been the only death in the house in Arlington Heights, no suspicion of foul play would have been detected. In fact, Adam Janus, was at first believed to have died from a massive heart attack. The cluster of deaths in the one household alerted authorities to the extra-ordinary circumstances. It was the firefighters listening to police/fire scanners that detected the connection with the victim in Elk Grove Village, and the common link of Tylenol popped in their heads. Seven people died before the link between Tylenol and cyanide was determined.
Inconvenient Scenarios
In a healthy community traffic flows, commerce thrives, and citizens don't live in fear. There's nothing wrong with being concerned about a major public safety scene, or five police cars at your neighbor's house.
Traffic Delay Scenario
Nobody likes traffic delays. With encrypted police communications, the media cannot listen to learn which roadway or lanes are blocked. Fires can block roadways for hours. Fatal crashes can block roadways for hours because of rescue operations and investigations. Police in favor of encryption will tell you they can call the traffic media, but in reality they won't be totally comprehensive, and there will be a delay because the police have to inform the 9-1-1 center of the details, and then the 9-1-1 center has to notify the media. If the 9-1-1 center is overloaded, their notification of traffic media might be delayed, given incorrectly, or not completed at all.
"There's Nothing to See Here" Scenario
There's twenty police cars, four fire engines and an ambulance at the shopping center down the street. They've been their for over an hour. Plus a large area is blocked off. Last April, that was the scenario when there was a report of a suspicious package in front of a UPS store in Streamwood. It turned out to be nothing. Roads were blocked at Schaumburg Road, Barrington Road, Weathersfield Road. The Target store nearby by was also affected. Roads were closed for over one hour. It was the media, monitoring police communications, that let the public know what was happening. A healthy community lets people know what is happening. The public really doesn't deserve to be treated like cattle and kept in the dark. With encrypted police radios, we may never have known what happened that day — except maybe after an FOIA request.
Catching Criminals
Police that want encryption will tell you that criminals are listening to police scanners or Apple iPhone apps to stay one step ahead of the police. Most criminals know instinctively that they only have seconds or minutes to commit their crime, and start fleeing. They usually beat the police out of there, anyway. Yes, some criminals have probably fled and got away in time because they got a jump on police from hearing the call on the police radio frequency. But police have a way around this. Police can occasionally use a side channel that is encrypted, or a phone call, or a message on the squad car's onboard computer. They can do this especially when they have a good number of available resources to surround the suspects. The criminals listen for the police call, but it doesn't come over the main dispatch channel. Busted. With a little cell phone forensics, GPS positioning of the cell phone using the app can place the criminal at the scene of the crime at the time of the crime. Busted.
With open communications and an encrypted side channel, police are in control and can therefore manipulate what they allow criminals to hear, and what they don't allow them to hear.
There are times when criminals hearing the police dispatch could be a good thing. Consider a vehicle burglary in progress. Let's say there's only one police car available when police get the call that five teens are breaking into a vehicle. The odds are not good that police will catch the car burglars. Let's say one of the kids has an app that's listening to police. The thieves flee when they hear the dispatch. Theft loss is stopped in its tracks like a burglar alarm going off. If you're the victim, you're probably happier that the loss was stopped, rather than concerned that the criminals were caught. Now lets say the description of one of the offenders fits a case the detectives have been working — a kid who's identity is known by police. Complete with other probable cause, police visit the home of the teen, or catch him walking home. They seize his phone — perhaps with a warrant. Cell phone forensics discovers GPS logs in the phone that match the locations of recent vehicle burglaries — helpful information with any additional evidence discovered. Cell phone seizure and searches, and pinging the real-time location of suspects is currently a hot issue related to the Fourth Amendment
Private and Sensitive Information
Police that want encryption will tell you that sensitive information comes over the radio … social security numbers, door codes, vacation watches, the location where people hide their keys, etc. (currently this information, except for vacation watches in some communities, is not communicated over dispatch channels). Obviously that all needs to be encrypted right? Well the major problem here is that just because a radio channel is encrypted, doesn't mean it can't overheard. How about the criminal in the backseat of the police car being taken into custody. There's a good chance he can hear the radio. How about the criminal being handcuffed by the arresting officer? That criminal's ear might be closer to the police officer's personal radio speaker than is the police officer's ear. How about bystanders at a crash scene? There's a good chance they can hear the voice on the radio speaker, whether it is a loudspeaker or a police officer's personal speaker by his shoulder — even 12 or 30 feet away sometimes. Ironic. If it wasn't so serious, this would be really funny; but with encrypted police radios, criminals will be hearing more police radio traffic than law-abiding citizens.
The truth is police officers shouldn't be using any main dispatch channel for sensitive information. We should all be concerned about sensitive information for the reason of identity theft, or other private information. Police should be using their squad car's computer terminal, a telephone or cellphone, wireless phone text message, and then a secure encrypted channel, and only as a last resort, an unencrypted radio channel, if absolutely necessary.
So Why Do Police Want Encrypted Radios?
It is important to remind the readers that police leaders are split on whether all communications should be encrypted or not. Police in favor of encryption commonly claim three main reasons for opting for encrypted police radios:
1) Officer safety — preventing ambushes, etc.
2) Privacy and sensitive information security
3) Preventing eavesdropping of criminals
The paragraphs above have explained opposition points 2 and 3, but have left point 1 for last — as it relates to government and police transparency and democracy.
"An informed citizenry is the only true repository of the public will."
— Thomas Jefferson
Officer safety is possibly more at risk in a community that has lost its transparency with the local government and police department. Encrypted police radios are better suited for the the military and SWAT personnel, but not general police work. The use of encrypted radios is likely to produce a divide between the public and the police. If police don't produce information that satisfies the public, the community loses, and the police lose out by causing themselves more work, and an increased of risk of serious opposition from community groups … and from being mistrusted.
In politics, transparency is used as a means of holding public officials accountable and fighting corruption with an informed citizenry. When a government's meetings, budgets, laws and decisions are open to the press and the public, it is seen as transparent. There is less opportunity for the authorities to abuse the system for their own interests with transparency in place.
When military or police authorities classify their plans or operations as secret, transparency doesn't exist. The loss of transparency may be necessary at times because national security or local security, but the loss of transparency can lead to corruption and, in extreme cases, a military dictatorship or police misconduct.
Types of police misconduct include, false confession, false arrest, falsified evidence, false imprisonment, intimidation, police brutality, police corruption, racial profiling, surveillance abuse and off-duty misconduct. Police departments that fail to respect transparency can find them instantly mistrusted by the public. At the very least incompetence could be another claim against police when burglaries or other crimes spike. Already, before expected, police corruption as been alleged just this past month in the suburbs at Schaumburg Police Department (drug-dealing, stealing drugs from drug dealer, armed violence), at Northbrook Police Department (police officer burglarizing home he was assigned to protect), and Des Plaines Police Department (police misreporting of overtime pay for federally-funded traffic safety grant).
"The NOPD will continue its long-standing policy of allowing public access to normal police dispatch channels."

REMI BRADEN
DIR. PUBLIC AFFAIRS
Time will tell whether the police departments in the Northwest Central Dispatch System will actually carry out the encrypted communications. Recently Pasadena, California backed off on complete encryption after an uproar from citizens, media and some local politicians. Around New Year's New Orleans Police Department reversed their plans to encrypt all police radio channels. New Orleans Police Department also faced an uproar about the encryption from citizens. The New Orleans Police Department is already challenged by police corruption, and critics claimed encrypted radios would make the corruption problem worse. Critics also claimed that police reports during hurricanes were extremely important for public safety.
Santa Cruz Police App Screen Shots …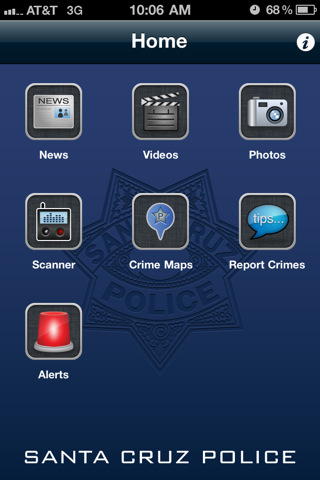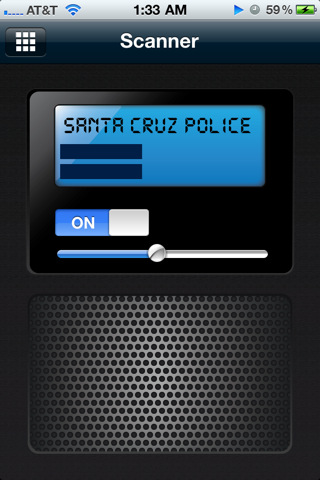 More information …
Santa Cruz Police Department App …
See also …
The Police Chief Warrantless Searches of Cellphones: Is the Law Clearly Established?
Forbes Reminder To Congress: Cops' Cellphone Tracking Can Be Even More Precise Than GPS
House Committee on the Judiciary Subcommittee on Crime, Terrorism, and Homeland Security Hearing on the Geolocation Privacy and Surveillance (GPS) Act. Statement for the Record of Professor Matt Blaze May 17, 2012 [PDF]
THE TYLENOL MAFIA: Marketing, Murder, and Johnson & Johnson
nola.com New Orleans-area emergency response radio encryption plans will keep public from listening
WGNO N.O., J.P. Police Radios Won't be Encrypted