VIDEO: Navy Recruits' Christmas 2012 day's events at Christian Liberty Academy.
Following a police escort and Warriors' Watch Riders escort, 25 Navy Recruits (040) from Naval Station Great Lakes enjoyed a day with great meals, telephone banks for calling family and friends, Internet access, video games and relaxation. The event was organized by Bob and Linda Stack, parents of Marine Lance Cpl. James Stack was killed in Afghanistan in November 2010, leaving behind his 19-year-old widow, Katie, and a 1-year-old daughter. The Stack's daughter Megan and about 100 community members were there in support of the event. Supporters lined the main hallway on the east side of Christian Liberty Academy from the Main Office to the school cafeteria on the opposite side of the building — cheering, thanking the recruits and wishing them a Merry Christmas. The recruits had been isolated from television and the Internet since early November and are set to graduate in January.
The recruits were welcomed by Warriors' Watch Riders Bob Stack, and John Hersey High School grad Pastor Chuck Wilcher of Northwest Bible Church.
The polite group of men were grateful for the day. They enjoyed a breakfast, main lunch, and a Chicago-style dinner. Lunch included ribs, parmesian-crusted chicken breasts, potatoes, baked beans, corn on the cob, vegetables and Red Bull, followed by apple pie a la mode with cinnamon and toffee — all cooked first class by Chef Tim Almy, his family and the Culinary Class from Christian Liberty Academy. The large commercial kitchen is now used by the talented chef, to cook hot meals for students and staff at Christian Liberty Academy. On Christmas, the immaculate kitchen was an impressive site of food preparation worthy of an episode on a cable television or network television food program. The main lunch was preceded by a Continental Breakfast, and was followed by a Chicago-style dinner complete with Chicago-style Vienna hot dogs, pizza, chopped salad, and brownies with ice cream.
In between meals, the recruits (from all over the United States) spoke with community members, and enjoyed group photos, private telephone access, Internet access, Skype access, video games, foosball, Chicago Cubs baggo games, and basketball court access. First access on the Internet was unanimously pointed to Facebook, where computer workstations were set up in a second floor science room, which was dominated by former Arlington High School teacher John Harth during the Arlington High School Cardinals era at the school building.
The Christian Liberty Academy library was converted to a game arcade for a day with a main projection screen and multiple monitors attached to XBox consoles.
Community members spotted at the event were Arlington Heights Mayor Arlene Mulder, Arlington Heights Village Board Trustee Tom Hayes, Arlington Heights mayoral candidate Ron Drake, 2012 Hearts of Gold Honoree (Community Spirit) and Memorial Park restoration leader Greg Padovani, and former Arlington High School teacher Wayne Wagner.
The event was a joyous event that Bob and Linda Stack hope to make an annual tradition in honor of their son. Just below the surface of the successful event was an emotional surge of Christian strength and energy in honor of their son Marine Lance Cpl. James Stack.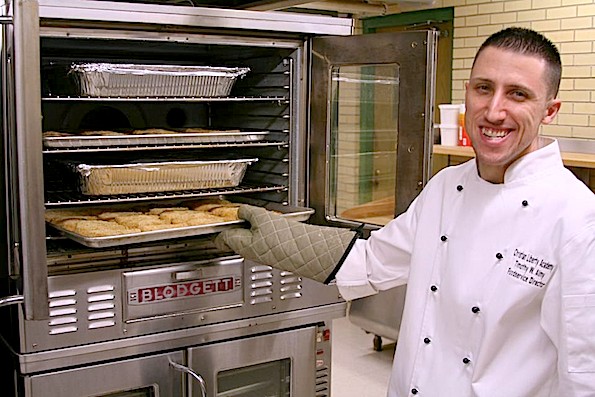 Top honors to Tim Almy and his Culinary Class for feeding 25 hungry Naval Recruits on Christmas Day, 2012.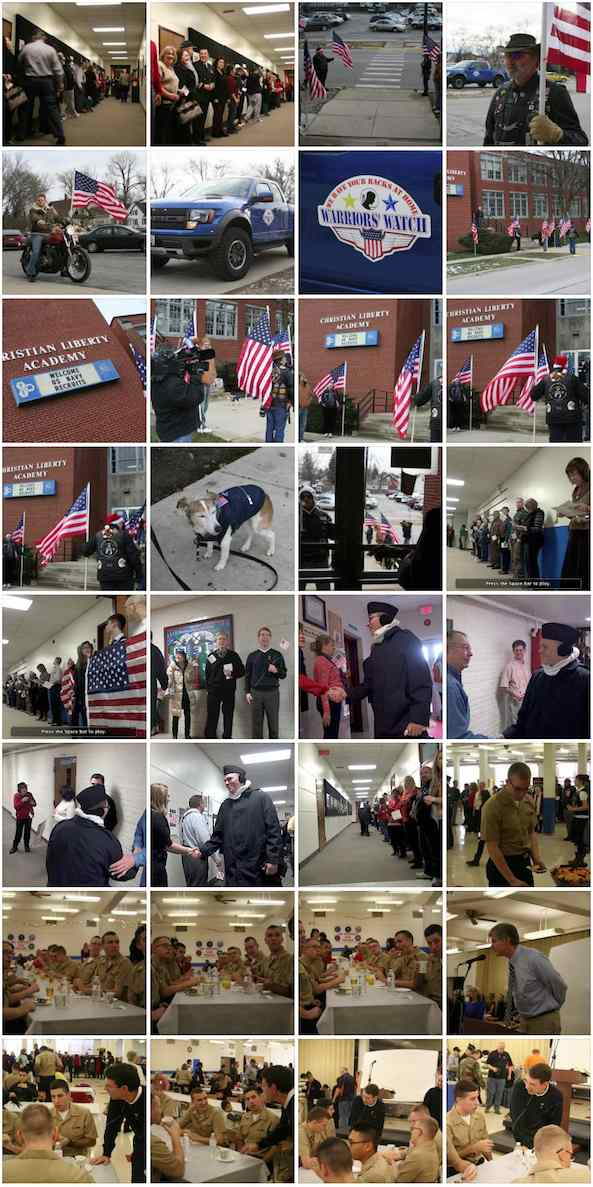 SEE MORE: Photo album on Facebook.com/ArlingtonCardinal (over 160 photos).
SUPPORTERS
Christian Liberty Academy
Warriors' Watch Riders
Village of Arlington Heights
City of Prospect Heights
Gordon Food Service, Marsha Blum
Panera Bread, Arlington Heights
Costco, Mount Prospect Matt
Sam's Club, Wheeling Justin
Sam's Club, Naperville
Jewel, Palatine, Dave Kross
Arlington Heights Corner Bakery, Ruther
Greg Padovani
Pastor Calvin Lindstrom
Chef Tim Almy & Family
Katherine Clark & Family
Megan Moeller
Liz Dulinsky
Corinne Kramer
Julia Cosmos
Chris & Kelli Miller
Mark & Donna Morrison
Roger & Florie Morrison
1st Lt Brent Moeller, U.S. Army
Pastor Bob Moeller & Family
Miklius Family
Beth Kott
Dan Hartsaw
Lori Hoegler
Victor Yang
Mark Dove
Keith Kania
Alex Kania, U.S. Naval Sea Cadet Corps
David Bergquist
Matt Glad
David Olsen
David Morrison
Tim Cruz
JD Dulinsky
Fernando Ramiriz
Rosalina Sanchez
Miguel Aquirre
Norma Almora
Roger Peter
Conrad Bennett
Josie Kramer
Andy Bennett
Paul & Wendy Kramer
Benjamin Dove
Alex Kurz Jr
Sherry Kurz
Wojciech Mastella
Jacinto Jimenez
Frankie Bautista
Jake and Laurel Kramer
Jeffrey Ruffin
Diana Janicke
Heater Janicke
CLA 5th and 6th Grade Students of Mrs. Meyers, Mrs. Beal, Mrs. Hessler, and Mrs. Simonsen
See also …
CNIC Naval Station Great Lakes (Official Navy website)
Naval Station Great Lakes is the United States Navy's only boot camp, located near the city of North Chicago, Illinois, in Lake County. Naval Station Great Lakes is the second largest military installation in Illinois and the largest training station in the Navy. Important tenant commands include the Recruit Training Command, Training Support Center and Navy Recruiting District Chicago. Approximately 40,000 recruits pass through the training center annually with up to 7,000 enrolled at the Naval Station Great Lakes at any time.
Naval Station Great Lakes, located between North Chicago and Lake Bluff functions as a small city, with its own fire department, Naval Security Force, and public works department.
Commander, Navy Installations Command (CNIC) is the authority responsible for shore installation management under the United States Navy; it is responsible to the Chief of Naval Operations. CNIC was established on October 1, 2003.