The city of Naperville has launched a criminal investigation after the official Naperville city website was "compromised by a virus" that brought the website down for about one week. Officials have also reported that a human offender is responsible for the issues with the website.
Most crucial information including the city's online billing system is available again, but as of early Tuesday, October 9, 2012, menu styling and the full web site was not available.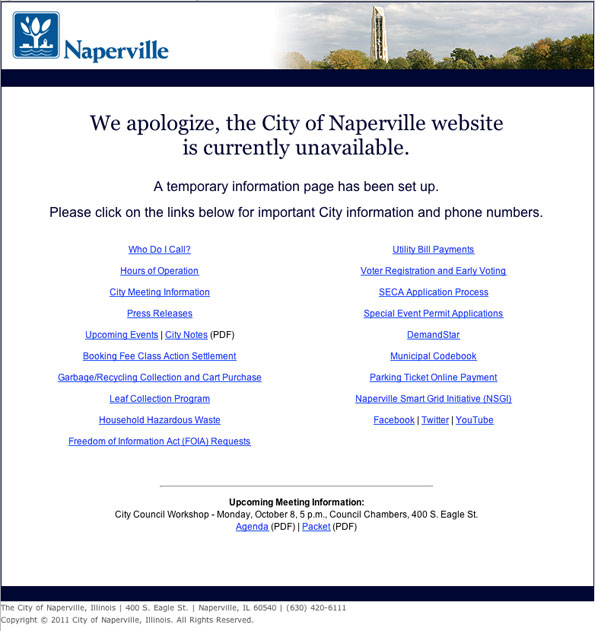 Screen capture of the Naperville website early Tuesday.
Naperville with a 20120 population of 141,853 is the the fifth-largest city in the state, following Chicago, Aurora, Rockford, and Joliet.
The City's full website and associated online eGovernment services remain temporarily unavailable. A page with essential information, including a list of phone numbers, is available at www.naperville.il.us in the interim.

eGovernment services that currently cannot be accessed include:

e-Bill (online utility bill payment)
Citizen Support Center
Building Permit Requests
Online FOIA requests
City Boards and Commissions Meeting Agendas, Packets and Minutes
Streaming Media Archives

"We are continuing to examine our systems to ensure full system integrity," Deputy City Manager Marcie Schatz said. "During this time, we need to return to ways of doing business that worked well in the past. This does not affect our City's ability to provide effective public safety, public utility and public works services to our community, and the safety and security of the City remain our top priority. We recognize that our residents and businesses are experiencing inconveniences, and we appreciate your patience."

Utility customers who typically receive and pay their utility bill through the online eBill system can call the Finance Department at (630) 420-6059 and pay their bill via phone. They can also pay their bill in person at the
Naperville Municipal Center, 400 S. Eagle St., during normal Finance business hours of Monday, Tuesday, Thursday and Friday from 7:30 a.m. to 5 p.m. and Wednesday from 10 a.m. to 2 p.m. An after-hours drop box is available in the lower level of the Municipal Center parking deck outside of the entrance.

Customers who pay their utility bill by automatic bank draft should note that that system remains unaffected and their payment will go through as normal.

People wishing to contact City staff for FOIA requests, building permits or other matters can call (630) 420- 6111. They will be directed through a phone tree that provides options for services by department. We appreciate your patience as call volumes may be increased. They may also inquire in person about their issue at the Naperville Municipal Center. Copies of City Board and Commission meeting agendas and packets are available to view in hard copy form at the Naperville City Clerk's Office in the Municipal Center as well as the Naperville Public Library.

With the 2012 General Election coming up on November 6, 2012, many inquiries are being made about voter registration, early voting and absentee voting. The City Clerk's office encourages residents to visit either the DuPage County Election Commission website at www.dupageelections.com or the Will County Clerk's Office at www.thewillcountyclerk.com for more information on these topics.

Updates about the status of the City's full website and related services will be made available through the City's other communication outlets, including government access TV station WCNC (Ch.6-WOW, Ch.10-Comcast, Ch.99-AT&T) and WPFP 1610AM. Residents and other interested parties can also visit the City's Facebook page at www.facebook.com/NapervilleIL and Twitter account at www.twitter.com/NapervilleIL.
Updates and news are available via the city's Facebook and Twitter accounts, but many of the older status updates link to city web pages that are unavailable with a message explaining the "resource cannot be found."