SHERIFF DART CONTINUES CLEAN UP EFFORTS Nabs one offender with six outstanding warrants – 42 prior arrests; six others also arrested.
On Wednesday, July 25th, officers from across the Cook County Sheriff's Office saturated south suburban neighborhoods to continue Sheriff Thomas J. Dart's mission of cleaning up communities in Cook County. By the end of the day, they had focused efforts on seven towns in the area, taking 22 individuals into custody with outstanding warrants.
"It is no secret that criminal activity significantly increases during the summer months," said Sheriff Dart, "It is my goal to clean up our neighborhoods and keep them as safe as humanly possible at all times, but especially now during peak warmer weather."
Of the 22 individuals picked up, eight had outstanding warrants for felonies including Brandon Robinson, 30, of Hazel Crest who had six outstanding warrants—two for felonies which included criminal sexual assault and possession of a stolen vehicle. Robinson also has 42 prior arrests. "Brandon Robinson is a perfect example of what we hope for when we conduct operations aimed at preventing violence," said Sheriff Dart, "he is the poster child of a warrant sweep target."
Other individuals arrested on felony warrants include;
• Jerrica Webster, 22, of Harvey who was picked up on forgery charges
• Julian Bynum, 20, of Country Club Hills for possession of a stolen firearm
• John O'Malley, 48, of Midlothian for felony DUI and driving on a revoked license
• David Ithal, 53, of Oak Lawn for possession of a controlled substance
• Brian O'Neill, 35, of Midlothian for DUI
• Donte Bailey, 19, of Flossmoor for UUW (unlawful use of weapon)
• A juvenile (we do not release information on juveniles)
As part of the operation, Sheriff's Police also worked with the Cook County Department of Revenue in carrying out an ongoing Tobacco Enforcement Initiative to make sure local businesses were all in compliance with tobacco rules and regulations. Of the
twenty-five locations that were targeted, one business, Noor Oak Forest—located at 15100 South Cicero in Oak Forest —was found with 160 packs of illegal cigarettes, totaling approximately $6,000 in fines for the business.
Another part of the operation was to conduct parolee compliance checks on gun offenders on parole in the South Suburbs. The Sheriff's Office worked closely with the Illinois Department of Corrections; after a 2 day mission targeting 22 individuals, officers recovered eight guns and one stun gun.
The Sheriff's Evictions Unit was also on hand to carry out numerous evictions in the target areas, and the Sheriff's Graffiti Unit cleaned up nearly 40 different locations throughout the suburban communities, all with no major incidents. These efforts are all part of Sheriff Dart's mission to focus resources and conduct targeted law enforcement operations in Cook County communities to make them safer for all who live there.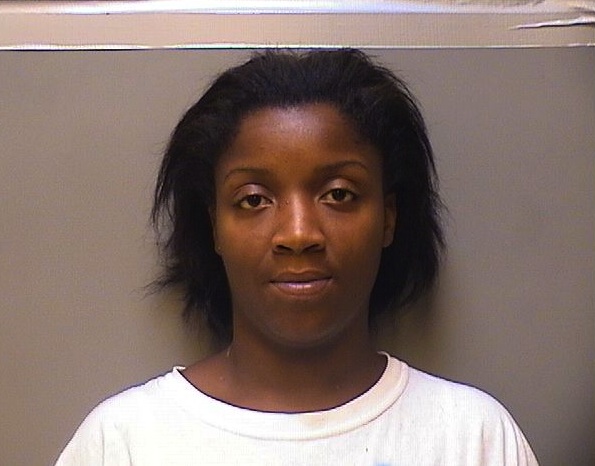 Jerrica Webster (police photo).