Christian Liberty Academy pastor and teacher Calvin Lindstrom at Chick-fil-A for lunch on Wednesday.
After the mayors of Chicago and Boston criticized Chick-fil-A for COO Dan Cathy's stance against gay marriage on the Ken Coleman radio show, and Chicago Mayor Rahm Emanuel went so far to say that the company does not reflect the City of Chicago's values; a backlash against the Georgia-based chicken restaurant grew among gay activist, and gay activist vegetarians. Conservatives and supporters of free speech, led by former Arkansas Gov. Mike Huckabee, formed a sort of backlash to the backlash — a sort of inverted boycott.
"This is about a company that sells chicken and not politics, and they shouldn't be out of business because their owner happens to have a point of view that may not be the same as the gay activists."

— Former Arkansas Gov. Mike Huckabee
The Chicago values statement by Rahm Emanuel has particularly stirred the sentiments of many Chicago residents — asking what right government has in defining the communities' values. Cardinal Francis George in a blog writing asks, "Was Jesus a bigot? Could Jesus be accepted as Chicagoan?" He adds, "Surely there must be a way to properly respect people who are gay or lesbian without using civil law to undermine the nature of marriage."
Cardinal Francis George, publishing "Reflections on 'Chicago values'" in his Archdiocese of Chicago blog, makes it clear that today's culture has reached a point where "approval of state-sponsored homosexual unions has very quickly become a litmus test for bigotry; and espousing the understanding of marriage that has prevailed among all peoples throughout human history is now, supposedly, outside the American consensus." Cardinal Francis George of the Archdiocese of Chicago explains that "marriage existed before Christ called together his first disciples two thousand years ago and well before the United States of America was formed two hundred and thirty six years ago. Neither Church nor state invented marriage, and neither can change its nature."
In Schaumburg there were no ministers preaching about "the perversion of homosexuality" and there was no hate expressed against gays; just people celebrating free speech and democracy in action, and capitalism in action. And the enjoyment of chicken and side dishes.
The watchdog group Gay & Lesbian Alliance Against Defamation (GLAAD) has been in existence for over 25 years and claims to have worked with news, entertainment and social media to bring culture-changing stories of LGBT people into millions of homes and workplaces every day. In a blog post titled MORE THAN JUST MARRIAGE, CHICK-FIL-A IS ANTI-GAY: FACTS FOR MEDIA COVERING CHICK-FIL-A, Aaron McQuade writes that media reports have not asked some critical questions, and "have presented incomplete or incorrect stories to audiences." GLAAD claims "they (Chick-fil-A) have given millions of dollars to anti-LGBT organizations, including those that have been designated hate groups' by the Southern Poverty Law Center. GLAAD claims "they support groups that push so-called 'ex-gay' therapy," which GLAAD argues is not supported by the American Psychological Association — citing an APA Policy Statement Resolution on Appropriate Affirmative Responses to Sexual Orientation Distress and Change Efforts.
"As a private company, Chick-fil-A has every right to alienate as many customers as they want. But consumers and communities have every right to speak up when a company's President accuses them of 'inviting God's judgement' by treating their LGBT friends, neighbors and family members with respect."

— GLAAD President Herndon Graddick.
On the Gay & Lesbian Alliance Against Defamation (GLAAD) blog are instructions for journalists: "How should journalists report statements by Chick-fil-A supporters who say the company is merely espousing Christian values?" The blog advises it would be appropriate for journalists to seek out voices of faith who support the LGBT community to add context — adding there are hundreds of thousands of faithful, devout Christian Americans who would disagree with the idea that being anti-gay is a Christian value.
Aaron McQuade, Director of News and Field Media at GLAAD, says Dan Cathy does have the right to free speech, but comments have consequences.
The consequences were not exactly the consequences that Aaron McQuade expected. And what amazing and unexpected consequences this day, August 1, 2012 has produced — in Schaumburg and across the United States. People from as far away as Rockford came to their nearest Chick-fil-A, which happened to be Schaumburg, Illinois. Thousands of people stood in line in beautiful weather to wait for their turn for a meal. The efficiency of Chick-fil-A staff was amazing, too. It didn't take long for a car order to make it around the building, and for the occupants to be on their way with chicken sandwiches, chicken wraps, chicken strips, fresh lemonade, chocolate shakes, waffle potato fries and more. And all the people waiting were in a sort of fellowship for freedom. One woman said, "it's about time … it's about time."
"If you are going to exercise your free speech and say something that goes against the fabric of the community, the community is going to say something back to you. And we've seen that in a giant dip in Chick-fil-A's approval numbers and people will vote at the dinner table and people will say 'We don't agree with you.'"
— Aaron McQuade, Gay and Lesbian Alliance Against Defamation
On August 1, 2012 Chick-fil-A did not see a dip in sales — more like a giant bulge in sales. So did the media fail to carry GLAAD's message, or are people tired of being the battle fodder for "he said, she said" conflicts, such as the recent controversy between GLAAD and Chick-fil-A.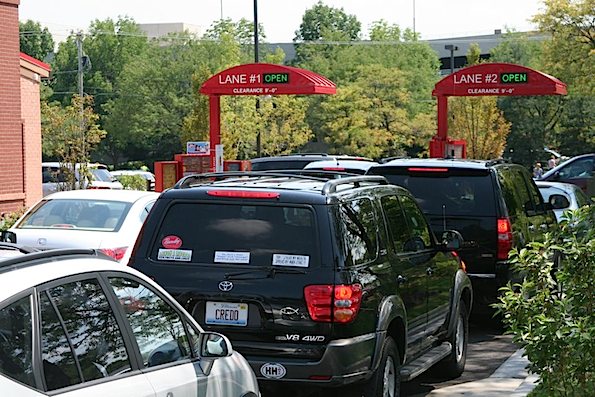 Drive-thru lanes efficiently open at Chick-fil-A in Schaumburg (See more than 400 more photos on Facebook.com/ArlingtonCardinal).
Chick-fil-A national and local management made it clear that they have nothing to do with Gov. Huckabee's Chick-fil-A appreciation day. At Schaumburg, they didn't allow any photographers on their property.
The message on the street in Schaumburg from Chick-fil-A's customers was that they don't oppose gay people, but they draw the line when they perceive free speech threatened. And they especially dislike the idea of government telling them what their values should be — referring to Rahm Emanuel's statement that Chick-Fil-A's did not represent Chicago's values. There was also the obvious underlying tone that Chick-fil-A sells good food, and they don't care about the opinion of a company executive. All day there was a good-spirited mood outside the restaurant, which many customers found funny, considering they were waiting up to two hours for a fast food meal.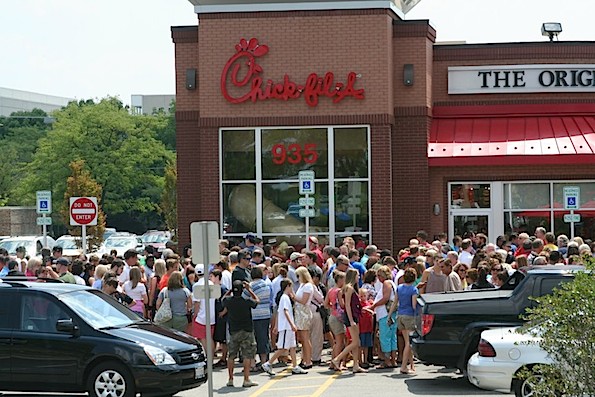 Crowd in front of Chick-fil-A enjoying a long wait for fast food (See more than 400 more photos on Facebook.com/ArlingtonCardinal).
The Schaumburg Chick-fil-A restaurant served meals past closing time at 10:00 p.m. — fulfilling the long line of standing supporters that remained in front of the location. Police closed the drive-thru about 8:30 p.m., but walk-in customers continued to be served. Earlier in the day police called extra traffic and crowd control detail — closing a right lane of eastbound Golf Road so that traffic could form a line at Commons Drive and American Lane into the south entrance to Chick-fil-A. Chick-fil-A staff and police reported no problems with any individuals. One medical problem brought Schaumburg firefighter/paramedics to Chick-fil-A during the late afternoon, but the customer apparently 'toughed it out' because the ambulance left with an empty gurney.
One passerby asked if this group was supporting the anti-gay Chick-fil-A restaurant in a scoffing demeanor — apparently laughing at 'the fools' in his mind. The thousands of supporters of Chick-fil-A seemed to have a great time helping Chick-Fil-A … what's the expression? "Laugh all the way to the bank."
Get updates from The Cardinal ALL NEWS FEEDS on Facebook. Just 'LIKE' the 'Arlington Cardinal Page (become a fan of our page). The updates cover all posts and sub-category posts from The Cardinal — Arlingtoncardinal.com. You can also limit feeds to specific categories. See all of The Cardinal Facebook fan pages at Arlingtoncardinal.com/about/facebook …