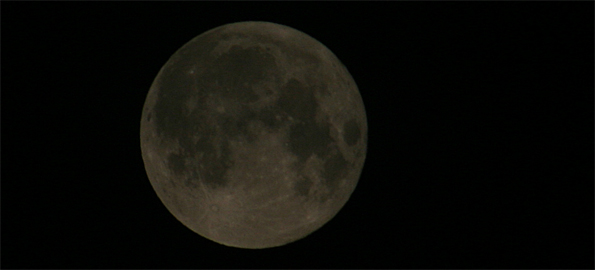 SuperMoon over Arlington Heights about 4:00 a.m. Sunday, May 5, 2012, just over four hours after perigee coincided with a full Moon at 11:35 p.m. Saturday, May 5, 2012.
A perigee is the point in orbit that an object makes its closest approach to earth. The Moon is full while in perigee about once every 412 days. The perigee doesn't always happen at the same time as a full Moon. A supermoon, is the coincidence of a Full Moon (or a New Moon) with perigee. The actual time of the coincidence was at 11:35 p.m. Saturday, May 5, 2012.
The SuperMoon of May 5, 2012 (11:35 p.m. CDT) was 14% bigger and 30% brighter than regular Full Moon phases. The moon was 356,953 kilometers or 221,800 miles away.
On May 19, 2012 the moon is in apogee, which is the furthest approach in the period of the orbit. At apogee on May 19, the Moon is 406,450 kilometers or 252,556 miles away.
Next year there is a SuperMoon on June 23, 2012.

Over the northwest suburbs, moonrise was blocked by clouds. However, later in the middle of the night, the skies cleared, except for some foggy conditions with visibility down to five-to-eight miles. The foggy conditions caused a darkened Moon — still super-sized, but not super-bright. The fog thickened at sunrise (about 5:42 a.m.), which was eight minutes before moonset (5:50 a.m.). The Moon was totally obscured at moonset.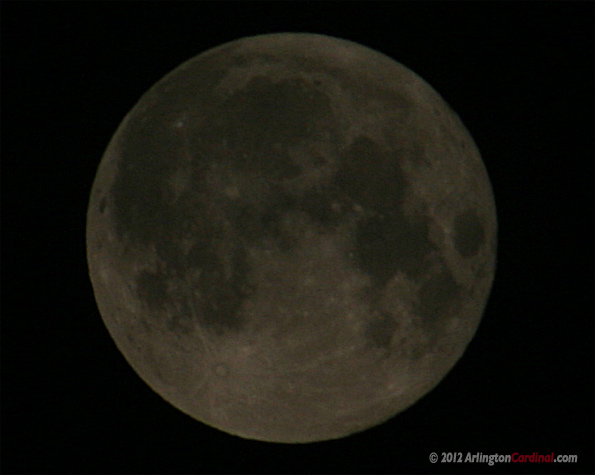 SuperMoon at about 4:00 a.m. CDT Sunday, May 6, 2012, just over four hours after the coincidence of perigee and a Full Moon phase occurred at 11:35 p.m. Saturday, May 5, 2012. The Moon was darkened by a thin layer of fog and haze.