Carol Stream police arrested Donald Ratcliff, 60, of 1N54 Falcon Trail in Carol Stream and charged him with two counts of aggravated child pornography after an investigation of at least two months. Police observed a user on Radcliff's computer was trading child pornography on the Internet. Wednesday morning police executed a search warrant. Police seized computers, discs and hard drives.

As part of law officers' ongoing effort against child pornographers, detectives from the Carol Stream Police Department continuously monitor the Internet for child pornography. Through the course of these continued efforts, detectives were led to Ratcliff for allegedly possessing images and videos containing child pornography. The detectives are all members of the Illinois Internet Crimes Against Children Task Force.
DuPage County State's Attorney Robert. B. Berlin announced today that Donald Ratcliff has been charged with two counts of Aggravated Child Pornography (Class 2 Felony) following an undercover operation conducted by the Carol Stream Police Department. Ratcliff, a professor at Wheaton College, is scheduled to appear in Bond Court Friday March 2, 2012 at 8 a.m. in Courtroom 2004. Ratcliff was taken into custody this afternoon by the Carol Stream Police Department.
"The allegations against Mr. Ratcliff are very disheartening," Berlin said. "Child pornography is not a victimless crime. The sad truth is that thousands of images depicting child pornography are distributed over the Internet every day. Each one of these photos is a victim of child pornography. I would like to thank the Carol Stream Investigations Special Operations Unit for their ongoing efforts in the battle against child pornography as well as Assistant State's Attorney Anne Therieau for her work on this case."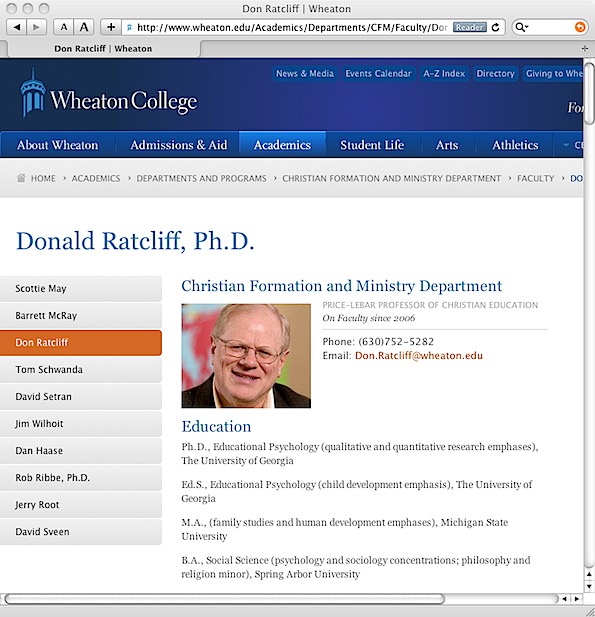 According to Ratcliff's biography on the Wheaton College website, he stated he enjoys video production in his spare time. The biography also stated he is particularly interested in family nurture of children's spiritual experiences and development.
About Donald Ratcliff
I was born in a small town on the Ohio River to a Methodist minister and his wife. My father also did farming in Southeastern Ohio. At age three, my family moved to Spring Arbor, Michigan where I spent most of my childhood and adolescent years.

Interested in electronics since early childhood, I began working at a Christian radio station at 14. Upon graduation from high school, I enrolled in the missionary radio technology program at Moody Bible Institute. Perhaps because of all the Bible classes required, I became convinced I should enter the ministry. An inquiry sent to a Methodist district superintendent brought an invitation to pastor a small church! At age 19, I felt I needed more theological education, and thus enrolled at Spring Arbor College. There I essentially completed the preparation program to be a Free Methodist pastor.

I planned to attend Asbury Theological Seminary the fall after receiving my B.A., but received an invitation to teach part time at a tiny college in northwestern Michigan. Choosing the latter, I found I loved teaching and enrolled in a Masters program in educational psychology at Michigan State University. While attending Michigan State, I continued to work at the Christian radio station where I had been employed part time throughout my college years. I was offered the manager's position at age 23, but turned it down in favor of teaching at a small Bible college in Ohio. There I met my wife, Brenda.

Immediately after getting married, Brenda and I served as missionary teachers on a small island in the West Indies for a year, and after a hurricane demolished the school, I took a position as a teacher/psychology assistant at a developmental center for mentally challenged adults during the next three years. I served as the Christian education director at an American Baptist church in Ohio during that time, and received another call to pastor a church. I was then offered a teaching position in psychology and sociology at Toccoa Falls College in Georgia, where I spent the next 19 years. During part of this time I was the interim pastor of a Southern Baptist church.

After completing two degrees in educational psychology and research at The University of Georgia, I was asked to teach graduate and undergraduate education classes at Biola University. During my three years at Biola I also served as a consultant and/or on doctoral committee for several students in the intercultural studies and Christian education departments. Meanwhile, I volunteered part time at an inner city mission in Los Angeles. I then taught psychology for two years at Vanguard University, while teaching doctoral level statistics classes for Christian education and intercultural studies students at Talbot School of Theology. During the five years in California, I served on the planning team for the first and second conferences on children's spirituality held in Chicago.

Two of our three children are on their own, while our third is in college. I enjoy video production in my spare time, and continue to keep my ham radio license current.

Courses Taught
CE 322 Human Development & Ministry
CFM 514 Culture & Ministry
Web page for my classes: www.don.ratcliffs.net/classes

Membership in Professional Societies
North American Professors of Christian Education
The Christian Association for Psychological Studies
Research
Most of my research has involved children either in school or church contexts. I am particularly interested in family nurture of children's spiritual experiences and development.
According to a release posted on the Wheaton College Media Center web page Wheaton College was informed this afternoon by the DuPage County State's Attorney's Office that Donald Ratcliff, a professor at the College, was charged with two counts of Aggravated Child Pornography. An administrative leave is in process.
+++++++++++
The County of DuPage, Wheaton Illinois reminds the public that this complaint contains only charges and is not proof of the defendant's guilt. A defendant is presumed innocent and is entitled to a fair trial in which it is the government's burden to prove his or her guilt beyond a reasonable doubt.