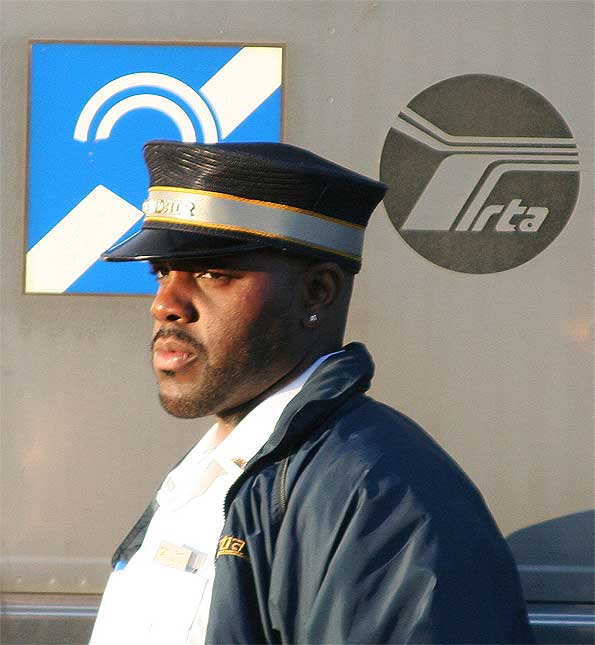 Where's the Customer Service? The steely, intense gaze of a Metra conductor that berated a customer for having a hearing impairment.
Find Out Why Customer Service Might Be the Least of Metra's Concerns
Witnesses reported a Metra conductor unapproachable and on the verge of a fight with a customer on Wednesday, March 28, 2012 while passengers were boarding Metra UP/Northwest Line Train #651 just before 6:00 p.m. Two passengers noticed the conductor standing steely-eyed and unapproachable at the train car closest to the end of the tracks. One man asked the conductor if he thought there might be more seats available on a more forward car. The conductor ignored the question, and continued with an intense stare. A second man asked the conductor to confirm whether this was the train to Cary. The conductor barely replied, and only with a slightly affirmative nod — saying nothing.

The conductor climbed aboard about 6:01 p.m. as the train car doors closed and he began asking for tickets. The first man he faced pulled out his wallet and — in a friendly manner — said he needed to pay for a ticket to Arlington Heights. The conductor replied $8.25. The passenger replied, "Ooh, I thought it was $5.25 as he pulled out a $5 bill, and was getting ready to pull out another three dollars. Then the conductor aggressively and emphatically said, "$8.25! — I think you have a hearing problem." The man replied, "I don't have a hearing problem. I can hear you perfectly fine. The conductor then replied, "I've told you three times now, $8.25 … maybe you should take those headphones out of your ears." The passenger replied, "There's nothing playing through the headphones, I can hear just fine." He said this as he was handing over the additional three dollars and 25 cents. The passenger also replied to the conductor, "The only problem here is that 'the conductor' is not being very polite." The conductor then asked the passenger to take a seat and get out of his way in the train car vestibule.
The passenger found a seat in the same train car and sat down. About a minute later, the conductor entered the train car, and when he came to the same man that paid in the vestibule, the conductor acted as if he didn't recognize the passenger and asked for his ticket. The passenger was a little flustered and said he was looking for it. The conductor said, "you're supposed to have it out for display." The passenger found the ticket and handed it to the conductor. The conductor then faced the customer and said, "Is that polite enough for you?"
Burnout?
The poor customer service and antagonizing mood might extend from the pressure that conductors are facing recently. Metra cracked down on conductors last year for lax fare collection. Metra has recently faced a tight budget; and when Metra conducted surveys about fare increases, they were surprised to learn that respondents reported fares weren't always collected by conductors. Metra responded by putting spies on train cars to look for conductors that weren't collecting fares. Metra also warned the conductor's union that they were observing the conductors.
Conductors complain that there is not enough manpower to handle some trains' fare collection because there can be hundreds or even more than one-thousand passengers.
Some passengers and conductors complain that the technology or lack of technology in accounting for passengers, fare payment, and ticket taking onboard is the source of the problem. The conductors are given a task that realistically can't be accomplished at times — especially when trains are packed for sporting events, or when a significant number of passengers are drunk or rowdy. Conductors have to police the train cars for safety and collect fares. If they have to respond to a safety issue or respond to numerous questions that require detailed answers; they're going to miss out collecting fares. It's a monumental task. It's no wonder that conductors aren't too pleased when situations occur that are out of the ordinary.
Arlington Heights police regularly respond to a few disturbances on arriving Metra trains — either to downtown Arlington Heights or the Arlington Park train station. Incidents usually involve a group of drunks 'acting up' on the train, or two or more people getting into a fight.
There's all kinds of things that can happen on the train at any hour, but most incidents occur around midnight. Most experienced conductors have seen a lot — fights with bottles thrown, belligerent drunks accosting other passengers, ill passengers, loud passengers in the quiet car, stowaways, people who try to travel to a zone that is further than what their ticket is worth, and people taking up two seats when other passengers are having trouble finding a single seat.
Stress in The Transportation Sector
Are job tasks and customer service tasks overwhelming transportation employees, or are workers just not qualified for their jobs? The incident with the Metra conductor pales in comparison to incidents that have occurred recently during air travel. The demands of the job, inefficient organizational procedures, ineffective automation, pressure to keep flights and trains on time, and a history of exposure to stressed passengers might be causing some employees to snap. An incident occurred just this past Tuesday when a JetBlue captain had to be restrained and locked out of the cockpit at 30,000 feet during a flight from New York to Las Vegas. Witnesses report he was banging on the cockpit door while yelling, "Bring the throttle to idle! Bring it to idle! Bring it to idle! We're going down, we're all going to die! Pray to Jesus. Open this goddamn door!" The pilot, Capt. Clayton Osbon, 49, has since been charged with interfering with flight crew instructions. The charge is punishable by up to 20 years in prison.
On March 9, 2012 a female flight attendant on American Airlines Flight 2332 is reported to have disrupted a flight in the cabin using the public address system to announce words about the American Airline bankruptcy. She also said that it would not be her fault if the plane crashed. The flight attendant was surrounded, tackled, and subdued by passengers in the aircraft. The flight returned to the gate and was replenished with a fresh crew.
On August 9, 2010, JetBlue flight attendant Steven Slater announced over the aircraft's public address system on a flight from Pittsburgh to New York, that he had been called an obscenity by a passenger and that he was quitting his job. He then sealed his fate when he deployed the evacuation slide at the terminal gate and slid down to the tarmac of John F. Kennedy Airport. After his arrest, and court proceedings, Slater agreed to a plea bargain on October 2010 to avoid prison. He would plead guilty to one of the lesser charges, be on probation, receive drug testing, and undergo counseling. He was also ordered to pay Jet Blue $10,000 for restitution with payments of $831.25 per month after an initial payment of $500. On October 19, 2011, Slater withdrew his guilty plea to a felony charge of attempted second-degree criminal mischief. He was sentenced to serve a year of probation on a misdemeanor charge of attempted fourth-degree criminal mischief.
Get updates from The Cardinal CRIME BLOG 'Plus' on Facebook. Just 'LIKE' the 'Arlington Cardinal Crime & Forensics' Page (become a fan of our page). The updates cover all posts in the 24/7 Crime Alerts! and sub-categories. See all of The Cardinal Facebook fan pages at Arlingtoncardinal.com/about/facebook …