View
Chicagoland and Worldwide Crime Notebook Map
in a larger map
Cook County jurors convicted Michael Cacini, 36, on Friday of attempted murder of a Chicago police officer after a two-day trial at the Cook County Criminal Division Courthouse, 2650 South California Avenue. Police reported that Cacini became combative on a traffic stop that occurred on April 20, 2010 in the 100 block of West Elm Street, Chicago. Michael Cacini, then 34 years-old and residing in the 500 bock of East Mayfair in the Scarsdale neighborhood in Arlington Heights, was charged with attempted first degree murder, aggravated battery to a police officer, resisting arrest and possession of Cannabis early Tuesday morning (4/20/2010) after police converged in the area and apprehended him about two blocks away at Division Street and Dearborn Parkway.

The attempted murder conviction resulted after testimony that Cacini attempted to kill a police officer by holding and dragging the police officer while driving his (Cacini's) vehicle, pushing the police officer away from his vehicle, and then running the police officer over his vehicle. Cacini was also convicted of aggravated battery for punching the police officer during the encounter. Cacini's actions left Near North District police officer Kristopher Rigan with a dislocated shoulder, missing teeth, and abrasions to his arm.
Police said Michael Cacini became combative at the traffic stop of his Mercedes Benz in the 100 block of West Elm Street, near Clark and Elm, about 3:15 a.m. Tuesday April 20, 2010. Police stopped Cacini in his vehicle because they saw him pick up a man suspected of being a drug dealer, and believed a narcotics transaction was underway. During the traffic stop, Chicago police officer Thomas O'Shaughnessy chased the alleged drug dealer after he bailed out of the passenger seat of Cacini's Mercedes. Simultaneously, Chicago police officer Kristopher Rigan walked up to Cacini's driver's side door to question him. Police said, as Cacini fled in his vehicle from the traffic stop, he first punched Rigan, grabbed Rigan by his police officer's vest, and held on to the police officer's vest as he dragged him with the Mercedes in drive. Police said that Cacini then pushed Rigan away from his Mercedes, ran over Rigan's shoulder, body, and leg, and drove away. He also struck the Chicago police officer's partner while he fled. Chicago Police officer Thomas O'Shaughnessy, who was also struck by the vehicle, shot at Cacini as he drove away, but Cacini was not hit. Police were able to stop Cacini a short time later near Dearborn and Division Street, and placed him custody.
Both officers were transported to a local hospital. The injuries at the time were reported to be "non-life-threatening."
Cacini told The Cardinal last year that he was innocent because he didn't think the police officers were actually the police. He also said that he was talking to a vagrant to get directions. Cacini stated in Judge Mary Margaret Brosnahan's courtroom, that he drove to Chicago after a fight with his wife, and said the vagrant he picked up was helping look for an establishment that was still open at 3 a.m. where could get a drink. Police testimony reported that Rigan and O'Shaughnessy were in an unmarked car, and wearing plainclothes; but that Rigan was wearing a badge around his neck, and another badge on his belt, and was repeatedly announcing that he was a police officer. Rigan said that Cacini belligerently replied, "F— you. You're not getting in my car until you get a warrant."
Cacini's sentencing date is unknown, but he faces 20-to-80 years.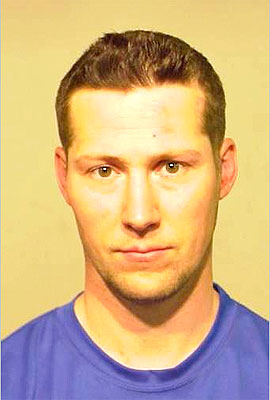 Michael Cacini

View Chicagoland and Worldwide Crime Notebook Map in a larger map