A person of interest has been arrested in connection with dozens of arson fires in Los Angeles. Both the LAFD and LAPD confirmed the arrest, and said the suspect would be booked later on Monday.
Earlier Los Angeles police said they had detained a "person of interest" in recent string of arson attacks. There were at least a dozen more car fires overnight. Matt Small of The Associated Press speaks with Captain Jamie Moore of the Los Angeles Fire Department.
On Sunday, New Year's Day, Los Angeles police distributed DVDs featuring video images of a man, between 20 and 30 years old with a receding hairline and a shoulder-length ponytail. The person of interest has been nicknamed 'Meatloaf-Seagal' because he resembles a cross between the two male/white celebrities, Meatloaf and Steven Seagal.

The male/white subject's image released was captured by a low resolution surveillance video Saturday near an underground parking structure on Hollywood Boulevard where a car fire was reported.
The total number of suspicious fires was up to 55 on Monday, January 2, 2012.
A subject was detained — possibly driving a blue van with British Columbia license plates, and carrying an incendiary device inside the van. Video of a traffic stop at Sunset Boulevard and Fairfax Avenue showed a subject with a blue van had been detained — shown on FOX NEWS and ABC affiliate stations (photo of suspect on traffic stop). The vehicle was reportedly stopped by a Los Angeles County Sheriff's Deputy. LAPD has announced that a press release about the arson fires has been scheduled for 6:00 p.m. PST/8:00 p.m. CST.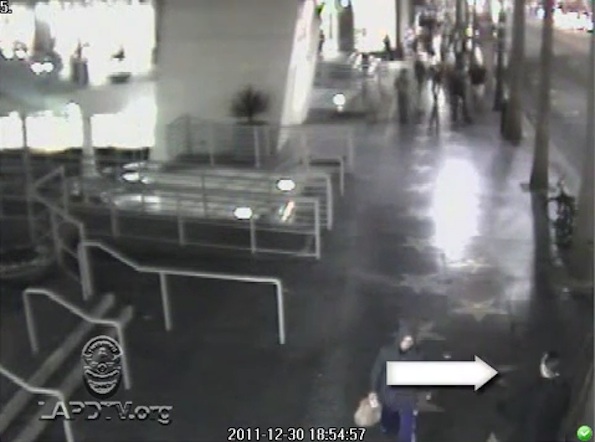 Best shot of 'person of interest' showing pony tail.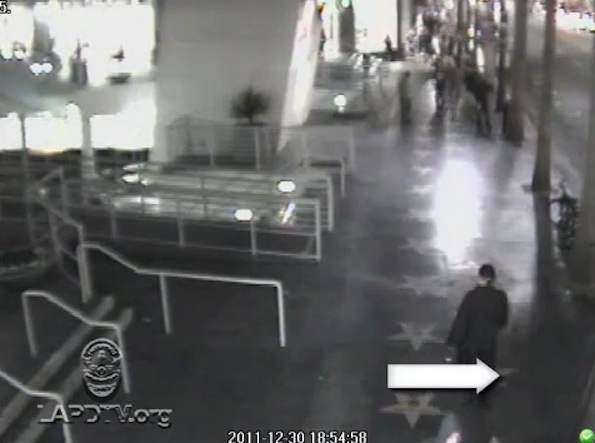 Person of interest carrying bottle in left hand.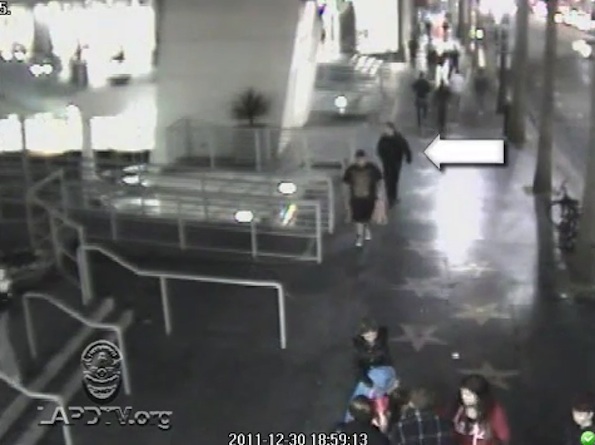 Person of interest looks back to stairwell where he just stepped up from an underground park garage.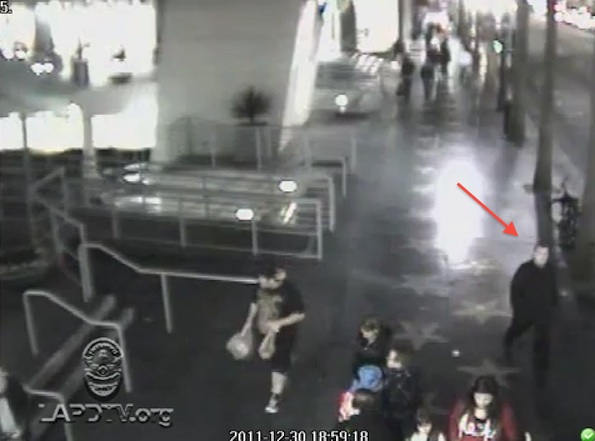 Person of interest leaving the field of view of the surveillance video.
Detectives have a person of interest who was captured on surveillance video from multiple locations where arson fires have occurred. He is described as a male with light complexion wearing dark clothing and a pony tail hair style. Detectives are asking anyone with information on this individual to contact the task force at Robbery Homicide Division at 213-486-6890. Anyone wishing to remain anonymous should call Crimestoppers at 1-800-222-TIPS (800-222-8477). Tipsters may also contact Crimestoppers by texting to phone number 274637 (C-R-I-M-E-S on most keypads) with a cell phone. All text messages should begin with the letters "LAPD." Tipsters may also go to LAPDOnline.org, click on "webtips" and follow the prompts.
See also …
LAPDTV.org