VIDEO: Fun at the Grand Opening of the Campus Life Teen Center, 112 North Belmont Avenue, Arlington Heights, just west of Recreation Park.
Chicago Bears Linebacker Nick Roach and tight ends Kyle Adams and Andre Smith were enjoying ping pong, billiards, other games, good times and lots of pop corn donated by Arlington Theater at the Grand Opening of the Campus Life Teen Center, 112 N. Belmont Avenue in Arlington Heights Monday night. The new Campus Life Teen Center held a Grand Opening party Monday, November 28 from 6:00 p.m. – 8:00 p.m. with help from Chick-fil-A at Schaumburg and Biggby Coffee Arlington Heights.

The grand opening event was open to all students, parents, families and community members, and had a big turnout. Arlington Heights Village Manager Bill Dixon, Village of Arlington Heights Trustee John Scaleta, and Chicago Bears Chaplain Ray McElroy also joined the fun, took a tour of the newly remodeled building, and met with campus life staff and youth.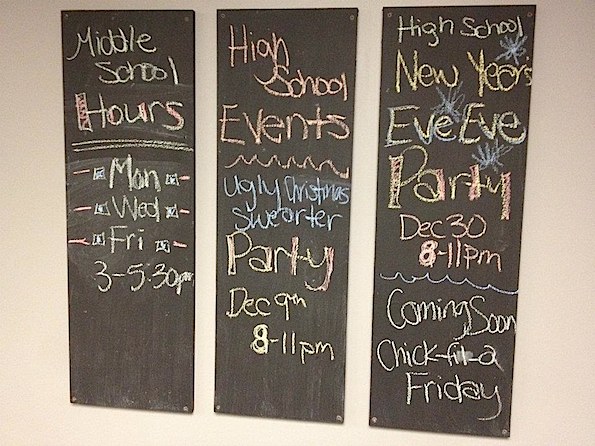 The teen center is open from 3 to 5:30 p.m. Mondays, Wednesdays and Fridays beginning the regular schedule for middle school age youth. High School events are already scheduled in December 2011 and regular hours for high school age youth are in the works as the program expands.
New carpeting, fresh painting of walls, donated furniture, a new 'underground' café, new game equipment, and new exciting free programs and events will be offered to area middle school and high school students. Two upcoming high school events are an "Ugly Christmas Sweather Party" on December 9, 2011 (8-11 p.m.) and a New Year's EVE Eve Party on December 30, 2011 (8-11 p.m.). The director for the new Campus Life Teen Center is Brian Booth. The teen center has a Facebook page at Facebook.com/ArlingtonHeightsCampusLife
The Campus Life Teen Center pays the Village of Arlington Heights a modest rent to work out of the original Arlington Heights Memorial Library building. The former Arlington Heights Teen Center had been at risk of closing starting just before December 2009 and finally closed in April 2010, due to budget constraints. Residents, village leaders, and especially teens are excited the teen center is back.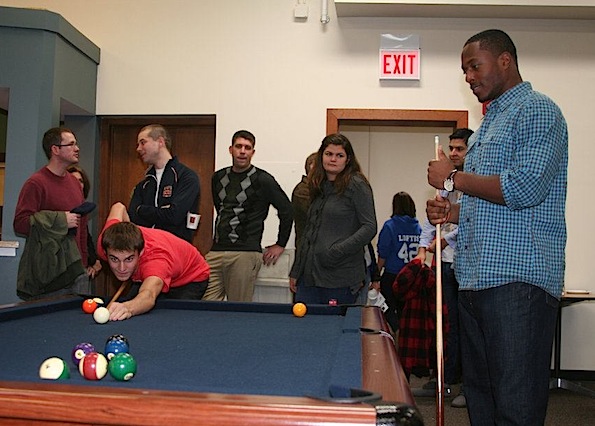 On the right, CHICAGO BEARS NICK ROACH, LINEBACKER 2010 SEASON: Appeared in 15 games, making 6 starts… Credited with 11 tackles (4 solo), 1 PBU and 1 forced fumble… Added 6 special teams stops… Played in both postseason contests, recording 3 special teams tackles.
2009 – Saw action in all 16 games for the first time in his career, with 15 starts (12 at SLB, 3 at MLB)… Tied for the team lead with a career-high 10 TFLs… Had a career-high 82 tackles (47 solo)… Recorded 2.0 sacks, 4 PBUs, 3 forced fumbles and 1 fumble recovery… Added 9 special teams stops.
2008 – Played in 14 games and saw 9 starts at SLB… Credited with 40 tackles (25 solo) among 2 TFLs and 1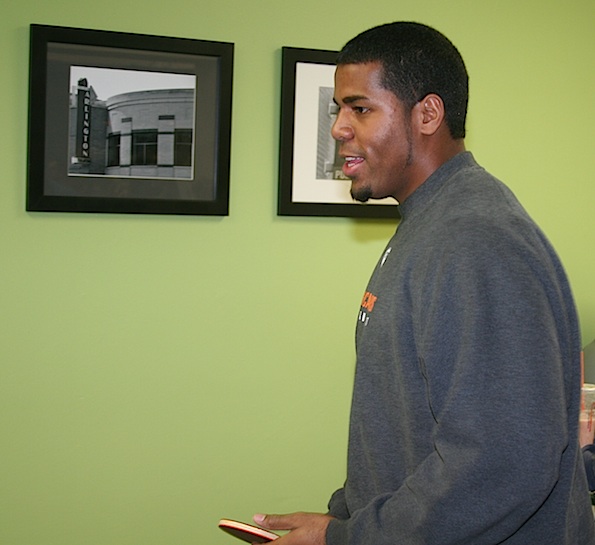 CHICAGO BEARS ANDRE SMITH, TIGHT END — 2011 SEASON stats not available. Andre SMith played in 54 games (25 starts) during his career at Virginia Tech (2007-10)… Finished his career with 39 catches for 438 yards (11.2 avg) and 7 TDs.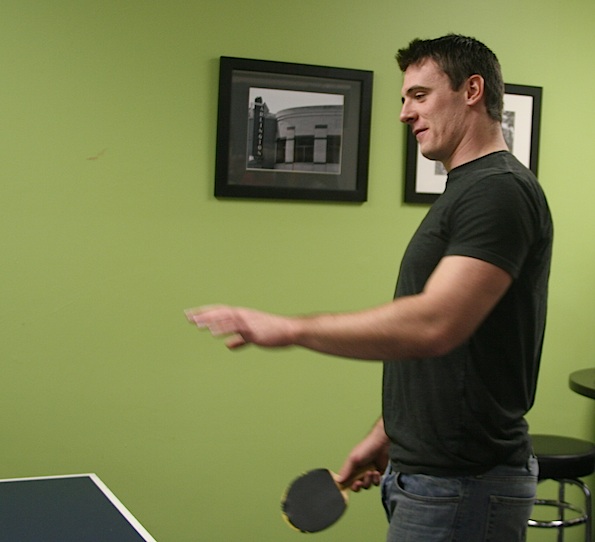 CHICAGO BEARS KYLE ADAMS, TIGHT END — 2011 SEASON on injured reserve. Played in 46 games at Purdue from 2006-2010… Caught 79 passes for 660 yards (8.4 avg) and 3 TDs… Returned 7 kickoffs for 45 yards (6.4 avg)… Collected 8 tackles… Three-time Academic All-Big Ten honoree.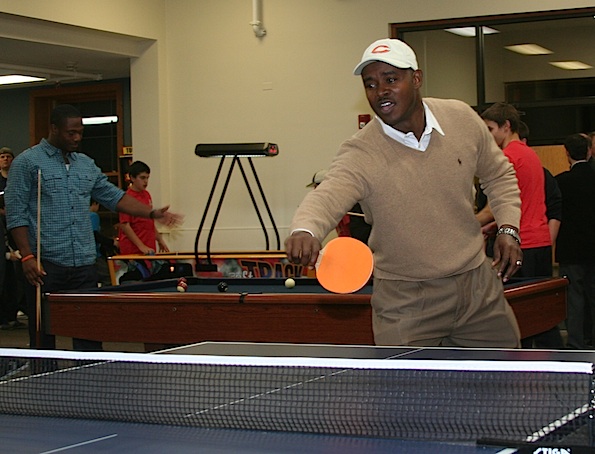 CHICAGO BEARS TEAM CHAPLAIN RAY MCELROY is a former NFL professional football player for six seasons with the Indianapolis Colts, Chicago Bears and the Detroit Lions.
See also …
The Cardinal –Arlingtoncardinal.com Official Facebook photo album for this event.
Facebook.com/ArlingtonHeightsCampusLife