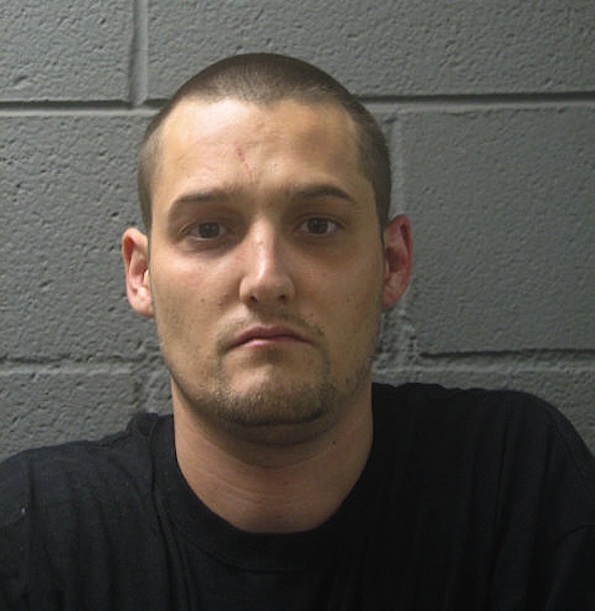 Francisco Tirado (police photo).
A Northbrook man is being held on $300,000 bond after he was charged with beating and choking a woman, holding a knife to her throat and spitting on and threatening to kill her children, Cook County Sheriff Thomas J. Dart announced Saturday.
Francisco Tirado, 27, of the 3700 block of Salem Walk in unincorporated Northbrook, is charged with two counts of aggravated domestic battery and one count of aggravated unlawful restraint – all felonies – as well as two counts of domestic battery and one count of interference with emergency communications related to domestic violence. He was arrested Thursday after falling asleep while the victim was still awake. She fled with her children and contacted police.
The incident began on Sept. 22 when Tirado came to the home heavily intoxicated and urinated on the bathroom floor. The victim confronted Tirado about it and he began beating her with his fists, causing her eye to eventually swell shut. He also shoved her head into the toilet and repeatedly struck her head against it, while kicking her.
On Sept. 23, he took her to one of his family member's Jefferson Park home when he again began assaulting her. Tirado choked the victim until she nearly lost consciousness, but stopped when he saw a family member approaching. Tirado then ordered her to drive back to his home. The victim attempted to stop at a Chicago Police station at 5151 N. Milwaukee Ave., but Tirado held a knife to her throat, while also holding his hand across the neck of her 5-week-old child. He spit in the face of that child, as well as the woman's 16-month-old child, while threatening to kill both of them. He then ordered her to drive to his home. He broke her phone and confined her there until early Thursday morning. That's when he fell asleep at a point when she was still awake. She immediately got her children and fled the home.
Public records show Tirado's arrest Thursday is the 65th time he has been arrested since 2001. Over those last 10 years, he has been arrested on charges ranging from aggravated assault with a weapon and robbery to reckless conduct ant domestic battery causing bodily harm. He has also been charged with striking and spitting in the face of a law enforcement officer.
Tirado appeared in Skokie bond court on Friday, where Cook County Judge Marcia Orr set his bond at $300,000 and issued an order of protection, barring him from contacting the victim or her immediate family members. He is set to appear in court again on Oct. 7.