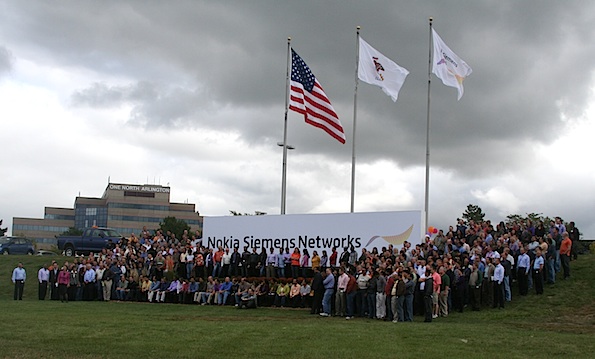 A new Network Siemens Networks sign near Dundee Road and Route 53 at 1501 Shure Drive, Arlington Heights with employees at unveiling ceremony.
Nokia Siemens Networks held a brief ceremony unveiling a new sign facing Route 53 at the Arlington Heights campus on Thursday, September 22, 2011. Nokia Siemens Networks executives and Village of Arlington Heights leaders were on hand to enjoy the celebration of the new location of part of global data networking and telecommunications equipment company Nokia Siemens Networks.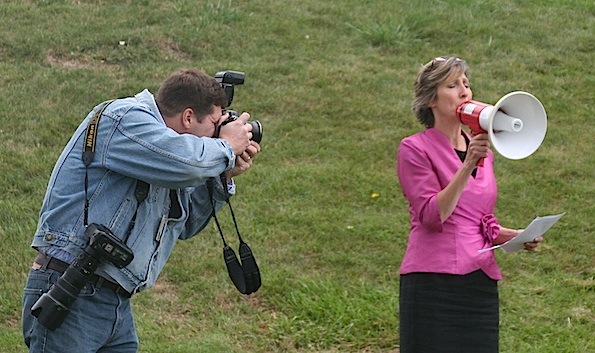 Susan Schramm, Head of Marketing and Corporate Affairs, at Nokia Siemens Networks opens the ceremony — explaining that the new illuminated sign will be highly visible from Route 53.
The Arlington Heights office has nearly 1,300 employees working in such areas as research and development, sales, services, product management, information technology and office of the chief technology officer.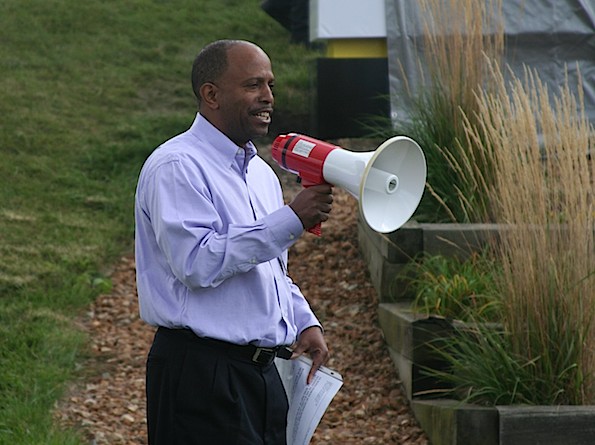 Bill Payne, chief technology officer North America, speaks briefly Thursday morning before the unveiling of a new Nokia Siemens Networks sign.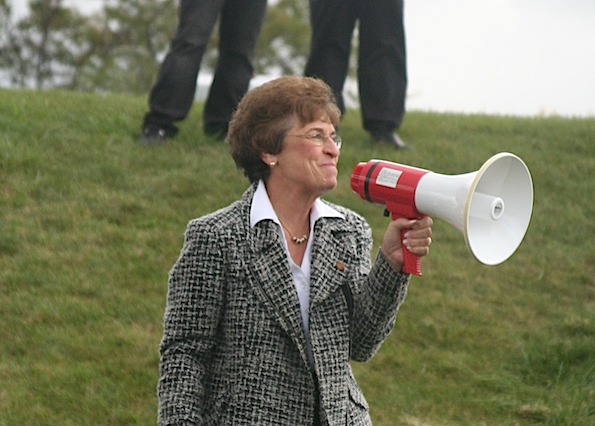 Village of Arlington Heights mayor Arlene Mulder reflects on how thrilled she was when news broke that Nokia Siemens Networks would take over the former Motorola Solutions campus.
Nokia Siemens Networks is a leading global enabler of telecommunications services. With its focus on innovation and sustainability, the company provides a complete portfolio of mobile, fixed and converged network technology, as well as professional services including consultancy and systems integration, deployment, maintenance and managed services. It is one of the largest telecommunications hardware, software and professional services companies in the world. Operating in 150 countries, its headquarters are in Espoo, Finland. www.nokiasiemensnetworks.com
Nokia Siemens Networks was created after a joint venture between Siemen's COM division (minus its Enterprise business unit) and Nokia's Network Business Group.
In January 2008 Nokia Siemens Networks acquired Israeli company Atrica, a company that builds carrier-class Ethernet transport systems for metro networks.
In July 2010, Nokia Siemens Networks acquired the wireless-network equipment division of Motorola.
In January 2011, Motorola announced that it would split into two companies: Motorola Solutions, which manufacture tech products aimed at businesses and government, including public safety communications; and Motorola Mobility, which would focus on consumer technology, including wireless phone manufacturing.
In August 2011, Google announced on their official blog that Motorola Mobility, headquartered in Libertyville, Illinois, is planned for acquisition by Google for $12.5 billion in cash.
On Tuesday, September 20, 2011 Nokia Siemens Networks announced Liquid Net, a network designed to scale and adapt to changing conditions and devices, and fulfill unpredictable demand in the mobile broadband world.
Nokia Siemens Networks is in a huge growth area with about 500 million mobile broadband users expected to grow to about 3.5 to 6 billion users in the next 15 to 20 years.
More photos of the day here on a photo album on The Cardinal's Digital Lifestyle Fan Page …