Woodfield Mall was the site of a replica of a PAN AM cabin complete with character 1963-era stewardesses on Friday, September 2, 2011.
"Passengers" at the mall were greeted by Pan Am stewardesses and were given boarding passes. Once checked in they got a sneak peak of ABC's new series "Pan Am."
Pan Am is a new television series centered around the iconic airline Pan American World Airways during the 1960s. The period drama, from writer Jack Orman (ER) and director Thomas Schlamme (The West Wing), will focus on the pilots and flight attendants working for the world-famous airline in 1963.

The series, produced by Sony Pictures Television, was picked up by ABC in May 2011 for the 2011–2012 television season. Sony licensed the rights to the Pan Am name and logo from Pan Am Systems, a New Hampshire-based railroad company that acquired the Pan Am brand in 1998.
The series is scheduled to debut on September 25, 2011.
Pan American World Airways, commonly known as Pan Am, was the principal United States international air carrier from the late 1920s until its collapse on December 4, 1991. Pan Am was forced to declare bankruptcy on January 8, 1991, and reorganization efforts failed. The carrier's last flown scheduled operation was Pan Am Flight 436 which departed from Bridgetown, Barbados, December 4, 1991 at 2 pm (EST) for Miami under the command of Captain Mark Pyle flying Clipper Goodwill, a Boeing 727–200 (N368PA).
PAN AM at O'Hare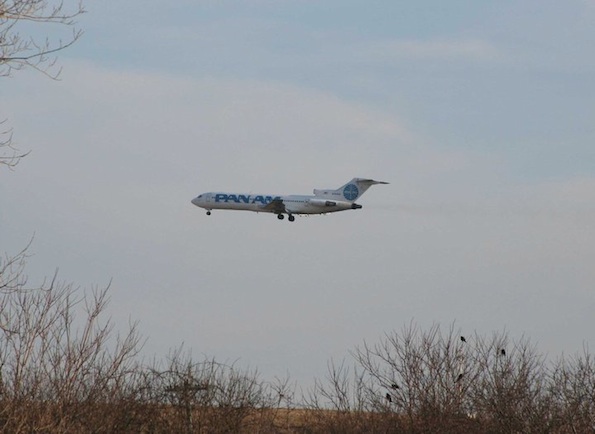 A Boeing 727-222 lands at O'Hare International airport over York Road on March 19, 2011.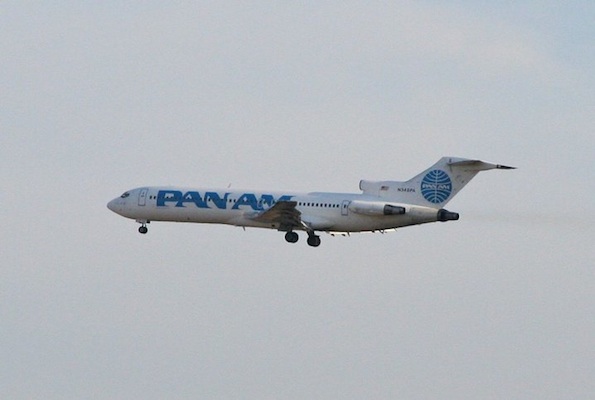 The sighting is unique because 727's were no longer allowed to land at O'Hare and PAN AM was no longer operating as an airline — since December 4, 1991.
The Cardinal caught this Pan Am bird N348PA — Boeing Model 727-222 landing over York Road on March 19, 2008. According to the FAA N-registry on September 2, 2011, the aircraft is owned by Cybergate-Nevada LLC. The registration is reported expired as of June 30, 2011. The specific aircraft was built in 1980. The first Boeing 727's flew in 1963 when 20 were ordered and six were delivered. The last 727s were delivered in 1984 after only one was ordered in 1983.