Video at the scene at the Harris Bank on South Plum Grove Road in Rolling Meadows after Jeep Grand Cherokee crash through the lobby into a tellers' counter.
Rolling Meadows police and firefighter/paramedics responded about 3:02 p.m. Thursday to a report of a car that crashed into the lobby at Harris Bank, 1951 South Plum Grove Road, Rolling Meadows. Police received a report that the vehicle drove into the lobby all the way to the teller counter. Two tellers were reported trapped under the counter, but early report indicated there were no serious injuries.

Police arrived first and reported a vehicle inside the bank. Firefighters used special equipment to safely lift the car enough to free the teller and the driver, who was not injured. Two people that were inside the bank were transported to Northwest Community Hospital with non-life-threatening injuries.
The front of the building was smashed with considerable damage to part of a brick wall and post visible from the front of the property. The vehicle appeared to be at least 30 feet into the bank from the front door.
Police apparently parked their vehicles as a precaution as if there was the possibility of a robbery attempt. Also, perimeter barrier tape was rapidly applied around the bank property, establishing a police line. However, it was determined that an elderly woman driver's foot slipped off of the brake and onto the accelerator, causing the vehicle to smash through two doors, the framing around the doors, and a teller counter.
No word on any arrests or citations as of Thursday night.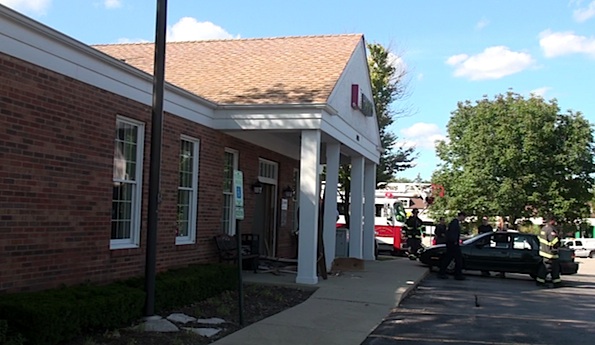 Side view of the front of the Harris Bank.