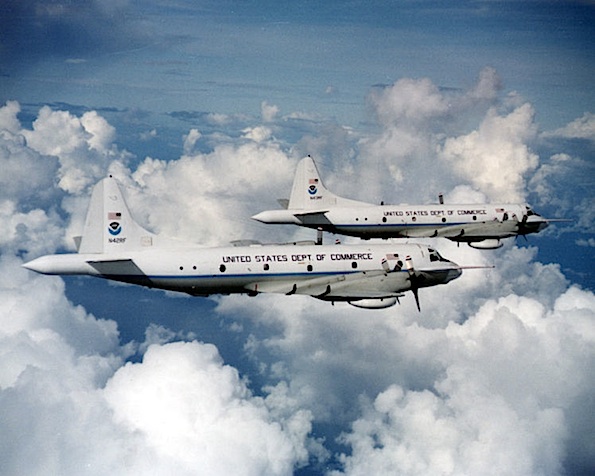 Two United States Department of Commerce NOAA WP-3D Orion Hurricane Hunters of the type used to make observations and collect data in the eye of a hurricane (file photo).
TROPICAL STORM IRENE TROPICAL CYCLONE UPDATE
NWS NATIONAL HURRICANE CENTER MIAMI FL AL092011
900 AM EDT SUN AUG 28 2011
…CENTER OF IRENE MOVES OVER NEW YORK CITY…
REPORTS FROM AN AIR FORCE HURRICANE HUNTER AIRCRAFT AND NATIONAL
WEATHER SERVICE DOPPLER RADAR INDICATE THAT THE CENTER OF IRENE
MOVED OVER NEW YORK CITY AROUND 900 AM EDT…1300 UTC. IRENE HAS
WEAKENED TO A TROPICAL STORM AND THE ESTIMATED INTENSITY AT
LANDFALL WAS 65 MPH…100 KM/H.
SUMMARY OF 900 AM EDT…1300 UTC…INFORMATION
————————————————–
LOCATION…40.7N 74.0W
ABOUT 0 MI…0 KM N OF NEW YORK CITY
MAXIMUM SUSTAINED WINDS…65 MPH…100 KM/H
PRESENT MOVEMENT…NNE OR 20 DEGREES AT 26 MPH…43 KM/H
MINIMUM CENTRAL PRESSURE…965 MB…28.50 INCHES
$$
FORECASTER PASCH

++++++++++
The National Oceanic and Atmospheric Administration (NOAA) WP-3Ds are equipped with three weather radars, a C band radar in the nose and a C band radar on the lower fuselage, and an X-band radar in the aircraft's tail. They are also equipped with dropsondes, temperature sensors, and other meteorological equipment. Each WP-3D ORION is not specially strengthened for flying into hurricanes, however their decks were reinforced to withstand additional equipment load.
NOAA currently operates two WP-3Ds nicknamed Miss Piggy and Kermit. A third aircraft is planned. The aircraft are based out of MacDill AFB, Florida. NOAA also operates a GIV-SP modified to fly scientists and crew members at 45,000 feet around tropical cyclones. The modified business aircraft deploys "dropsondes" to measure wind speed, wind direction barometric pressure, dewpoint depression (difference between air temperature and dew point), humidity, and temperature as they fall to the surface of the ocean and transmit data, including GPS positioning with latitude and longitude.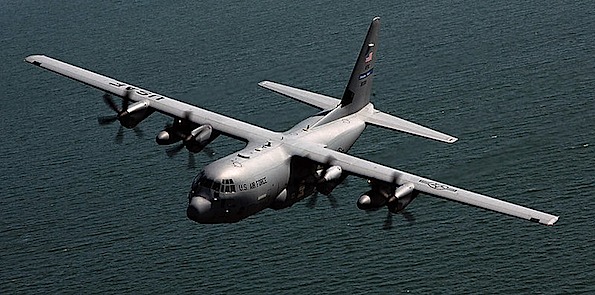 Modified C-130 aircraft — the WC-130J Hurricane Hunter data collection platform for the 53rd Weather Reconnaissance Squadron.
The Lockheed WC-130 Weatherbird is a modified C-130 aircraft also used in weather reconnaissance missions, configured with palletized weather instrumentation for penetration of tropical disturbances and storms, hurricanes and winter storms to obtain data on movement, size and intensity of weather systems. The WC-130 is the weather data collection platform for the 53rd Weather Reconnaissance Squadron based at Keesler Air Force Base, Mississippi. The air force hurricane hunters also serve for missions of tropical storm weather reconnaissance.
Both NOAA and the USAF use dropsondes. Other variants of the P-3 Orion aircraft are used for maritime patrol. Other variants of the C-130 are used for medical evacuation, cargo transport, airborne assault, aerial refueling, aerial firefighting, and search & rescue.
Become a fan of The Cardinal weather page. Submit your pictures or just stay up-to-date on weather topics — go direct to the Arlington Cardinal Weather photos. For a list of all of The Cardinal Facebook fan pages, go to Arlingtoncardinal.com/about/facebook …