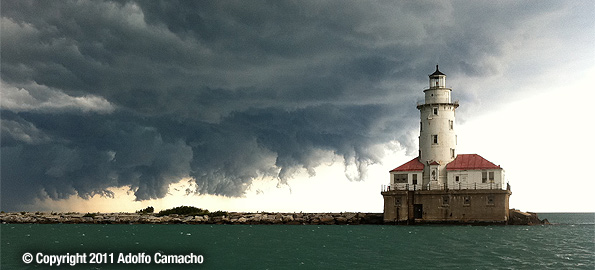 The storm front — part of a complex — that hit Indianapolis as it was seen in Chicago at 1:55 p.m. CDT Saturday August 13, 2011 passing the Chicago Harbor Lighthouse. The storm front moved southeast toward Indianapolis and arrived at the Indiana State Fairgrounds about 8:47 p.m. EDT Saturday. [Photo courtesy: Adolfo Camacho]
A gust front or outflow boundary winds from an approaching severe thunderstorm killed five people about 8:47 p.m. EDT after 60-70 mph winds de-stabilized a stage frame and collapsed the frame and heavy overhead amplified speakers weighing over 1,000 pounds. The frame and speakers collapsed on the 'sugar pit' — a VIP area between the grandstand and the stage. At least three people were killed instantly, and about 40 people were injured — some serious-to-critical and some with only minor scrapes and bruises.

A disturbing eyewitness account of the disaster points to a failure to evacuate the audience for a storm that gave plenty of advanced warning. According to John S. Damm, a member of the audience who posted on a message board, he was preparing to evacuate with his wife on his own judgement of existing weather conditions, despite the public announcement by an Indy country radio station DJ that stated the storm could even miss the area.
What worried my wife and I were the folks with weather apps on their smart phones and the radar image was horrifying: We were in the direct path of solid red, not a good radar image.

— John S. Damm
According to John S. Damm the stage was ready for main act Sugarland and the weather truly looked scary at 8:30 p.m. The radio DJ alerted the crowd that "there were reports of storms but the band would try to start the show and maybe the storm would miss us. He said that if it did rain or storm, the crowd was to calmly go to one of several old but solid fieldhouses and maybe the show, if delayed, could be resumed after the storm passed."
In reality a massive complex of thunderstorms was bearing down on Indianapolis since they passed Chicagoland about 1:00 p.m. to 3:00 p.m. CDT from northwest to southeast. As the storm complex passed Gary, Indiana it grew in size and intensity — changing from a thin line to a massive coverage area as it crossed Indiana farmland. At 8:39 p.m. EDT a Severe Thunderstorm Warning was issued for the area.
High Definition (HD) video from Suglarland fan showing August 13, 2011, Sugarland Concert stage collapse at Indiana State Fair in Indianapolis, IN, USA. Part of the shelf cloud is visible at the beginning of the video.Five minutes after the DJ spoke, maybe 8:45 p.m., the weather got very dark and my wife was scared and I made the decision that we were leaving right then. We negotiated down our row to the aisle and headed down to the main aisle that divides lower grandstand from upper grandstand. We were close to the steep steps that lead under the Grandstand when the high winds hit and dirt from the horse racing track was fierce.
— John S. Damm
As the stage collapsed, people screamed in mass and evacuated on their own — heading toward the fieldhouses that were mentioned earlier. Rescuers started to arrive as the heavy winds, lightning and heavy rain associated with the storm hit the area. The audience stayed in the protection of the fieldhouse for about an hour after the storm hit.
In summary, the storm should have prompted an orderly evacuation of the fairgrounds well ahead of the collapse of the stage. The 'surprise' of the gust front is no excuse for why officials responsible for evacuating the audience were not prepared to act to protect the audience. The storm was an intensifying storm, indicated by its increasing size as it approached the fairground from northwest to southeast. An expert watching the radar would have no reason to indicate the storm was going to miss the area. Lightning alone was a risk to people gathered on the open grandstand and seating areas. Even by observation at 8:00 p.m. EDT, there was no indication that the storm complex was going to bypass the Indiana State Fairground or dissipate to a non-event by the time it reached the fairgrounds.
Before an investigation rules on the management of the crowd in advance of the storm, the following failures appear to have occurred.
Failure to have a weather expert at the scene of the event to recognize the shelf cloud and incoming severe weather and/or the authority to order the state police to begin an orderly evacuation. There may have been a weather expert at the scene, but then the chain of communication failed. Many large events hire certified meteorologists to certify the weather observations for insurance companies.
Failure to respond to the weather radar that indicated a large complex of thunderstorms that was not dissipating (and possibly intensifying), and that was too large to bypass on either side of the event scene.
Failure to take extra precautions in an area with heavy crowds and a structure (the stage) that had a high risk of collapse with severe impact to human life with potentially serious to fatal injuries in the event of high winds.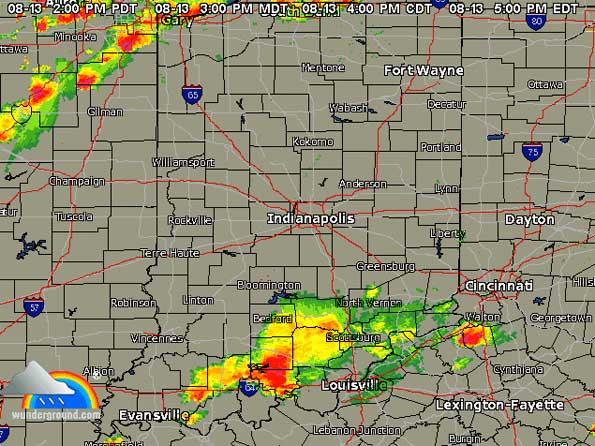 Weather radar showing severe thunderstorms leaving Chicago and crossing Gary, Indiana at about 5:00 p.m. EDT (Thin line, red and yellow image, upper left).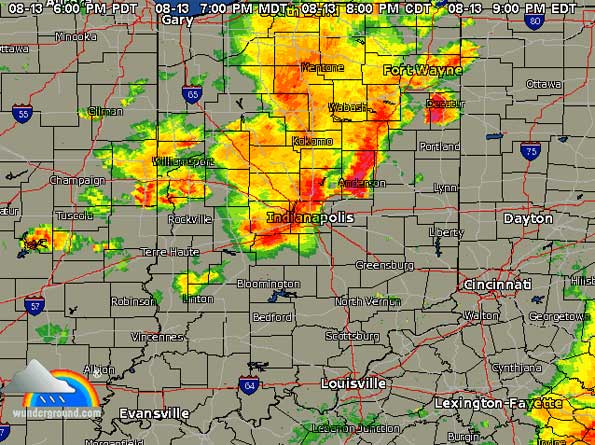 Weather radar showing severe thunderstorms at Indianapolis at 9:00 p.m. EDT August 13, 2011 with increased size and intensity compared to the observation while passing Gary, Indiana at about 5:00 p.m. EDT August 13,2011. (Broader image, red and yellow image, top-to-center)
An accelerated view of the storm's advance across the state of Indiana is available from Weather Underground at their NEXRAD Radar page for Indianapolis. You can see the hourly frames of radar images for Saturday, August 13, 2011 by selecting the date from Radar Archive section just to the lower right of the live radar image.
Following is the Severe Thunderstorm Watch that was issued at 6:00 p.m. EDT that included the Indiana State Fairground area.
URGENT – IMMEDIATE BROADCAST REQUESTED
SEVERE THUNDERSTORM WATCH NUMBER 777
NWS STORM PREDICTION CENTER NORMAN OK
600 PM EDT SAT AUG 13 2011
THE NWS STORM PREDICTION CENTER HAS ISSUED A
SEVERE THUNDERSTORM WATCH FOR PORTIONS OF
CENTRAL AND SOUTHERN INDIANA
EFFECTIVE THIS SATURDAY NIGHT AND SUNDAY MORNING FROM 600 PM
UNTIL 100 AM EDT.
HAIL TO 1 INCH IN DIAMETER…THUNDERSTORM WIND GUSTS TO 70
MPH…AND DANGEROUS LIGHTNING ARE POSSIBLE IN THESE AREAS.
THE SEVERE THUNDERSTORM WATCH AREA IS APPROXIMATELY ALONG AND 50
STATUTE MILES EITHER SIDE OF A LINE FROM 15 MILES SOUTHWEST OF
TERRE HAUTE INDIANA TO 25 MILES SOUTH SOUTHEAST OF MUNCIE
INDIANA. FOR A COMPLETE DEPICTION OF THE WATCH SEE THE
ASSOCIATED WATCH OUTLINE UPDATE (WOUS64 KWNS WOU7).
REMEMBER…A SEVERE THUNDERSTORM WATCH MEANS CONDITIONS ARE
FAVORABLE FOR SEVERE THUNDERSTORMS IN AND CLOSE TO THE WATCH
AREA. PERSONS IN THESE AREAS SHOULD BE ON THE LOOKOUT FOR
THREATENING WEATHER CONDITIONS AND LISTEN FOR LATER STATEMENTS
AND POSSIBLE WARNINGS. SEVERE THUNDERSTORMS CAN AND OCCASIONALLY
DO PRODUCE TORNADOES.
OTHER WATCH INFORMATION…CONTINUE…WW 775…WW 776…
DISCUSSION…BROKEN PRE-FRONTAL SQUALL LINE CONTINUES TO TRACK
EAST-SOUTHEAST INTO CENTRAL IL AND WILL MOVE INTO PARTS OF CENTRAL
INDIANA IN THE NEXT COUPLE OF HOURS. SHEAR AND INSTABILITY ACROSS
THE REGION WILL CONTINUE TO SUPPORT BOWING LINE SEGMENTS AND A
COUPLE OR SUPERCELLS WITH HAIL AND HIGH WINDS POSSIBLE. TAIL-END
STORMS CURRENTLY ACROSS CENTRAL IL WILL TAKE A LITTLE LONGER TO
TRACK SEWD INTO SECTIONS OF SW IND LATER TODAY BUT COULD REMAIN A
THREAT FOR SEVERE WELL AFTER DARK GIVEN THE POSSIBLE ENHNCMNT FROM
THE LARGER SCALE TROUGH AMPLIFICATION BEING FORECAST ACROSS THE
MIDWEST.
AVIATION…A FEW SEVERE THUNDERSTORMS WITH HAIL SURFACE AND ALOFT
TO 1 INCH. EXTREME TURBULENCE AND SURFACE WIND GUSTS TO 60 KNOTS.
A FEW CUMULONIMBI WITH MAXIMUM TOPS TO 450. MEAN STORM MOTION
VECTOR 29025.
…CARBIN
Following is the Severe Thunderstorm Warning archived by WISH-TV weather blog (August 13th, 2011 at 8:45 pm by Alicia Roman under Weather) …
SEVERE THUNDERSTORM WARNING NATIONAL WEATHER SERVICE INDIANAPOLIS IN 839 PM EDT SAT AUG 13 2011
THE NATIONAL WEATHER SERVICE IN INDIANAPOLIS HAS ISSUED A
* SEVERE THUNDERSTORM WARNING FOR…
EASTERN BOONE COUNTY IN CENTRAL INDIANA…
HAMILTON COUNTY IN CENTRAL INDIANA…
HENDRICKS COUNTY IN CENTRAL INDIANA…
MARION COUNTY IN CENTRAL INDIANA…
NORTHERN MORGAN COUNTY IN CENTRAL INDIANA…
EAST CENTRAL PUTNAM COUNTY IN WEST CENTRAL INDIANA…
* UNTIL 945 PM EDT
* AT 835 PM EDT…NATIONAL WEATHER SERVICE DOPPLER RADAR INDICATED A
LINE OF SEVERE THUNDERSTORMS CAPABLE OF PRODUCING QUARTER SIZE
HAIL…AND DAMAGING WINDS IN EXCESS OF 60 MPH. THESE STORMS WERE
LOCATED ALONG A LINE EXTENDING FROM 9 MILES NORTH OF ZIONSVILLE TO
GREENCASTLE…AND MOVING EAST AT 25 MPH.
* SEVERE THUNDERSTORMS WILL BE NEAR…
SHERIDAN…PITTSBORO AND COATESVILLE AROUND 845 PM EDT…
DANVILLE AND AMO AROUND 850 PM EDT…
BELLE UNION…ZIONSVILLE…STILESVILLE AND BROWNSBURG AROUND 855 PM
EDT…
LITTLE POINT…EMINENCE…WESTFIELD AND CLAYTON AROUND 900 PM
EDT…
MORSE RESERVOIR AND EAGLE CREEK RESERVOIR AROUND 905 PM EDT…
SOURCES:
Examiner Eyewitness: Indiana Fairgrounds tragedy at Beatles concert site was 'horrifying'
WISHTV.COM Even More Severe Thunderstorm Warnings
Become a fan of The Cardinal weather page. Submit your pictures or just stay up-to-date on weather topics — go direct to the Arlington Cardinal Weather photos. For a list of all of The Cardinal Facebook fan pages, go to Arlingtoncardinal.com/about/facebook …