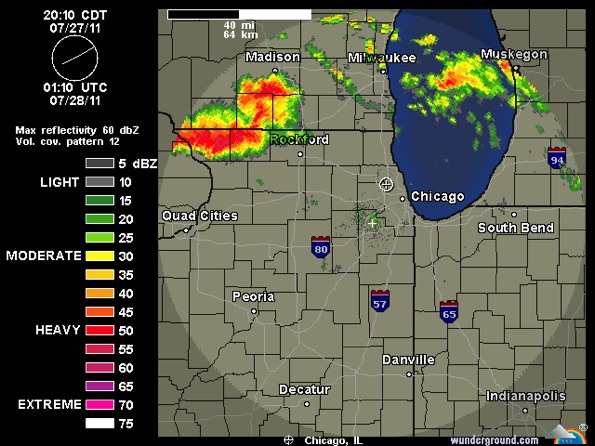 Severe thunderstorms approaching Rockford, Illinois at 8:10 p.m.
 
TORNADO WATCH OUTLINE UPDATE FOR WT 694
NWS STORM PREDICTION CENTER NORMAN OK
745 PM CDT WED JUL 27 2011
 
TORNADO WATCH 694 IS IN EFFECT UNTIL 100 AM CDT FOR THE
 FOLLOWING LOCATIONS
 
ILC007-015-031-037-043-085-089-093-097-103-111-141-177-195-197-
201-280600-
/O.NEW.KWNS.TO.A.0694.110728T0045Z-110728T0600Z/
 
IL
.    ILLINOIS COUNTIES INCLUDED ARE
 
BOONE                CARROLL             COOK
DE KALB              DUPAGE              JO DAVIESS
KANE                 KENDALL             LAKE
LEE                  MCHENRY             OGLE
STEPHENSON           WHITESIDE           WILL
WINNEBAGO
$$
 

Severe Thunderstorm Warning in effect until 11:30 p.m.
UPDATE 9:50 p.m. The backend of the storm is building westward, and at 9:50 p.m. extends all the way to Dubuque, Iowa from, just west of Crystal Lake. The backend of the storm now appears to be heading toward Carpentersville, southern Palatine,, Rolling Meadows and central Arlington Heights. A severe thunderstorm warning was issued for Elgin, Cary, Crystal Lake and nearby communities at 9:50 p.m.
A tornado warning issued for Freeport, Illinois and Stephenson County just before 8:30 p.m. has expired. As storms approach Rockford, they appear to be tracking toward Lake County Illinois and Northern Cook County. A report of 3 inches of rain in Stockton, Illinois just west of Freeport.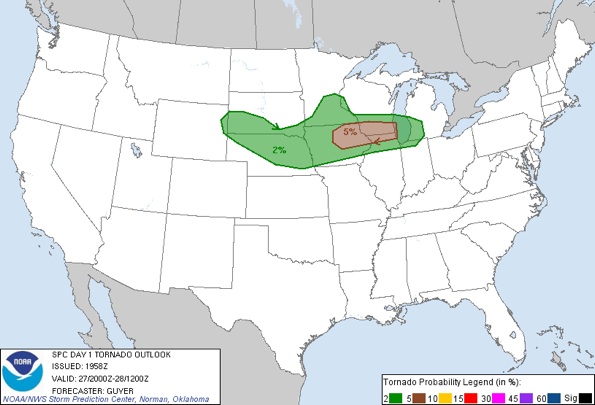 The convective outlook valid 7 pm July 27, 2011 to 7 a.m. Thursday July 28, 2011 puts our area in a 5% risk of a tornado.
A FLOOD WATCH is also issued for our area …
FLOOD WATCH
NATIONAL WEATHER SERVICE CHICAGO/ROMEOVILLE IL
430 PM CDT WED JUL 27 2011
…HEAVY RAINFALL MAY LEAD TO FLASH FLOODING THIS AFTERNOON
INTO THURSDAY ACROSS NORTHERN ILLINOIS AND NORTHWEST INDIANA…
.THUNDERSTORMS ARE EXPECTED TO FIRE LATE THIS AFTERNOON ALONG A
SLOW MOVING WARM FRONT WHICH EXTENDS FROM EASTERN IOWA TO NORTHERN
ILLINOIS TO SOUTHERN LAKE MICHIGAN. VERY MOIST AND UNSTABLE AIR IS
PRESENT TO THE SOUTH OF THIS BOUNDARY. PERIODS OF THUNDERSTORMS
ARE EXPECTED TO TRAVERSE NORTHERN ILLINOIS AND NORTHWEST INDIANA
THIS EVENING…TONIGHT AND INTO THURSDAY MORNING. VERY HEAVY
DOWNPOURS WILL LIKELY OCCUR WITH THE STORMS THAT DO DEVELOP.
RAINFALL RATES COULD POTENTIALLY RANGE FROM 1 TO 3 INCHES PER HOUR
WITH THESE STORMS. THE WATCH AREA HAS ALREADY EXPERIENCED VERY
HEAVY RAINFALL IN RECENT DAYS AND ANY ADDITIONAL HEAVY RAIN COULD
LEAD TO RAPID FLOODING. AREAS ALONG AND NORTH OF INTERSTATE 88 AND
INTERSTATE 290 LOOK TO HAVE THE GREATEST THREAT FOR RECEIVING THE
HEAVIEST RAINFALL THROUGH THURSDAY MORNING. AREAS TO THE SOUTH OF
THESE HIGHWAYS DOWN TO THE INTERSTATE 80 CORRIDOR HAVE A RISK FOR
HEAVY RAINFALL AND FLASH FLOODING AS WELL…BUT THERE IS SOME
UNCERTAINTY AS TO WHETHER THE HEAVIEST RAIN WILL AFFECT AREAS THIS
FAR SOUTH.
ILZ003>006-008-010>014-020-022-INZ001-002-280530-
/O.CON.KLOT.FF.A.0004.000000T0000Z-110728T1800Z/
/00000.0.ER.000000T0000Z.000000T0000Z.000000T0000Z.OO/
WINNEBAGO-BOONE-MCHENRY-LAKE IL-OGLE-LEE-DE KALB-KANE-DUPAGE-COOK-
KENDALL-WILL-LAKE IN-PORTER-
INCLUDING THE CITIES OF…ROCKFORD…BELVIDERE…WOODSTOCK…
WAUKEGAN…OREGON…DIXON…DEKALB…AURORA…WHEATON…CHICAGO…
OSWEGO…JOLIET…GARY…VALPARAISO
430 PM CDT WED JUL 27 2011
…FLASH FLOOD WATCH REMAINS IN EFFECT THROUGH THURSDAY
AFTERNOON…
THE FLASH FLOOD WATCH CONTINUES FOR
* PORTIONS OF ILLINOIS AND NORTHWEST INDIANA…INCLUDING THE
FOLLOWING AREAS…IN ILLINOIS…BOONE…COOK…DE KALB…
DUPAGE…KANE…KENDALL…LAKE IL…LEE…MCHENRY…OGLE…
WILL AND WINNEBAGO. IN NORTHWEST INDIANA…LAKE IN AND PORTER.
* THROUGH THURSDAY AFTERNOON.
* AREAS OF THUNDERSTORMS WITH VERY HEAVY RAINFALL ARE LIKELY.
* RAINFALL RATES OF 1 TO 3 INCHES PER HOUR ARE POSSIBLE WITH THESE
STORMS.
* HEAVY RAIN COULD CAUSE RAPID FLOODING OF CREEKS…STREAMS…
DRAINAGE AREAS…ROADS…LOW LYING AREAS AND BASEMENTS.
PRECAUTIONARY/PREPAREDNESS ACTIONS…
A FLASH FLOOD WATCH MEANS THAT CONDITIONS MAY DEVELOP THAT LEAD
TO FLASH FLOODING. FLASH FLOODING IS A VERY DANGEROUS SITUATION.
YOU SHOULD MONITOR LATER FORECASTS AND BE PREPARED TO TAKE ACTION
SHOULD FLASH FLOOD WARNINGS BE ISSUED.
Become a fan of The Cardinal weather page. Submit your pictures or just stay up-to-date on weather topics — go direct to the Arlington Cardinal Weather photos. For a list of all of The Cardinal Facebook fan pages, go to Arlingtoncardinal.com/about/facebook …