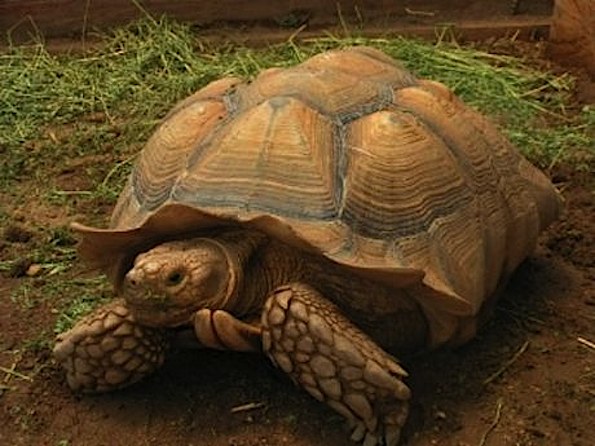 A 70-pound Sulcata tortoise named "Spur" was stolen about 3:30 a.m. Saturday from The Animal Store, 4364 West Touhy Avenue, Lincolnwood. Video surveillance at the store, or in the neighborhood, so far is inconclusive.
The tortoise is well-known in the community for its appearances at childrens' birthday parties, fairs and block parties.

Sulcata tortoises live about 30-50 years. Owner Kenn Bearman has owned the tortoise about 20 years, since the animal was about 10-inches long. Spur's age is estimated to be about 30-years-old.
The tortoise special lighting, food, supplements and humidity to stay healthy. Neglect could be fatal.
The Sulcata tortoise, also known as the African spurred tortoise, is native to the Sahara Desert and the Sahel, a transitional ecoregion of semi-arid grasslands, savannas, and thorn shrublands found in the countries of Burkina Faso, Chad, Eritrea, Ethiopia, Mali, Mauritania, Nigeria, Senegal and Sudan.
Capable of creating tunnel system 10 feet underground
In the right environment in these arid regions, the tortoise excavates burrows in the ground to get to areas with higher moisture levels spending the hottest part of the day in these burrows. Burrows may average 30 inches in depth; some dig tunnel systems extending 10 feet or more underground. The tortoise is the third largest species of tortoise in the world and the largest species of mainland tortoise (largest tortoise not found on an island).
Any citizens with information about Spur are urged to contact the non-emergency number of the Lincolnwood Police at 847-673-2167.
See also …
Facebook The Animal Store