VIDEO from crash scene at Old Wilke Road, just north of White Oak Street immediately after two victims were extricated from the silver Ford Explorer. The hood and front fenders were darkened before the crash.
Arlington Heights police and firefighter/paramedics responded about 7:10 p.m. Sunday to a report of a two-vehicle crash involving dark-colored Jeep Liberty and a silver Ford Explorer.
Witnesses at the scene said that they heard squealing tires for a long time before the crash. One witness said the female driver of the Jeep Liberty deliberately crashed into the silver Ford Explorer near a driveway from a parking lot to White Oak Street, around the corner from the crash. The Jeep Liberty driver may have continued to chase the Ford Explorer until it crashed into the tree in the parkway.
Arlington Heights police so far understand that Guadalupe Romero, 27, was driving a 2004 Jeep Liberty, and was near the intersection of Old Wilke Road and White Oak Drive when she saw her husband, who was driving a silver 2002 Ford Explorer. She wanted to stop him, and pursued the vehicle with her three children — ages 2, 5, and 8 — in passenger seats in the Jeep Liberty. The woman struck the Ford Explorer with her Jeep Liberty several times from behind and finally drove into the left, front quarter panel — forcing the vehicle off the northbound lane of Old Wilke Road, onto the parkway on the east side, and into a tree. The couple are married, but have been separated for three years. A female passenger in the Ford Explorer was pinned in the vehicle, on the side where it was crushed by a tree.
South Old Wilke Road/Weber Drive was closed most of Sunday while police accident investigators were on the scene. The Ford Explorer was towed to Arlington Heights Police Department Headquarters. The Explorer was also towed with a DUI hold category.
Firefighter/paramedics extricated two victims from the silver Ford Explorer. The male driver was quickly freed and transported to Northwest Community Hospital. The female passenger was removed through the front of the Explorer after the windshield was removed, and was transported to Level I Trauma Center Advocate Lutheran General Hospital.
One bystander was also injured when he fell on the ground near the scene.
Rolling Meadows firefighter/paramedics, Elk Grove Village firefighter/paramedics, and Elk Grove Township firefighter paramedics assisted Arlington Heights firefighter/paramedics. Elk Grove Village paramedics were called to check the children passengers in the Jeep Liberty. Elk Grove Township firefighter/paramedics were called to help the bystander that fell nearby.
Developing story …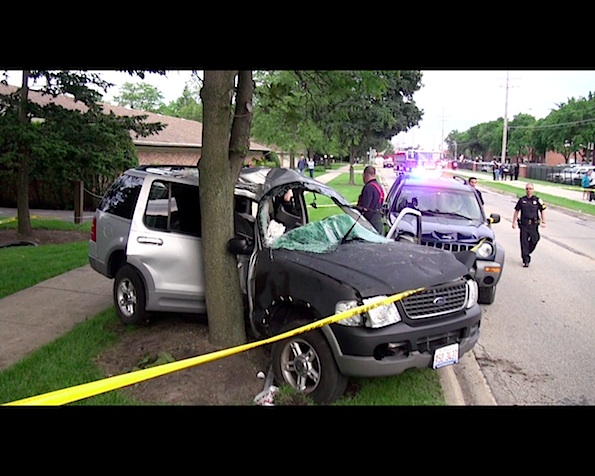 Jeep Liberty vs. Ford Explorer in crash involving extrication and a road investigation.