Jack Harry: "He was down to earth. He was real. He never pretended to be a cut above everybody else. One of the most unpretentious people in sports."
Paul Splittorff, the Kansas City Royals' all-time wins leader, died Wednesday morning from complications of oral and skin cancer at his family residence in Blue Springs, Missouri. He was 64, and in his 24th season as a television analyst for FOX Sports Kansas City..
Splittorff holds most of the Kansas City Royals pitching records. He had 166 wins in 14 seasons with the Kansas City Royals. His major league debut was on September 23, 1970.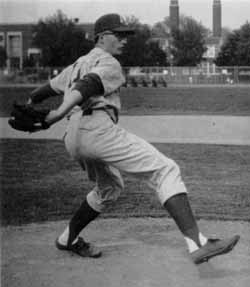 PHOTO: Paul Splittorff pitching in high school
at the former Arlington High School.
Splittorff pitched for Arlington's American Legion team in 1965, and pitched at the former Arlington High School, and graduated in the Class of 1964.
See also …
Carroll County Times Obituary Paul Splittorff …
Daily Herald Arlington star, Royals legend Splittorff dies
Baseball-Reference.com Paul Splittorff