$150,000 BOND FOR GUNRUNNING, $50,000 FOR UNLAWFUL WEAPON SALE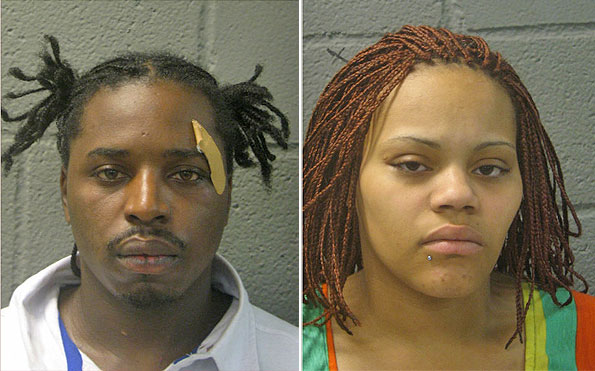 DeAndre Hampton (left) and Alana Arila (Cook County Sheriff Police photo).
Bond has been set at $150,000 for a man who sold weapons to an undercover police officer, Cook County Sheriff Thomas J. Dart announced Monday.
DeAndre Hampton, 25, of the 3400 block of Dearborn Street in Indianapolis, Indiana, has been charged with one count of gunrunning, a felony, and resisting a peace officer. His accomplice, Alana Arila, of the 4300 block of North Wittifield in Indianapolis, Indiana, has been charged with unlawful sale of a weapon. Arila's bond is set at $50,000.

Based on tips, the Cook County Sheriff's Police Special Operations Unit began investigating Hampton in late April. Hampton told an undercover officer that he had guns for sale, and sent photos of the weapons. The undercover officer agreed to purchase a SKS assault rifle, a .40 caliber gun and a .380 caliber gun for $1400.00. The two arranged to meet in Melrose Park the night of April 27th.
Hampton and Arila met the undercover officer in the area of Mannheim and Armitage Roads in Northlake, Illinois and showed them the guns. When officers attempted to place the two under arrest, Hampton fled, but was apprehended after a brief foot chase, and taken into custody.
A trace of the weapons shows they were not reported stolen. The investigation continues as to the origination of the guns.
Hampton and Arila appeared in Maywood bond court April 29th. Their next court date is May 5th, also in Maywood.