More tornado fatalities and damage from the same track of storms that began Thursday in Oklahoma.
100 tornados were reported in North Carolina, South Carolina and Virginia on Saturday, April 16, 2011. A tornado is reported to have destroyed a Lowe's home improvement store at 3015 South Horner Boulevard, Sanford, North Carolina.
Numerous other reports of damage are expected through central North Carolina.
The Cardinal Grove subdivision in Raleigh was also hit hard — possibly by a tornado.
Tornadoes were reported in Raleigh, Holly Springs, Roxboro, Fayetteville, downtown Wilson and Roanoke Rapids … developing …
Last May Lowe's Donated $50,000 to the American Red Cross for Flood and Tornado relief efforts. Lowe's served as cash donation sites for contributions. As recently as Friday, Lowe's of Wytheville, Virginia donated about $2,000 in merchandise to Pulaski, Virginia tornado victims.
Lowe's also has a tornado preparedness page on its website …
lowes.com/cd_Tornado+_244883046_

View Larger Map
Lowe's on Horner Boulevard in Sanford, North Carolina.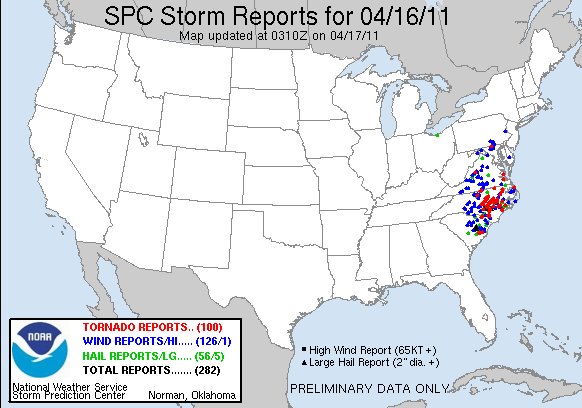 Storm Fatalities reported on Saturday, April 16, 2011
Two fatalities in Elizabethtown, North Carolina
One fatality in Benson, North Carolina
One fatality in Bladenboro, North Carolina
14 fatalities in Askewville, North Carolina
Two fatalities, one injury where 30 homes destroyed in Little Rock, South Carolina
One fatality in Wade, North Carolina
One fatality in Godwin, North Carolina near Linden
Three fatalities in Raleigh, North Carolina
Two fatalities in Broadway, North Carolina
Unconfirmed fatalities in Clam, Virginia Gloucester County
Possible fatalities in Powellsville, North Carolina
The population of Askewville, North Carolina was 180 at the 2000 census.
See also …
spc.noaa.gov/climo/reports/110416_rpts.html