No severe weather expected in Arlington Heights or north of Interstate 80, but severe weather risk is indicated south of Interstate 80 and especially south of Kankakee, including Bloomington, Champaign, and Peoria, Springfield and onto Fort Wayne, Indiana.
Damaging hail is possible near Interstate 80 with some small hail possible north areas including Arlington Heights.

The air temperature in Arlington Heights is 35°F while air temperature in Bloomington, Illinois is 49°F at 5:00 p.m. Also at 5:00 p.m. the air temperature in Champaign, Illinois is 67°F and in Springfield, Illinois the air temperature is 78°F at 5 p.m.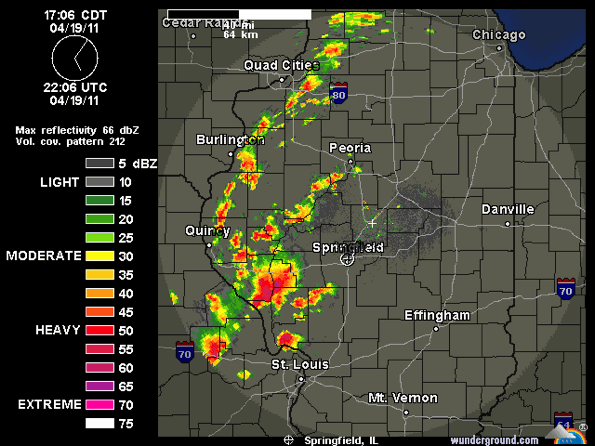 Radar at 5:00 p.m. CDT. See current weather radar …
Strong thunderstorms are expected to develop in Central Illinois according to forecast models and conditions, and are indicated to be developing by radar at 5:00 p.m. Storms are moving southwest to northeast.
At 5:00 p.m. Champaign and Springfield and St. Louis, Missouri are under a Tornado Watch.
Map UPDATE Wednesday morning, April 20, 2011 …

View Tornado Reports April 19, 2011 in a larger map
ILLINOIS TORNADO MAP: Illinois tornado reports on Tuesday, April 19, 2011.