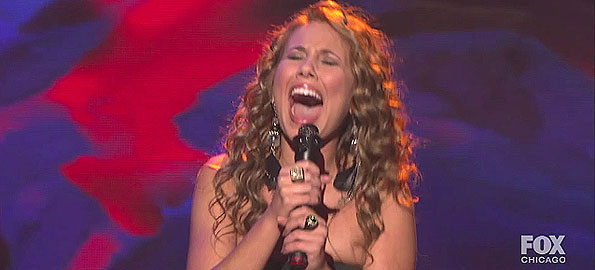 Haley Reinhart in top form back in March before voting for American Idol Season 10 (2011) semifinals.
April 28 Update
With a smile on her face she showed the world Thursday night — Haley Rinehart was the first American Idol to discover she was safe to advance to next week. Casey Abrams, was eliminated after both performed a duet of Carole King's 'I Feel the Earth Move' Wednesday night.
Haley Reinhart & Casey Abrams performing Carole King's 'I Feel The Earth Move'.
Haley Reinhart performing Carole King's 'Beautiful'.
"I didn't love the beginning but the end was great. The end was were I got a little bit more excited, the beginning was a little boring for me."
— Randy Jackson
"You have one of the best voices in this competition. Amazing."
— Jennifer Lopez
"I just saw God. I heard God in your voice. You nailed it."
— Steven Tyler

April 21 Update
Although she's been in the bottom three on four occasions, Haley Reinhart performed and survived at a fever pitch to the final six on Thursday.