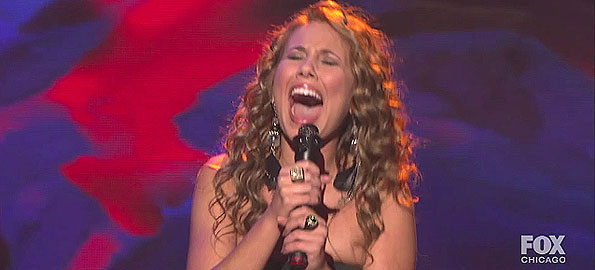 Haley Reinhart in top form back in March before voting for American Idol Season 10 (2011) semifinals.
April 14, 2011 Update
Haley Reinhart has survived as on of American Idol's seven remaining contestants as Paul McDonald who was eliminated. Reinhart was among the bottom three vote recipients.
"Listen, honest, I didn't love the beginning of it. At the end, you started getting into the song."
— Randy Jackson
"The chorus was beautiful."
— Steven Tyler
"… it wasn't the best. After two killer performances like you just gave, baby, you've got to just keep taking it higher and higher."
— Jennifer Lopez
April 7, 2011 Update
The news of the night was the upset drop of 'American Idol front-runner Pia Toscano. But local news is Haley Reinhart is still showing strong.

Haley Reinhart sings Janis Joplin's song, "Piece of My Heart", on Rock and Roll Hall of Fame Night on American Idol on Wednesday, April 6, 2011.
"I'm never upset, never mad, but this makes me mad,"

— Randy Jackson

"I have no idea what just happened here. I'm shocked and angry."

— Jennifer Lopez

"A lack of passion is unforgivable." [Directed at voters]

— Steven Tyler
March 30, 2011 Update
All three judges give a big thumbs up for Haley's cover "Bennie and the Jets" Wednesday night on American Idol.

Bennie and the Jets performed by Haley Reinhart Wednesday March 30, 2011.
"That was it, Haley!"
— Jennifer Lopez
"Best performance of the night."
— Randy Jackson
"You Sing Sexy."
— Steven Tyler
She's got momentum. Could a cover song from Cher be in the wings?
March 23, 2011 Update

Haley Reinhart performs " You've Really Got A Hold On Me " on Smokey Robinson & The Miracles " American Idol Motown Night.
Haley Reinhart was relieved to find herself off the 'bottom three' after settling there for the two prior weeks of American Idol Season 10.
"Started a little bit rough," as the song progressed, but "came roaring back"
— Randy Jackson

"That was beautiful. You don't look a day over fabulous."
— Steven Tyler

""Effortless control in your voice … Wherever you're thinking, that's where it goes."
— Jennifer Lopez
March 9, 2011 Update (Dialidol.com for Wednesday night) …
Haley Reinhart, 20, was one of 13 finalists who sang on Wednesday's pretaped two-hour show. As before, Steven Tyler and Jennifer Lopez liked Reinhart's performance, but Randy Jackson thought her performance was a little boring.
Jennifer Lopez classified Haley's voice as diverse, with America getting to know her.
Tonight's elimination on American Idol is at 7 p.m. on Fox, and will be live.
March 3, 2011 …
Here are the finalists for the 'American Idol' Top 10
Casey Abrams
Naima Adedapo WC
Lauren Alaina
James Durbin
Ashthon Jones WC
Stefano Langone WC
Jacob Lusk
Scotty McCreery
Paul McDonald
Thia Megia
Haley Reinhart — Wheeling local favorite is IN!
Karen Rodriguez
Pia Toscano
WC= Wild Card Advance
Wild Cards Eliminated
Jovany Barreto
Kendra Chantelle
Robbie Rosen
Haley Reinhart was chosen by voters as one of 10 "American Idol" finalists. There are two local finalists: husky-voiced Haley Reinhart, 20, of Wheeling, and Casey Abrams, of Wilmette. The three wild card contestants were picked by judges Steven Tyler, Jennifer Lopez, and Randy Jackson.
The American Idol 2011 top 13 will perform next Wednesday at at 7 p.m. on Fox (Comcast Channel 12/190 HD), with eliminations scheduled for Thursday.
What Channel broadcasts American Idol?
In Arlington Heights on Comcast …
WFLD FOX is Channel 12 for standard definition
WFLD FOX Channel 190 HD for High Definition WFLDDT (FOX)
In Arlington Heights on WOW! Internet and Cable TV …
WFLD FOX is Channel 03 for standard definition
WFLD FOX Channel 202 HD for High Definition WFLDDT (FOX)
Previous headlines on this post …
American Idol Season 10: Haley Reinhart of Wheeling Going to Summer Tour
American Idol Season 10's Top 10 Plus 3 Wild Card List; Plus Haley Reinhart of Wheeling Makes Voters' Top Ten, Aurora's Ta-Tynisa Wilson Eliminated