Tornado vs. Freight Train Video Archive: Freight Train Derailed by Tornado Near Harvard, Illinois
On-board freight train camera shows a view looking out the back of the trailing locomotive when an EF-2 tornado lifts cars off of the track immediately behind the locomotive about 3:40 p.m. January 7, 2008.
As a tornado approached near Harvard, Illinois the afternoon of January 7, 2008, train cars behind a locomotive start to rock. Then a burst of debris swirls around the train at about 1:04 (elapsed time). At 2:11 (elapsed time) a train car starts to lift. The locomotive carrying the camera stays on the tracks while train cars immediately behind the locomotive are lifted off of the railroad tracks and dragged by the locomotives off to the side of the railroad tracks. Then the rest of the train, which is still mostly on the rails and led by a tanker of ethylene oxide — with metal on metal friction sparks flying — comes crashing into the locomotive that had come to a stop after application of emergency braking.

Ethylene oxide is extremely flammable and explosive and is used as a main component of thermobaric weapons — fuel air bombs that produces a blast wave that is stronger than regular bombs. Ethylene oxide is commonly handled and shipped as a refrigerated liquid. It did not leak from the tank when the tornado hit.
A weather pattern more typical of early May than early January across northern Illinois brought severe weather to the area Monday afternoon. Originally two tornadoes were reported with these storms in Boone County and McHenry County along the Wisconsin border. On Tuesday, damage surveys conducted by National Weather Service personnel revealed one long continuous path from a single tornado. The tornado started at 3:30 PM about 1.2 miles north of Poplar Grove in Boone County and ended at 3:48 PM about 3.2 miles north-northeast of Harvard in McHenry County.

Tornado Rating — EF3 on the Enhanced Fujita Scale

Maximum winds — 136 to 165 MPH

Path Length — 13.2 miles

Maximum width — Around 100 yards

There were four injuries reported in Boone County and one in McHenry County.

— National Weather Service Chicago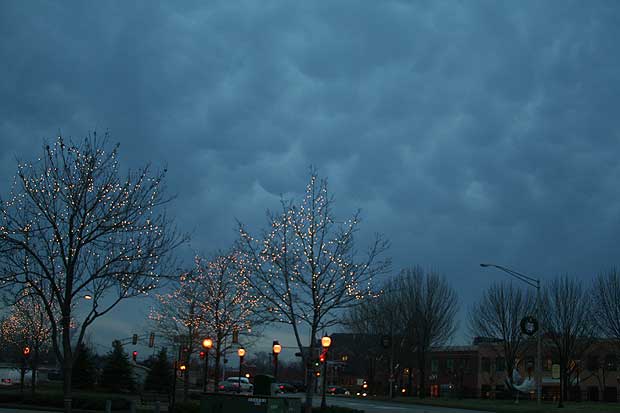 Cumulonimbus mammatus clouds at about 4:45 p.m. on January 7, 2008 over downtown Arlington Heights (facing southeast near Arlington Heights Road and Northwest Highway).
Later that afternoon, about 45 miles southeast of Harvard, Illinois in Arlington Heights, Cumulonimbus mammatus clouds crossed the skies of downtown Arlington Heights. The rare winter showing of these type of clouds occurred while the Arlington Heights area was under a January Tornado Watch.
These clouds represent the lower portion of a cumulonimbus cloud that appear as a pouches or udders under ceiling of the cloud. Cumulonimbus mammatus do not cause severe weather, but they often precede or accompany storms and are associated with severe turbulence in the lower sections of the cloud.
The obsolete term for these type of clouds is cumulomammatus.
Tornado touchdowns were reported in Poplar Grove [MAP/SAT] and Harvard, Illinois about 3:30 p.m. In Harvard in McHenry County, damage to several homes, a trestle bridge, and toppled freight train cars at Oak Grove and Lawrence [MAP/SAT].
The official high temperature at O'Hare International Airport reached 65°F.

View Larger Map where train stopped on a bridge after being hit by an EF2 tornado.
NWS REPORT
PUBLIC INFORMATION STATEMENT
NATIONAL WEATHER SERVICE CHICAGO/ROMEOVILLE IL
330 PM CST TUE JAN 08 2008
…BOONE AND MCHENRY COUNTY TORNADO…
A TORNADO STRUCK NORTHERN BOONE AND NORTHWEST MCHENRY COUNTIES MONDAY AFTERNOON. NATIONAL WEATHER SERVICE METEOROLOGISTS SURVEYED THE DAMAGE TODAY. THE TORNADO WAS RATED EF3 ON THE ENHANCED FUJITA SCALE WITH MAXIMUM WINDS OF 136 TO 165 MPH. THE TORNADO HAD A PATH LENGTH OF 13.2 MILES AND A MAXIMUM WIDTH OF AROUND 100 YARDS. THE TORNADO STARTED AT 330 PM ABOUT 1.2 MILES NORTH OF POPLAR GROVE IN BOONE COUNTY AND ENDED AT 348 PM ABOUT 3.2 MILES NORTH NORTHEAST OF HARVARD IN MCHENRY COUNTY. THERE WERE FOUR INJURIES IN BOONE COUNTY AND ONE IN MCHENRY COUNTY.
THE FIRST SIGNS OF DAMAGE WERE AT QUAIL TRAP ROAD JUST EAST OF POPLAR GROVE ROAD WHERE TREES WERE DAMAGED AND SECTIONS OF ROOFING WERE REMOVED FROM A SHED. THE TORNADO INTENSIFIED TO EF2 INTENSITY AT EDWARDS APPLE ORCHARD ON CENTERVILLE ROAD. A LARGE BARN WAS DESTROYED AND OTHER BUILDINGS WERE SEVERELY DAMAGED. LARGE TREES WERE SNAPPED OR UPROOTED. THE TORNADO REACHED ITS MAXIMUM INTENSITY OF EF3 AT THE NORTHEAST CORNER OF CENTERVILLE ROAD AND BEAVERTON ROAD. A TWO STORY FARM HOUSE AND GARAGE WERE LEVELED AND LARGE TREES WERE STRIPPED OF ALL BRANCHES. THE TORNADO WAS ABOUT 100 YARDS WIDE THROUGH THIS AREA.
THE TORNADO CONTINUED EAST NORTHEAST ACROSS STIMES ROAD AND EVENTUALLY CROSSED THE MCHENRY-BOONE COUNTY LINE NEAR HUNTER ROAD. MOST OF THE DAMAGE THROUGH THIS PART OF THE TORNADO PATH WAS EF1…THOUGH IT WEAKENED TO EF0 NEAR THE COUNTY LINE. THERE WAS DAMAGE TO TREES…POWER LINES…BARNS…AND SHEDS. A FEW FARM HOUSES HAD SHINGLES OR SMALL SECTIONS OF ROOF DAMAGED.
THE TORNADO THEN CROSSED THE BOONE/MCHENRY COUNTY LINE AS A WEAK EF0 TORNADO WITH JUST MINOR TREE DAMAGE AT THIS POINT. IT CROSSED HUNTER ROAD AND CONTINUED TO TRACK NORTHEAST ACROSS RYAN ROAD AS AN EF0 AND CAUSED MAINLY MINOR TREE DAMAGE. IT CROSSED WHITE OAKS ROAD THEN IT UPROOTED A HARDWOOD TREE AND SNAPPED OFF PINE TREES AT THEIR BASE ALONG MAXON ROAD. THIS DAMAGE CONTINUED TO BE EF0 DAMAGE WITH WINDS ESTIMATED TO BE BETWEEN 75 AND 80 MPH. THE TORNADO INTENSIFIED AS IT MOVED TOWARD THE TOWN OF LAWRENCE…WHERE IT PRODUCED THE WORST DAMAGE IN MCHENRY COUNTY. SIGNIFICANT DAMAGE OCCURRED IN THE TOWN OF LAWRENCE…PARTICULARLY AT A HOUSE THAT HAD MORE THAN HALF OF ITS ROOF RIPPED OFF AND GARAGE BLOWN OUT.
THE TORNADO THEN MOVED ACROSS THE CHICAGO AND NORTHWESTERN RAILROAD WHERE IT BLEW 12 RAILROAD FREIGHT CARS OFF THE TRACK. THE TRAIN WAS MOVING AT THE TIME THE TORNADO HIT IT…SO AS THE MAIN ENGINE STOPPED…THE REMAINING CARS ON THE TRACK CONTINUED ALONG IT AND SLAMMED INTO THE FRONT PART OF THE TRAIN. THIS CAUSED A FEW MORE CARS TO DERAIL…INCLUDING ONE CONTAINING HAZARDOUS MATERIALS THAT CAUSED THE EVACUATION OF THE TOWN OF LAWRENCE. THE DAMAGE IN LAWRENCE WAS RATED AS EF2 WITH WINDS UP TO 110 MPH.
AS THE TORNADO MOVED EAST OF LAWRENCE IT ONCE AGAIN STARTED TO WEAKEN WITH SOME TREE DAMAGE AND SHINGLES OFF OF A FEW HOUSES ON THE NORTHEAST SIDE OF TOWN. IT THEN RAN ALONG OAK GROVE ROAD FOR A STRETCH WHERE IT PRODUCED EF1 DAMAGE WITH A HARDWOOD TREE SNAPPED AT ITS BASE AND KNOCKED OVER AN OLD…WEAKLY STRUCTURED BARN WITH ESTIMATED WINDS AROUND 100 MPH. IT THEN HEADED ACROSS FARM FIELDS AND HEADED FOR HWY 14 WHERE IT DAMAGED A METAL BARN AND SHEARED A FEW TREES. AS IT CROSSED HIGHWAY 14 IT FLIPPED A SEMI-TRAILER AND INJURED THE DRIVER AT A TRUCK STOP WEIGH STATION. IT CONTINUED ACROSS OAK GROVE ROAD WHERE IT LIFTED. NO FURTHER DAMAGE WAS FOUND ON UP TO THE WISCONSIN BORDER. THE MAXIMUM WIDTH OF THE TORNADO IN MCHENRY COUNTY WAS AROUND 50 YARDS.
See also …
NWS Chicago Rare January Tornado in Northern Illinois Monday Afternoon Rated EF3
Firefighternation.com Moving Train Derailed by Tornado (Locomotive CabCam Video)